Details

Published on Thursday, 01 November 2012 10:58
Written by Super User
    I know what you are thinking: "Here we go... Another site about Angelina Jolie....". But usually, the most sites you can find about her are about others as well...Here, no other. No one else than the wonderful Angelina Jolie.
     I am regularly doing my best to give you the most about Angie. Detailed filmography with video clips and HQ captures, over 54.000 HQ pictures, 16.000 scans of magazines, loads of audio and videoclips, articles, the best links, and goodies such as wallpapers, icons, puzzles, screensavers, skins....
    I, the webmaster, and my team, are 100% devoted to Angelina Jolie, as to you. Looking for anything about Angelina? You know what site you have to visit ;)
Last update : 18/09/2017  

Details

Published on Tuesday, 19 September 2017 06:51
Written by WJLA
           Angelina Jolie's "First They Killed My Father" has been named Cambodia's foreign-language submission to the Academy Awards.The Cambodia Oscar Selection Committee announced the choice Monday, calling Jolie's Cambodian genocide drama "cathartic" and hailing it for bringing back memories "often best forgotten."Jolie directed the adaptation of Loung Ung's memoir about her childhood during the Khmer Rouge's bloody reign. She shot it in Cambodia with a local cast.Jolie, whose eldest son, Maddox, was born in Cambodia, has been a citizen of Cambodia since 2005. In an interview with The Associated Press, Jolie said she made the film to "help a country to speak."Jolie's 2011 Bosnian War drama, "In the Land of Blood and Honey," was also nominated for best foreign-language film by the Golden Globes.
 source :
WJLA


Details

Published on Monday, 18 September 2017 10:34
Written by Daily mail
          Angelina Jolie expertly balances her life as a mom, filmmaker and humanitarian.And the mother-of-six looked effortlessly elegant donning a white blouse teamed, dark A-line skirt and nude pumps Sunday in LA.Ever the crowd pleaser, the actress/activist took time to sign autographs and chat with fans after an already lengthy Q&A about her directorial project First They Killed My Father at the Academy Of Motion Arts.The ex of actor Brad Pitt looked stylishly enchanting as she stepped out the event in a chic monochrome set.Angelina, 42, remained poised while covering her eyes with square sunglasses and sweeping her dark locks to one side elegantly.The California girl displayed jewelry-free hands while carrying two handy Sharpies to sign posters and memorabilia.Recently, the Academy Award winner has been busy promoting her heartbreaking new project First They Killed My Father.Earlier Saturday, Angelina sported a loose white dress and fringed duster jacket to another LA screening of the film she produced, wrote and directed. On Thursday, the UN Ambassador donned a similar look while in New York City for a stop by the United Nations HQ.There, she donned the same style blouse along with a pocketed pencil skirt in a savory brown hue.First They Killed My Father: A Daughter of Cambodia Remembers tells the story of author and human rights activist Loung Ung's life through flashbacks of life under the Khmer Rouge dictatorship.The stirring biopic is already garnering rave reviews and is currently available to stream on Netflix.
 source :
Daily mail


Details

Published on Monday, 18 September 2017 10:28
Written by Gossip Cop
           Did Angelina Jolie wear a sentimental ring given to her by Brad Pitt at the 2017 Telluride Film Festival to get him back? That's the claim from one particular tabloid. Gossip Cop, however, can reveal the truth.The absurd allegation comes from the latest issue of the National Enquirer, which blares in a new headline, "Aching Angie Puts Brad's Ring On It!" In the accompanying story, the supermarket tabloid ridiculously asserts that the "desperate" actress purposely wore a ring given to her by Pitt at this year's Telluride Film Festival to lure him back. A so-called "source" is quoted as saying, "Angie hoped Brad would see the photos [of her] and be moved by it. The ring is very special to both of them."The Enquirer, which is no stranger to publishing inaccurate stories about the former couple, goes on to contend that Jolie wore the ring on the red carpet in an effort to send Pitt a "signal," hoping to reignite a spark and eventually reunite with the actor. "She's tried to raise six kids on her own, while managing her career and health. Now, she knows she can't do it without Brad. She's praying that this romantic symbol can bring them back together," further purports the outlet's questionable insider.Let the preposterous scenario sink in. Jolie wore a ring that Pitt gave her, and on the off-chance he saw paparazzi pictures of her sporting that small bauble, magically he would reverse course and take Jolie back. That's insane.Allow Gossip Cop to be the voice of reason and to set the record straight on this wholly manufactured tale. As improbable as the claims is, we checked with a source close to the actress who tells us the outlet's latest report is simply "nonsense." Jolie, who attended the premiere of her new Netflix film First They Killed My Father at the 2017 Telluride Film Festival earlier this month, did not purposely wear a ring given to her by Pitt, hoping he would see the photos and be so incredibly moved to take her back. It's all lies.As we noted above, this is hardly the first time Gossip Cop has busted the publication for seemingly fabricating bogus reports about Jolie. Interestingly, though the tabloid alleges the actress wants to reunite with Pitt, a few months ago it published a wholly fictitious article that maintained Jolie was dating a mystery man. That report had the headline of "In Love Angelina Replaces Brad!" And nine months ago, Gossip Cop corrected the same untrustworthy publication when it ran a cover story that swore up and down that Jolie was on a hunger strike and dying. Like those older debunked claims, the current one also doesn't ring true.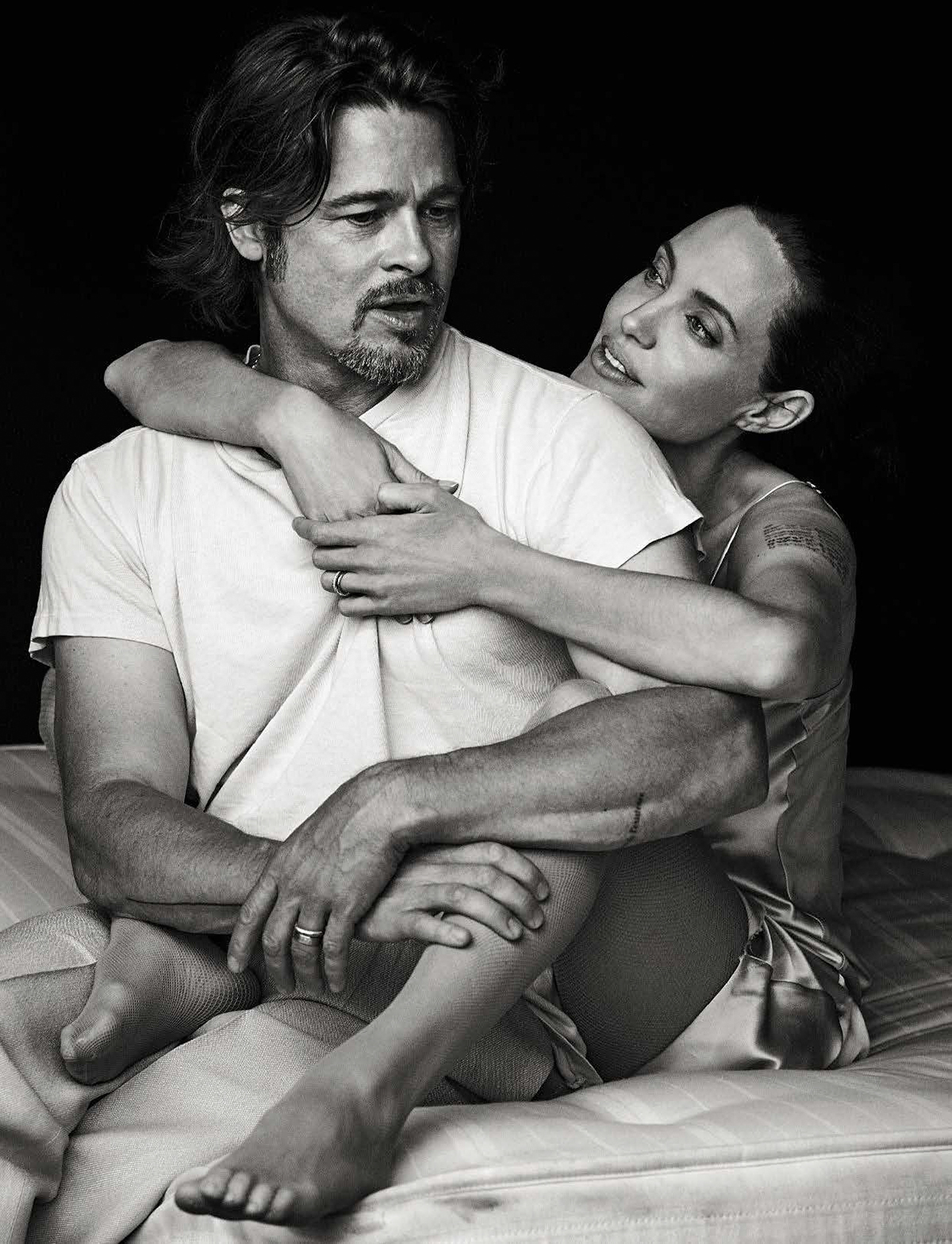 source :
Gossp Cop


Details

Published on Monday, 18 September 2017 03:36
Written by Daily mail
             She's been doing the rounds promoting her new film First They Killed My Father.And Angelina Jolie was once again dressed to impress when she arrived at the Q&A for the upcoming documentary in Los Angeles on Saturday, looking elegant as ever.The Hollywood veteran stunned in a cream silk ensemble, making a glamorous arrival at the event.Angelina sported a loose white dress with a matching duster jacket featuring subtle fringing on the hemline.The brunette beauty carried a smart designer handbag, coordinating her arm candy with her nude stilettos.She flashed a big grin as she was met with a swarm of fans at the event, highlighting her pout with red lipstick. This comes after Angelina was joined by her father Jon Voight at the NYC premiere for her new film on Thursday night.They were estranged for more than six and a half years, but have made amends. The 42-year-old Tomb Raider star was typically striking in a strapless grey grown, which displayed her sprawling back tattoo, as she posed on the carpet in the Big Apple - alongside her father, 78.  The stunning grey dress first cinched in at her famously slender waist, before falling into soft pleats all the way to the floor.Pulling into a strapless design to leave the back open, the dress drew attention to her famously sprawling back tattoo, as well as a smaller inking on her arm, as she posed effortlessly for cameras.   She pulled her brunette locks into a loose half-up do, and elegantly tied her look together with glittering diamond earrings and matching necklace.Of course the Oscar-winner's make-up was perfectly applied, and accentuated her naturally striking features with a smokey eye and bright crimson lipstick.Promoting a film she both directed and co-wrote, Angelina was also supported by her father Jon at the event - who lookeddapper in a classic midnight blue suit.Keeping co-ordinated, he layered a light blue shirt and carbon crosshatch tie underneath, but casually finished his look with matching navy trainers.   Proving the event to be a family affair however, Angelina also brought all six of her children to the event. While Angelina obviously turned heads thanks to her grey backless gown, she made sure to get several photos with her two eldest children, Maddox, 16 and Pax, 13, as they also worked on the movie.Maddox, who was actually born in Cambodia, was invited by his mother to participate as an executive producer, and shined on the red carpet in a black suit paired with a simple white t-shirt.Pax served as the set photographer, and looked equally dapper in a black on black ensemble.Meanwhile Zahara, 12, looked to be enjoying herself in a black lace top and black trouser combination, while Shiloh, 11, opted for a grey suit minus a tie.Finally, twins Knox and Vivienne, aged nine, also looked to be having fun, with Knox donning a classic black suit and his sister choosing a black vest and trouser look.All of the children also wore a yellow flower somewhere on their person, while their mother placed hers in her hair.While the exact meaning of the flowers is not known, E! News reports them as plumerias, which are thought to symbolise positivity and are worn at special occasions. The premiere of the Netflix film comes after Angelina met with United Nations Secretary General António Guterres at the Manhattan headquarters on Thursday.The Special Envoy for the UN High Commissioner for Refugees easily defied her 41 years in a white silk blouse, brown pencil skirt, and nude pumps selected by stylist Jen Rade.Rather than taking vacuous selfies or developing clothing lines, Angelina has made over 60 trips to the field as part of her work with the do-gooding intergovernmental organization.

 source :
Daily mail