Details

Published on Thursday, 01 November 2012 10:58
Written by Super User
    I know what you are thinking: "Here we go... Another site about Angelina Jolie....". But usually, the most sites you can find about her are about others as well...Here, no other. No one else than the wonderful Angelina Jolie.
     I am regularly doing my best to give you the most about Angie. Detailed filmography with video clips and HQ captures, over 53.000 HQ pictures, 15.000 scans of magazines, loads of audio and videoclips, articles, the best links, and goodies such as wallpapers, icons, puzzles, screensavers, skins....
    I, the webmaster, and my team, are 100% devoted to Angelina Jolie, as to you. Looking for anything about Angelina? You know what site you have to visit ;)
Last update : 22/04/2017  

Details

Published on Monday, 24 April 2017 06:33
Written by USA Today
             Angelina Jolie's decision to partner with Guerlain was a personal one.The actress and philanthropist is the face of the brand's scent Mon Guerlain, which the company's website says she also inspired. Jolie revealed her late mother, The Man Who Loved Women actress Marcheline Bertrand, influenced her choice in an interview with Marie Claire. While it's rare for Jolie to speak of her mom who died in 2007 after battling ovarian cancer for nearly a decade, she opened up the magazine about her mother's fondness for Guerlain."It was a brand my mother loved, so I knew it from my childhood," Jolie shared. "It spoke to her, as it does to me, of beauty, history, and quality; one of the oldest perfume houses in the world, from France, a country I love and feel connected to." France, after all, hosted her surprise wedding to Brad Pitt in August 2014. USA TODAY confirmed that Jolie filed for divorce from the Allied actor in September of last year.Jolie said her mom, who was married to Ray Donovan actor Jon Voight, scarcely pampered herself."She was a very natural woman who never spoiled herself, never wore makeup, and wore modest jewelry," Jolie revealed, "but she always had a few special items for when she wanted to feel like a lady. One of those — and I remember it because it seemed so elegant — was her Guerlain powder. I think all women have those few special things that make them feel feminine."It seems Jolie's tie to Guerlain will also be a significant memory for her six children as she donated her salary from the campaign to charity."The Maddox Jolie-Pitt Foundation's work is inspired by our children and their connections to particular countries," explained Jolie. "We visit the projects together, and it is growing with them. We started 13 years ago in Cambodia, and have since moved to Ethiopia and Namibia, too. It is dedicated to education, health, and the environment. We are gradually expanding, but our focus is still very much on enabling local people to develop their own communities and future, as well as rights for women and children."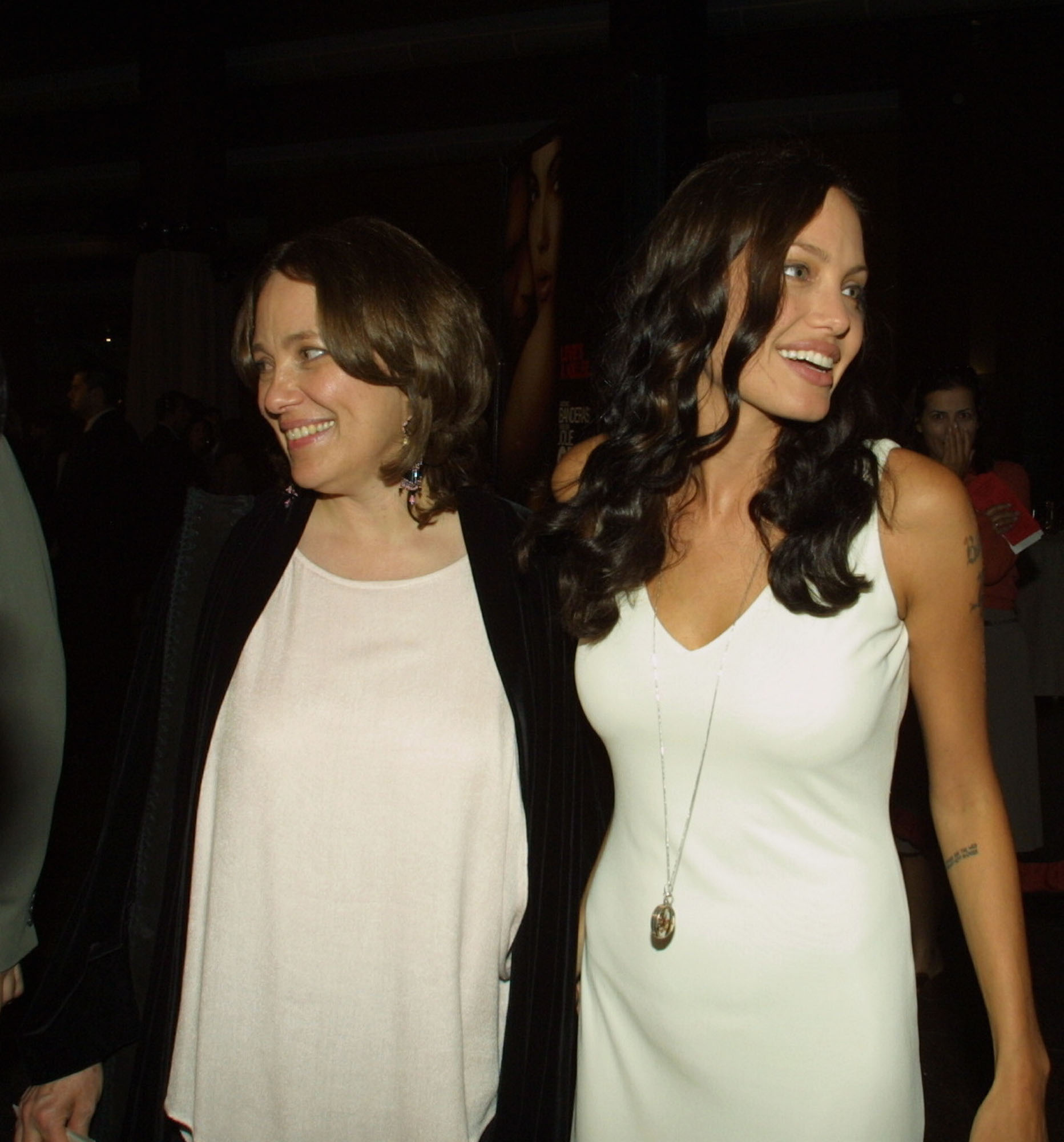 source :
USA Today


Details

Published on Saturday, 22 April 2017 14:34
Written by Hollywood Life
        Ooh la la! The identity of Angelina Jolie's hot new man may still be a secret, but HollywoodLife.com has EXCLUSIVELY learned she's been enjoying private Malibu rendezvous with him. Get all the romantic details here! "It is challenging for Angelina [Jolie] to move on from Brad [Pitt], but she is doing what she can to nurture a secret romance with a new guy. Angelina and her new man, a handsome British entrepreneur with strong political ties and aspirations, have held a few secret rendezvous at the Malibu estate where she has been staying occasionally since her split from Brad," a source tells HollywoodLife.com EXCLUSIVELY.Sounds sexy! Obviously, Angelina is raising six children with her ex, Brad, but when they're with him (like they were earlier this month), she takes advantage and calls her new man up for some romantic get togethers."She struggles to find time for herself, so during the infrequent times Brad has the children, Angelina organizes romantic rendezvous with the British hottie. Angelina's dates have been happening all behind closed doors… overnight dinners, drinks, everything inside the private Malibu residence and never out in public. Angelina finds the secrecy of their romance sexy and exciting. She wants the divorce to be well behind her and all of her children to be in a healthy place before she goes on a vacation or even out to a restaurant with any new man," our source adds.Unfortunately, it sounds like it may be a while before we discover the identity of Angelina's new man, but in the meantime, we love hearing how she's having fun with him. As we previously told you, Angelina was "crushing" on her new man before she broke up with Brad, so she's very into this guy.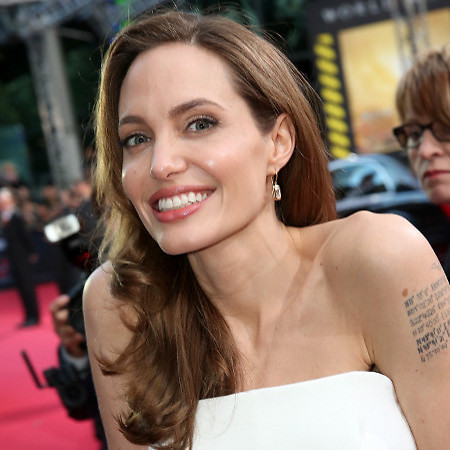 source :
Hollywood Life


Details

Published on Thursday, 20 April 2017 06:25
Written by Oregon Live
          Angelina Jolie, the actress and filmmaker who has fueled the greatest Hollywood gossip stories of all time, is moving into a dramatic mansion owned by the late Cecil B. DeMille, who directed "The Greatest Show on Earth." Jolie's famous long-time romance, short-term marriage to Brad Pitt has fans wondering where she will live. She had homes all over the world, but she's recently dropped nearly $25 million to own the fabled Beaux Arts-style mansion in the Los Feliz area of Los Angeles.Jolie filed for divorce last year only two years after the couple finally married.Top Ten Real Estate Deals speculates that the actress may have wanted to keep the couple's six children near Pitt or it was a decision by the couple's private divorce judge.The 2.1-acre property, the largest and highest lot in gated Laughlin Park, provides privacy. Views extend from the Griffith Observatory to the Pacific Ocean. DeMille acquired the property in 1916, and lived there until his death in 1959. An estate once owned by Charlie Chaplin became DeMille's studio office.The street was later named after DeMille.The Beaux Arts-style mansion has 11,000 square feet of living space. Beyond a curved stairway in the foyer are a formal living room with fireplace, mahogany-panelled dining room, library with custom floor-to-ceiling shelving.The kitchen has been updated with marble counters and a restored vintage range.There are six bedrooms and 10 bathrooms.Other residents of Laughlin Park include Natalie Portman, Kristen Stewart and recent Oscar-winner Casey Affleck.Brett Lawyer, Branden Williams and Rayni Williams of Hilton & Hyland held the listing.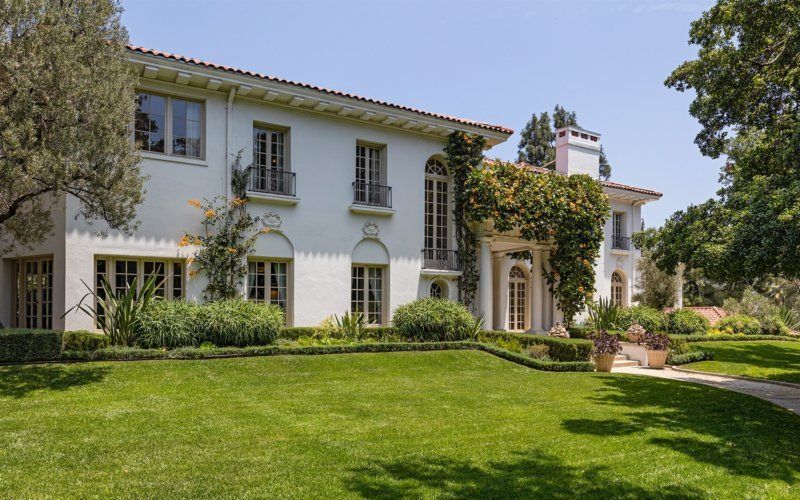 source :
Oregon Live


Details

Published on Sunday, 16 April 2017 09:59
Written by In Touch Weekly
            New stepdad for the kids? Angelina Jolie is already talking marriage with a new guy, so it's safe to say that her dating life post-divorce from Brad Pitt is moving quickly.Even though it's clear the mother-of-six is eager to find a new man, she is still taking it slow in one regard: She hasn't introduced him to her kids. "Though she realizes Brad will always be their father, Angelina still wants to make sure her kids like and accept her new man," a source close to the fam revealed to In Touch.The 41-year-old has a steep task ahead of her as winning over six children doesn't sound easy. Maddox, 15, Pax, 13, Shiloh, 10, and twins Vivienne and Knox, 8, have grown up knowing only Brad as a father, and Angie is still waiting for the right time to make the big move."Initially, Angelina was hoping to wait until the divorce with Brad was settled," the source said. "But now she may introduce her new man to her children L.A. in the next few weeks. She's especially concerned that he bonds with Maddox and Pax."Her concerns are understandable considering, according to the source, her teenagers have had a strained relationship with their father ever since he allegedly got into an altercation with them on a plane.While Angelina is eventually planning an introduction between her new man and her six kids, this is not something father Brad is ready for. As In Touch previously reported, Angie's new relationship was a shock to Brad and "caught [him] completely off-guard." "The idea that another man will be spending time with his kids is absolutely sickening and disheartening," said the insider. "Brad hasn't met Angie's man, doesn't want to meet him, and considers him an interloper in his family." Though she's attempting to reboot her love life, the Oscar-winning actress did open up about the hardships of ending her more-than-a-decade-long relationship with her hubby, who she wed in 2014. "It's been a difficult few months," Angelina said to the BBC. "Right now I'm going through a moment where there's just, everybody's in my room. Two hamsters and two dogs and two children at the moment. It's wonderful. So usually I just wake up trying to figure out who's going to get the dog out, who's gonna start the pancakes and did anybody brush their teeth." Though it's been a rough road, the Mr. & Mrs. Smith star is mainly concerned with her children's happiness."Many people find themselves in this situation. My whole family — we've all been through difficult times. And my focus is my children, our children — and my focus is finding this way through," she revealed. "As I said, we are and forever will be a family, so that is how I'm coping. I'm finding a way through to make sure that this somehow makes us stronger and closer." Well, we hope the bunch likes her new man! he couple met on the set of Mr. & Mrs. Smith in 2003 while Brad was still married to Jennifer Aniston. Although they tried to keep their attraction under wraps, their love blossomed."I think a few months in I realized, 'God, I can't wait to get to work,' " she told Vogue in 2006. "Anything we had to do with each other, we just found a lot of joy in it together and a lot of real teamwork. We just became kind of a pair."
 source :
In Touch Weekly