Details

Published on Thursday, 01 November 2012 10:58
Written by Super User
    I know what you are thinking: "Here we go... Another site about Angelina Jolie....". But usually, the most sites you can find about her are about others as well...Here, no other. No one else than the wonderful Angelina Jolie.
     I am regularly doing my best to give you the most about Angie. Detailed filmography with video clips and HQ captures, over 53.000 HQ pictures, 15.000 scans of magazines, loads of audio and videoclips, articles, the best links, and goodies such as wallpapers, icons, puzzles, screensavers, skins....
    I, the webmaster, and my team, are 100% devoted to Angelina Jolie, as to you. Looking for anything about Angelina? You know what site you have to visit ;)
Last update : 22/06/2017  

Details

Published on Wednesday, 21 June 2017 04:07
Written by Star Tribune
            Actress and U.N. refugee agency special envoy Angelina Jolie on Tuesday denounced the impunity with which rape is committed in conflict zones and the mistreatment of vulnerable women and children.Jolie spoke in Kenya to mark World Refugee Day. She visited a training center on how to prevent sexual violence in conflict and met with refugees from conflicts in Burundi, South Sudan, Somalia and Congo."The reality is that women and girls as well as boys and men can still be raped with near-total impunity in conflict zones around the world, and there are still appalling cases of rape and mistreatment of vulnerable women, children and men by peacekeepers sent to protect them," she said.Jolie added: "The horror of sexual violence is compounded when it is carried out by someone in uniform who has a taken an oath to protect."The way people treat refugees, the majority of who are women and children, is a measure of humanity, she said, according to a statement by the U.N. refugee agency."Not only have they had to flee extreme violence or persecution, lost everything and witnessed the death of family members, but they have also had to face so much abuse and intolerance and hardship. They are doing their best to carry on with minimal support, trying to live lives of dignity against impossible odds," Jolie said.Kenya is home to nearly 491,000 refugees from conflicts in neighboring countries. A Kenyan court recently stopped the government from closing what had been the world's largest refugee camp, Dadaab, and sending more than 200,000 people back to Somalia. The court said the government had not proved Somalia is safe for refugees to return.

 source :
Star Tribune


Details

Published on Sunday, 18 June 2017 10:46
Written by Daily mail
            Angelina Jolie and kids won't be spending their Father's Day with Brad Pitt.Saturday, the 42-year-old star and six young kin were seen jetting out of Los Angeles Airport's international terminal. The Academy Award winner looked ever-classic as she lead her offspring to their flight donning dark aviators, an olive trench coat and tall brown boots.The director/actress ooozed elegance as she shepherded her kids to the plane while hiding her eyes behind cool shades and carrying a dove grey handbag.Mama Angelina held daughter Vivienne, eight, by the hand while her twin brother Knox walked beside them with their older siblings Maddox (15), Pax (13), Zahara (12), and Shiloh (11).Though tomorrow is Father's Day, it appeared that the family would be spending Sunday without estranged dad Brad Pitt.RYesterday, the War Machine actor was seen adding to the Los Feliz property he once shared with his family and called the children's 'first real childhood home.Brad invited a green addition to the former family property with a new towering tree delivered via flatbed truck.Meanwhile, Angelina is settling into a six-bedroom house reportedly for $25 million just five minutes away from her ex husband.The sprawling two-acre property has an interesting history. It was previously owned by film legend Cecil B DeMille and still has many trappings of old Hollywood glamour, complete with cascading fountains, a solitary pool house and one-of-a-kind views.Brad and Angelina's split late last year came as a surprise to many who saw the pair as the epitome of a Hollywood power couple.In May, the Fight Club actor gave a brave candid interview to GQ magazine where he was asked if it felt like he was grieving a death to which he simply replied: 'Yeah.'  At first the Mr and Mrs Smith star found it too difficult to remain in the family home so he stayed with a friend while he mended his broken heart.'It was too sad to be here at first, so I went and stayed on a friend's floor, a little bungalow in Santa Monica,' he told the publication.'This house was always chaotic and crazy, voices and bangs coming from everywhere, and then, as you see, there are days like this: very…very solemn.'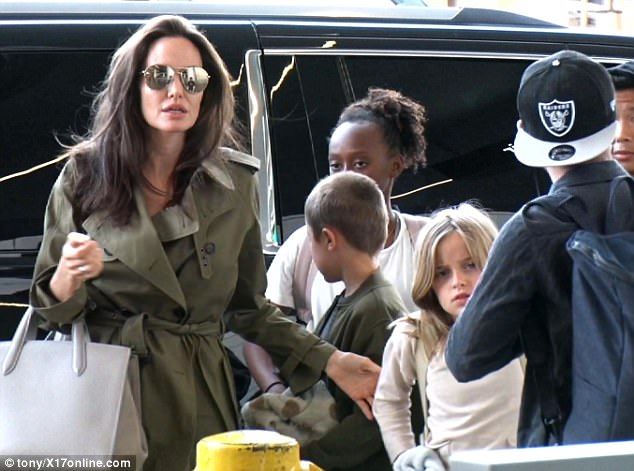 source :
Daily mail


Details

Published on Saturday, 17 June 2017 10:08
Written by Daily mail
           She tries to spend quality time with each one of her six children.And Angelina Jolie, 42, took son Knox, eight, on a solo date in Hollywood on Thursday.The pair were spotted at a The Supply Sergeant, military supply store that specializes in military uniforms, but appeared to leave empty handed. Angelina opted to wear all-black for the occasion and sported a light grey bag as her only pop of color. She definitely didn't look dressed for the hot Los Angeles temperatures in black boots and leather pants.The mom-of-six paired the outfit with a long black overcoat and similarly colored shirt underneath. She shielded her eyes from the glaring sun with dark tinted aviator glasses. The only hint of any color other than black came with her large off-white handbag, which she held out in front of her on her forearm.  Angelina took the lead and her son trailed behind her as they left the store, which specializes in combat gear, uniforms and kids army clothes.  Knox appeared to be enjoying himself as he gazed happily at the merchandise at the counter before following his mom out.The little boy was dressed in skinny jeans and a T-shirt with a longer white shirt underneath.He wore dark running shoes  to complete the look.The Maleficent actress, who just bought a $25 million mansion for her brood, also appeared to be having a good time as she smiled alongside her son.Jolie appears to have primary custody of the six children with ex Brad Pitt getting visits.Spending time with Papa Pitt has been made easy by the Salt actress as she made sure to purchase a property online a few miles from his Los Feliz-area compound.She snapped up the large white Cecil B. DeMille estate in April. The 7,500 square foot luxury mansion is nestled in the hills with roving views of LA, and boasts the likes of Casey Affleck, Natalie Portman, Lauren Graham, Will.I.Am and David Fincher as neighbours.Offering six bedrooms and 10 bathrooms, Angelina reportedly paid close to the asking price.
 source :
Daily mail


Details

Published on Saturday, 17 June 2017 10:11
Written by Vogue
         Although she's only 20 years old, Zendaya must be familiar with the Angelina Jolie slit. At the 2012 Oscars, the actress boldly wore a velvet Atelier Versace dress cut up to there and made red carpet history, an iconic fashion moment that spans generations. But how does a young starlet rework the eyebrow-raising look for the millennial set? For Zendaya, it comes down to an innate understanding of good styleYesterday in Madrid, Zendaya dropped by a Spider-Man: Homecoming photocall in a fun and flirty slip dress by Jonathan Simkhai. The asymmetric silhouette felt like a modern interpretation of the lingerie look, and twin slashes at the front and side gave a neat sense of movement. Zendaya struck a demure pose with one ankle strategically crossed over the other, calling attention to her sequined Rihanna x Manolo Blahnik shoes, instead of a single bared leg—elegant and elevated, in one easy step.
 source :
Vogue