Details

Published on Monday, 02 May 2022 05:11
Written by Daily mail
            Angelina Jolie made a secret visit to an orphanage in Ukraine as part of a whistle-stop trip to the war-torn nation.The Hollywood star, 46, kept her journey under wraps, with members of her entourage reportedly signing deals banning them from revealing any details.Local officials had no knowledge of her visit to the orphanage at an undisclosed location around 90 minutes' drive from the western city of Lviv.The mother of six is a UN envoy for refugees but officials there insisted her visit was made in 'a private capacity'.Sources said Miss Jolie left the country tonight after arriving in Lviv on Saturday. The star of Tomb Raider also visited children at a hospital and later spoke to refugees at the train station, which 1.5 million Ukrainians have travelled through fleeing to safety. When an air raid alert sounded, Miss Jolie seemed unfazed before being ushered away.Asked if she was afraid, she replied: 'No, I don't care.' Last night in a statement, the actress said: 'I'm humbled to witness the resilience and courage and dignity of the Ukrainian people. The impact the war is having on a generation of Ukrainian children is devastating to see.'A spokesman denied that Miss Jolie, who has three adopted children, planned to adopt another, insisting that the secrecy around the orphanage visit was for security reasons.Reporters who tried to approach the star at the train station on Saturday were told it was a private visit.'Angelina said her visit was not for press,' said aid volunteer Rostyslav Hetman (CORR) who posed for a selfie with Ms Jolie at the station.However, Ms Jolie did pose for dozens of selfies and travelled with her own personal photographer who supplied pictures hand-picked by the star to the media.Before giving birth to her three youngest children Shiloh, 14, and twins Knox and Vivienne, 13, who she had with actor Brad Pitt, Jolie became a mom to Maddox, 20, Pax, 18 and Zahara, 17, through adoption.Maddox and Zahara were adopted from orphanages in Cambodia and Ethiopia by Angelina.She and her ex-husband Billy Bob Thornton adopted her oldest child, Maddox Chivan in 2002.The pair took in Maddox after finding him in a Cambodian orphanage, but the adoption process took a while due to US government legislation.Three years after welcoming Maddox into her family, Angelina adopted six-month-old Ethiopian orphan Zahara Marley.Miss Jolie previously opened up about the importance of honouring her three adopted children's roots in an interview with Vogue.'Each is a beautiful way of becoming family. What is important is to speak with openness about all of it and to share. "Adoption" and "orphanage" are positive words in our home,' the Oscar winner said.She went on to describe her children as 'six very brave, very strong young people.'In the same interview, the movie star spoke of ending her marriage to Brad Pitt, whom she met in 2004 on the set of the film Mr. And Mrs. Smith, for the 'well-being' of kids.The former Hollywood power couple - known as Brangelina - married in August 2014 after 10 years together. But they split in 2016 after Mr Pitt and Maddox allegedly got into an argument on a private jet while on the way to Los Angeles.The row led to Angelina filing for divorce that year. Mr Pitt was later cleared of any wrongdoing but a judge granted Angelina physical custody of all six children.
 source : Daily mail  


Details

Published on Sunday, 01 May 2022 10:40
Written by Daily mail
           Movie star Angelina Jolie has been rushed to safety amid fears of an imminent rocket attack while on a visit to the western city of Lviv in Ukraine. Jolie, 46, drew attention as a video emerged of her walking briskly with an entourage as an air raid siren went off.As the group was filmed walking away to safety, a female member turned to the camera and said 'please, no more'. Movie star Angelina Jolie has been rushed to safety amid fears of an imminent rocket attack while on a visit to the western city of Lviv in Ukraine. The actress herself took time to wave to the camera and insisted 'I'm okay' when asked.Jolie has worked as a special envoy for the United Nations (UN) Refugee Agency for many years, but the specifics of her trip to Ukraine are unclear.Lviv has been under attack from the Russian army in recent weeks and earlier this month, a missile attack on the city left at least seven people dead.Earlier, Ukrainian Maya Pidhorodetska posted another video of the famous actress and filmmaker on Facebook.'Nothing special. Just Lviv. I just went to have coffee. Just Angelina Jolie,' she wrote in Ukrainian after filming the actress, who waved to her from the counter. 'Ukraine is simply supported by the whole world.'In Pidhorodetska's clip, Jolie was seen happily talking with locals in Lviv while wearing casual clothes.Fans spotted her in the Ukrainian city, greeting Jolie as Russian forces gathered in the east of the country for a renewed assault.Footage taken earlier in the day shows her singing autographs for fans and sharing conversations with several local residents.Lviv's regional governor Maksym Kozytsky said Jolie - who has been a UNHCR Special Envoy for Refugees since 2011 - had come to speak with displaced people who have found refuge in Lviv, including children undergoing treatment for injuries sustained in the missile strike on the Kramatorsk railway station in early April.The attack in the eastern Ukrainian city appeared to deliberately target a crowd of mostly women and children trying to flee a looming Russian offensive, killing at least 52 and wounding dozens more.'She was very moved by (the children´s) stories,' Kozytsky wrote. 'One girl was even able to privately tell Ms. Jolie about a dream she'd had.'He said Jolie also visited a boarding school, talk with students and took photos with them, adding 'she promised she would come again.' In February, Jolie spoke about the war in Ukraine in a post to her 12.7 million Instagram followers.She wrote: 'Like many of you, I'm praying for the people in Ukraine.'My focus along with my @refugees colleagues is that everything possible is done to ensure the protection and basic human rights of those displaced, and refugees in the region.
          'We have already seen reports of casualties and people starting to flee their homes to seek safety.'It is too soon to know what will happen, but the significance of this moment - for the people of Ukraine, and for the international rule of law - cannot be overstated.' 'The visit was a surprise to us all,' wrote Lviv's regional governor on his Telegram channel. 'Plenty of people who saw Ms. Jolie in the Lviv region could not believe that it was really her. But since Feb. 24, Ukraine has shown the entire world that there are plenty of incredible things here.' According to Kozytsky, Jolie also met with evacuees arriving at Lviv's central railway station, as well as with Ukrainian volunteers providing the new arrivals with medical help and counseling.During the visit to the station, Jolie met volunteers working with the displaced, who told her that each of the psychiatrists on duty spoke to about 15 people a day. Many of those in the station are children aged from two to 10, according to volunteers.'They must be in shock... I know how trauma affects children, I know just having somebody show how much they matter, how much their voices matter, I know how healing that is for them,' she said in reply.The United Nations refugee agency says more than 12.7 million people have fled their homes in the past two months, which represents around 30 per cent of Ukraine's pre-war population. Last month, in her role as special envoy, Jolie also visited Yemen, where millions of people have been displaced by war.But she is not the first American celebrity to land in Ukraine during the conflict.American actor Sean Penn was met with the country's president and attending government press briefings as part of a VICE documentary he is filming.When Kyiv was under assault, Penn and his team walked miles to the Polish border.The actor, 61, said both he and his film crew decided to abandon their car and pursue on foot after seeing the thousands of Ukrainian residents fleeing for safety, with queues stretching for miles. Penn described how cars were filled with women and children, with their only possession of value being the vehicle they were travelling in.
          The documentary is a VICE Studios production, 'in association with VICE World News and Endeavor Content,' according to a spokesman for the media group.In a translated Facebook post, the Ukrainian government said it was grateful for Sean being there and he was lauded as being more courageous than Western leaders.Although the majority of the fighting has shifted to the east of the country, Ukrainian cities in the West such as Lviv are still under bombardment from Russian missile attacks.On Saturday, Ukrainian officials said the bodies of more than 1,000 civilians have been retrieved from areas around Kyiv, and they are working with French investigators to document alleged war crimes.Forensic tests carried out on civilian corpses dumped in mass graves show women were raped before being brutally killed, it was revealed on Monday.Dozens of autopsies have been carried out on mutilated corpses from Bucha, Irpin and Borodianka, with many showing signs of torture and multiple bullet holes in the back.One coroner north of Kyiv said it is difficult to find signs of rape and sexual abuse because the bodies 'are in such bad shape'.A United Nations mission to Bucha documented 'the unlawful killing, including by summary execution, of some 50 civilians there', the UN's Office of the High Commissioner for Human Rights said.In the same town, 25 women aged 14 to 25 were kept in a basement and systematically raped, with nine of the women becoming pregnant in a case now recorded by human rights commissioner Lyudmila Denisova.
 source : Daily mail  


Details

Published on Sunday, 01 May 2022 10:42
Written by Daily mail
         Actress Angelina Jolie surprised Ukrainians after turning up to a cafe in Lviv on Saturday.Jolie, 46, drew attention as she appeared wearing nondescript clothing at the cafe, with Maya Pidhorodetska posting a video of the famous actress and filmmaker on Facebook.'Nothing special. Just Lviv. I just went to have coffee. Just Angelina Jolie,' she wrote in Ukrainian after filming the actress, who waved to her from the counter. 'Ukraine is simply supported by the whole world.'Fans spotted her in the Ukrainian city, greeting Jolie as Russian forces gathered in the east of the country for a renewed assault.Footage shows her singing autographs for her fans in Ukraine.
 source : Daily mail  


Details

Published on Wednesday, 20 April 2022 10:23
Written by Daily mail
            Angelina Jolie has sparked speculation that she is suing the FBI to find out why its agents declined to charge Brad Pitt over a 2016 private jet altercation he had with her eldest son Maddow. The new lawsuit, filed by an anonymous Jane Doe, alleges the investigative bureau denied the plaintiff access to records pertaining to an investigation allegations that the woman's 'then-husband … physically and verbally assaulted' her and their children while traveling on a private plane 'several years ago.' In 2016, soon after Jolie filed for divorce, it was revealed that Pitt was being investigated by the FBI and Los Angeles social services amid reports he got 'verbally abusive and physical with his children' on a private jet traveling from France to the USA.Investigators cleared Pitt, 58, of the abuse allegations, stating he had not committed child abuse when he got into a fight with Jolie-Pitt, then 15, aboard the jet. It has now been speculated that Jolie may be the woman who is suing, although a source close to her and Pitt told TMZ were given the full FBI report during their divorce. The suit alleges Jane Doe has filed numerous requests for a copy of the department's investigative file in hopes of 'better understanding the FBI's investigation and obtaining information necessary for her children to receive medical care and trauma counseling'. High-profile attorney Amanda Kramer, who is representing the plaintiff, told Politico her client filed the suit anonymously 'preserve the family's privacy.' Representatives for Jolie, 46, did not immediately respond to DailyMail.com's request for comment. The filing alleges the woman's children have 'experienced lasting physical and mental trauma' after being 'verbally and physically' assaulted by her then-husband while flying on a private plane. The plaintiff claims the FBI launched an investigation into the incident and 'without advance notice' to her or her children, 'publicly announced it was closing its investigation of the incident without further action'.The woman filed several FOIA requests with the bureau, hoping to better understand why they opted not to take action against her husband, according to the filing.She has accused the agency of not only failing to provide her with the requested documents, but also claims the FBI's responses to her requests are 'legally insufficient'. The woman, who does not appear to have filed a formal lawsuit yet, had requested that she be permitted to proceed with the case under a pseudonym and to have it sealed. U.S. District Court Chief Judge Beryl Howell reportedly signed off on the request this week.'Our position is that victims and survivors should be able to access federal agency records of crimes they experienced or reported, as is common at the state level, so they can advocate for help and trauma care and legal protection for their children and themselves,' Kramer told the media outlet after declining to disclose the plaintiff's identity.'Our client has been seeking such records for years and has been stonewalled and has had to resort to court action to receive those much-needed records. Legislative remedies are necessary.'
            Speculation arose that Jolie may be Jane Doe due to the similarities between the filing and the accusations the actress had previously made against Pitt.However, a source connected to the former couple told TMZ Tuesday that both Pitt and Jolie received a copy of the FBI's report following the initial investigation into the plane incident. The source also claimed the information in the report was submitted during the couple's divorce case.The FBI did not respond to DailyMail.com's inquiry about the suit. In September 2016, the actress alleged Pitt and and their son, Maddox Jolie-Pitt, got into an argument on the family plane.Witnesses, at the time, alleged the confrontation between the Hollywood star and his teenage son escalated to the point that Pitt struck the boy - 'intentionally or inadvertently'.The bystanders claimed Pitt then drove around the tarmac in a fuel truck, but returned to the plane soon after and the group departed for Los Angeles.Shortly after the alleged incident, an anonymous source called in an complaint to LA County Department of Children and Family Services, alleging that Pitt had demonstrated both physical and verbal abuse.Social workers interviewed Pitt, Jolie, their children and witnesses on the plane before determining there was no case to answer and closing their investigation. Days after the alleged plane incident, Jolie filed for divorce from Pitt and asked for full custody of their kids.Once DCFS cleared him of the abuse allegations, Pitt formally responded to his ex's petition stating his intent to seek joint custody of their brood.In 2021, amid the couple's divorce and custody battle, a source close to the family said Jolie had 'made similar allegations in the past which were investigated by the authorities and not substantiated.'The source called the accusation of abuse on the private jet her 'latest sad and desperate attempt to advance a false narrative at any cost.' The powerhouse stars met on the set of Mr. and Mrs. Smith in 2005 and after dating for a decade they tied the knot in September 2014.They have six children together: Maddox, 20, Pax, 18, Zahara, 17, Shiloh, 15, and twins Vivienne and Knox, 13.Jolie adopted Maddox in 2002, then Zahara in 2005, a year after she'd met Pitt while the pair filmed Mr and Mrs Smith. He was married to Jennifer Aniston at the time.They then adopted Pax together in 2007, and had biological kids Shiloh, Knox and Vivienne afterwards. Pitt adopted all of the kids before they got married in 2014. Jolie filed for divorce in 2016, prompting a long legal battle. Maddox Jolie-Pitt, then 19, testified against his father during the couple's contentious divorce and custody battle - offering a 'not very flattering' opinion about the actor. A source also revealed during the proceeding that Jolie-Pitt wanted to legally remove 'Pitt' from his name, something his mother 'doesn't support.'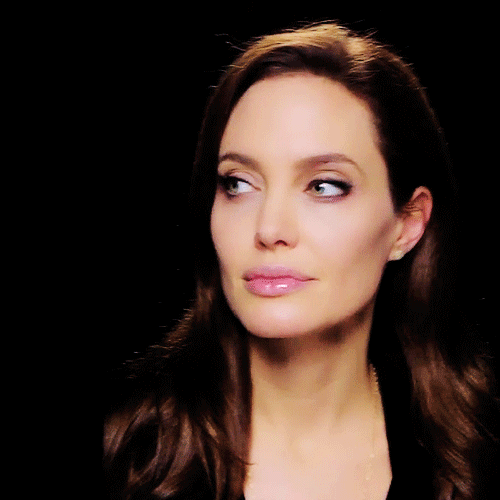 source : Daily mail  


Details

Published on Thursday, 07 April 2022 03:44
Written by Daily mail
         Gwen Stefani wanted to take a stab at acting almost 20 years ago.So the No Doubt singer went in for auditions, she told Ellen on Wednesday, and one of them was for the starring role opposite Brad Pitt in the 2005 action movie Mr And Mrs Smith.But the blonde beauty - who is now 52-years-old - lost out to Angelina Jolie, who landed the role after Nicole Kidman dropped out.When Ellen asked Gwen what movie role she did not get, the siren said: 'Mr And Mrs Smith, Angelina beat me.'This is not the first time Gwen has talked about losing Mr And Mrs Smith to Jolie.In 2016 she told Howard Stern: 'I feel like I almost got it. I went to a bunch [of auditions]. [It was] very competitive and I wanted to do it, but I wanted to do music more.'And in 2008 she told Vogue magazine: 'It was between me and Angelina Jolie, and I'm like, "Oh, great. I got a shot here." The whole acting thing really feels like something I could do. Whenever I've done it, whenever I had moments where it works, it's just like performing. You hit a moment. And that's what movies are: a series of moments.'Brad and Angelina co-starred in the movie Mr And Mrs Smith and started dating after the film wrapped. They ended up raising six kids together, Maddox, 20, Pax, 17, Zahara, 16, Shiloh, 15, and 13-year-old twins Vivienne and Knox.They got married in 2014 and she filed for divorce in 2016. Their divorce was finalized in 2019. Stefani has done some acting in the past: she popped up on Dawson's Creek in 2002, played Jean Harlow in the 2004 film The Aviator, was on Gossip Girl in 2009, and voiced DJ Suki in the 2016 film Trolls.The singer was promoting her new makeup line on Wednesday's episode of Ellen.Stefani said she was thinking about Ellen lately, because she's, 'ending a chapter' of her life, with her long-running talk show coming to a close this year.'I know that feeling. I ended Vegas after two years and I know the feeling of you love something so much but you're ready for the next chapter,' Stefani said.
        Ellen brought up one of her past appearance, before she got married to Blake, where she told the host she would be her maid of honor, with Ellen simply asking, 'What happened?' 'COVID,' Stefani explained. 'It got really small. I had this fantasy of building like bleachers, but it got smaller and smaller, and as you know, the Lord works in mysterious ways.''It was the perfect amount of people. It was so intimate. It was so exactly what it needed to be,' she said, adding that the, 'marriage itself is just so fun.'She added that she is, 'so into it,' and she, 'feels very blessed,' as Ellen added that they could tell, 'you two just clicked.''He's my best friend. We just have so much fun,' Stefani enthused, as Ellen mentioned that Blake is back home on the ranch, 'literally tilling the soil.''He literally texted me an hour ago. He flew home today. We are doing a major - when we do things, we go big. We're doing major gardening,' she said.'We're talking about daffodils, we're talking about like tulips. We did all the bulbs, now we're doing wildflower seeds, now we're doing xenias. So I sent him home to figure out how to till all the land and dig a well,' she added.When Ellen asked if Blake is doing this all himself, Gwen said he has, 'one guy' but that Blake is, 'literally on the tractor turning the dirt for me when I get there.' She admitted, 'I personally like it when people do things for me... a lot. I'm from Anaheim, California and I'm lazy like that, but he actually likes to do it himself.'Stefani was struck by the fact that she was there to talk about her makeup line and she was talking about planting seeds because, 'it's such a huge thing in my life.''I think about all the different seeds that were planted in my life, these seeds of faith, the seeds of these wild ideas I had that actually came true, and even the one to fall in love with Blake. It's crazy because now I'm gonna go back there and plant so many flowers and they're gonna bloom, it's so exciting,' she admitted. She also played Burning Questions with Ellen, revealing that 'everything' she does embarrasses her kids, the weirdest rumor about her was that she was actually a man, that Blake's nickname for her is Pretty Girl and her nickname for him is Blakey.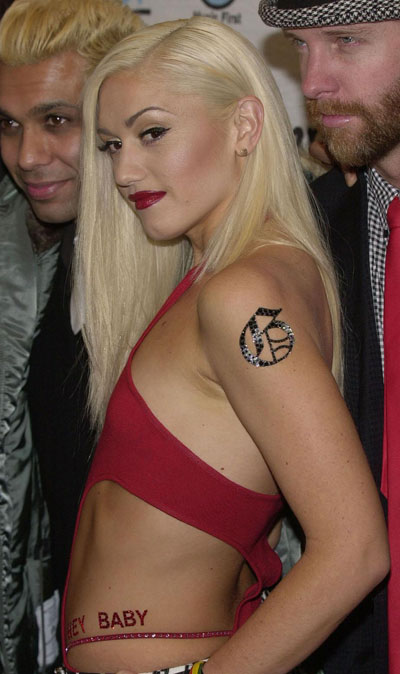 source : Daily mail