Details

Published on Saturday, 06 January 2018 13:00
Written by Screenrant
              Maleficent 2 has set an April filming start date, with Angelina Jolie returning as the movie's namesake. It was previously reported that the Maleficent sequel could begin production by the first quarter of the new year, so the project appears to be moving along as expected.It wasn't previously clear when (and, to a degree, if) Jolie would be reprising her role as the Disney ex-villain Maleficent on the big screen. Jolie reportedly spent a significant chunk of last year debating whether or not to work on the Dark Universe's Bride of Frankenstein reboot before or after returning for Maleficent 2. However, following the troubled production and lukewarm reception of Tom Cruise's The Mummy, the Dark Universe has seemingly fallen apart and Jolie is now free to start filming the Maleficent sequel in London in a few months.Omega Underground is reporting that Maleficent 2 has already entered pre-production and is scheduled to start filming April 16th. Production will take place in London, with Marco Polo and Pirates of the Caribbean: Dead Men Tell No Tales co-director Joachim Rønning at the helm. Patrick Tatopoulous (Batman v Superman: Dawn of Justice)  has been added to the crew as production designer. The project is expected to complete principal photography in about four months, around the time that August rolls around.Jolie initially credited her return to the film, and acting in general, was due to her newfound role as the "breadwinner" of the family after her separation from husband, Brad Pitt. All joking aside, Jolie has expressed great excitement for the script written by Linda Woolverton (who also penned the first Maleficent) and Spectre cowriter Jez Butterworth, promising Maleficent 2 will be a "really strong sequel." 2013's Oz The Great And Powerful kicked off a trend of live-action fantasy films exploring the viewpoint of the villain in a new light. In the film, Mila Kunis's character is destined to become the Wicked Witch of the West after suffering heartbreak and betrayal. Maleficent really brought the trope to prominence with Jolie's masterful portrayal of the titular character. The film portrayed Sleeping Beauty's Maleficent as an innocent woman taken advantage of by those around her, resulting in the forceful loss of her wings (insert fallen angel symbolism here), and propelling her to become the ultimate villain. The unique spin on of Disney's most well-known villains garnered a mixed to positive critical reception, and the film grossed $758 million worldwide.
 source :
Screenrant


Details

Published on Friday, 05 January 2018 10:48
Written by Eonline
              The Hollywood Foreign Press Association has been slowly rolling out the list of presenters for the 2018 Golden Globes, and in the last day, four new actresses have been added to the mix: Jennifer Aniston, Angelina Jolie, Helen Mirren and Emma Stone. Aniston and Jolie, who share a mutual ex in Brad Pitt, rarely attend the same events—but this year's award ceremony is all about women coming together, thanks to the #MeToo and Time's Up movements, and it's message is bigger than the tabloid stories they've both worked so hard to ignore over the years.Aniston recently donated $500,000 to the Time's Up GoFundMe campaign; the money is going toward a legal defense fund, providing subsidized assistance to men and women who suffer sexual abuse, assault or harassment while at work—regardless of the industry they all work in.Jolie, meanwhile, was among the dozens of actresses who publicly spoke out against disgraced film producer Harvey Weinstein. "I had a bad experience with Harvey Weinstein in my youth, and as a result, chose never to work with him again and warn others when they did," Jolie told The New York Times. "This behavior towards women in any field, any country is unacceptable." The Time's Up campaign also asked those walking the red carpet at Sunday's Golden Globes to wear black. "This is a moment of solidarity, not a fashion moment. For years, we've sold these awards shows as women, with our gowns and colors and our beautiful faces and our glamour. This time the industry can't expect us to go up and twirl around," actress and producer Eva Longoria told The New York Times earlier in the week. "That's not what this moment is about." "I think that the biggest thing will just be hitting the right tone," host Seth Meyers told Ellen DeGeneres yesterday. "But also, we don't want to ignore the things that will happen this year."
 source :
Eonline


Details

Published on Thursday, 04 January 2018 12:04
Written by Yahoo ! News
          From Belle to Rey to Wonder Woman, 2017 was a banner year for female heroes in mainstream Hollywood blockbusters. Sadly, most of the year's major animated films didn't exactly follow suit. With the exception of Cars 3's Cruz Ramirez, male heroes drove most of the antics in cartoons like The Boss Baby, The Lego Batman Movie, and even Coco. If you're looking for an animated heroine on par with Diana — minus her Lasso of Truth and bullet-catching bracelets — look no further than The Breadwinner, the latest release from the internationally focused family friendly distributor Gkids and a dark-horse Oscar contender for the Best Animated Feature statue at this year's Oscars. (The film is already vying for a Golden Globe this weekend.) Directed by Nora Twomey and produced by Angelina Jolie, The Breadwinner tells the story of a young Afghan girl named Parvana, who defies the restrictive Taliban regime to support her family after her father is imprisoned. It may sound like challenging subject matter, but Jolie believes that Parvana's heroism will resonate with audiences her age. "I hope this film does speak to young girls around the world, and young boys," the Oscar-winning actress-turned-director remarks in this new interview clip exclusively premiering on Yahoo Entertainment. Jolie has witnessed the film's impact on children first hand, having previewed it for a group of young viewers and taken note of their reactions. "The first time a child is exposed to this kind of life… it moves them to want to value their education and their opportunity. It awakens a sense of that fight for human rights in young people." Who knows? Maybe The Breadwinner could be the origin story for a new generation of real-life heroes.
 source :
Yahoo ! News


Details

Published on Thursday, 04 January 2018 06:56
Written by Gossip Cop
          Angelina Jolie is not headed for a "physical meltdown" over the stress of balancing her career with raising her kids, despite a tabloid report. The story initially seems alarming, but it's filled with fake concern. Gossip Cop can bust it.According to Life & Style, while Jolie "continues to shoulder the strain of her divorce and custody battle" with Brad Pitt, "she hasn't pumped the brakes on her career." And consequently, "now her friends fear it's all too much for Angie," claims the gossip magazine. A so-called "source" is quoted as saying, "Everyone's afraid that Angie's headed toward a complete physical meltdown." The outlet contends "pals have urged her to slow down," but instead she's "piling on the work." The alleged snitch further complains, "She feels like she needs to be everything to everyone, a full-time mom, human rights activist, UN spokesperson, glamorous actress, director and producer." What, did this "source" just read Jolie's Wikipedia page? After the tabloid insists there's "already a few red flags that Angie's overloading herself," such as her brief bout with Bell's palsy, the purported tipster disturbingly claims, "She hasn't been eating enough or taking care of herself. She's been taking on too much at once, and everyone's worried she's headed for a serious breakdown." Actually, if anyone was truly concerned for Jolie's well-being, they wouldn't be talking about it with the gossip media, particularly a magazine that falsely claimed she and Pitt were "getting back together." There's also a glaring factual error. While the outlet tries to make it seem like she's worked non-stop since splitting from Pitt, Jolie actually took a year off to focus on her family life. And while she's spoken about "just trying to get through my days," as she put it in an interview last fall, the star just spent the month of December deftly balancing her varied obligations, like when Jolie brought her kids to the United Nations Correspondents Association Awards. Gossip Cop is told that, "like all working moms," she's doing her best. And, quite importantly, she knows that "taking care of herself" is key to taking care of her family. While every day may not be perfect, we're assured that the bleak picture painted by the publication doesn't actually match reality.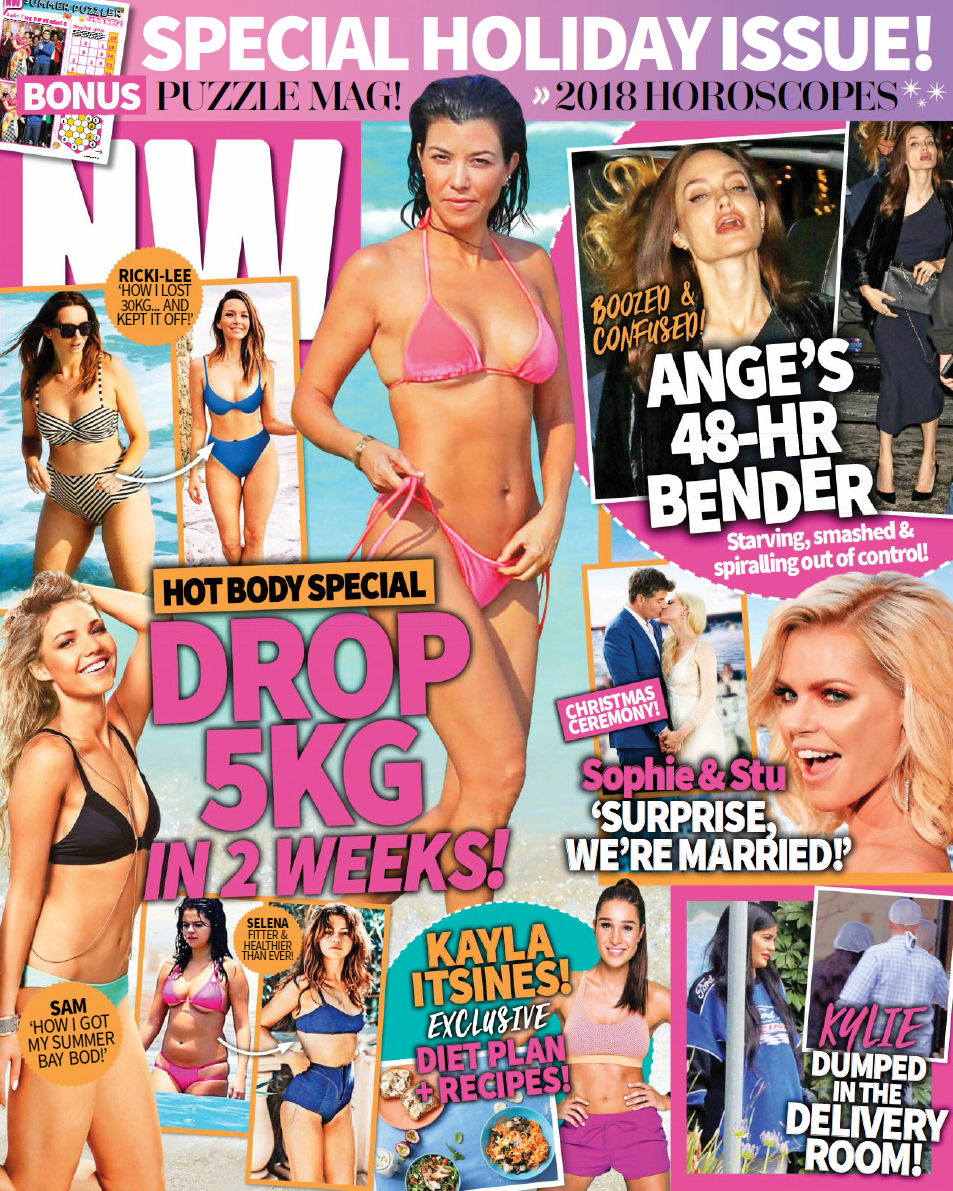 source :
Gossip Cop


Details

Published on Friday, 29 December 2017 13:35
Written by IB Times
          According to Celebrity Net Worth, Angelina Jolie's net worth is £122 million and she earned a staggering £11 million last year.Is Hollywood actress Angelina Jolie deep in a financial trouble? RadarOnline has recently come up with a bizarre report saying the ritzy Hollywood actress' wealth is in jeopardy as she was spotted shopping for Christmas gifts at America's most popular discount store — Target.Also read: Brad Pitt, Angelina Jolie and children will reunite for Christmas? A dubious insider told the webloid, "Angie loves Target. It's one of her favourite stores and a place where she gets lots of her Christmas gifts. She has staff that can get her anything and go anywhere for her, yet one place she has been spotted is Target." The insider further went on to add that Brad Pitt's estranged wife "is obsessed with finding cheap new deals — despite her millions!" RadarOnline also put a step forward to ask the readers, "Do you think Jolie is just collecting coupons for fun, or is she having money issues because of her nasty legal battle with Brad Pitt?" As usual, Gossip Cop looked into the story and debunked he entire report because TMZ already reported that Angelina Jolie will not be seeking spousal support from her husband post the divorce. As noted by The Sun, the 42-year-old actress's net worth is £122 million (via Celebrity Net Worth). Hence Jolie's wealth is not in jeopardy.Secondly, it is true that Jolie has been spotted in Target earlier, just like she goes to grocery store and flea markets as well.Gossip Cop noted that Jolie's sighting's at Target has nothing to do with either her wealth or her ongoing divorce battle with Brad Pitt.Like her, even former first lady Michelle Obama is also a well known fan of the popular discount store regardless she is also a millionaire.Previously, RadarOnline's sister website OK! Magazine also allegedly claimed that "Jolie couldn't afford to finalise her divorce from Pitt" her cash flow was affecting the split negotiations. Then also Gossip Cop refuted all the rumours.Notably, the Academy Award-winning actress earned a staggering £11 million last year.According to Gossip Cop, these sites have "simply combined the ongoing divorce, her past trips to Target and the Christmas shopping season to form an unsubstantiated narrative about 'financial trouble.' "
 source :
lIB Times