Details

Published on Wednesday, 27 December 2017 07:12
Written by Dark Horizons
       David Fincher was developing it for a while, and more recently "Blade Runner 2049" and "Prisoners" director Denis Villeneuve became attached. Now "All the Money in the World" writer David Scarpa has revealed that the upcoming "Cleopatra" biopic won't be your typical period drama.Angelina Jolie has been attached to the film which was based on Stacy Schiff's book "Cleopatra: A Life," whether that's still the case is unsure. Schiff and Brian Helgeland worked on the script prior to Scarpa coming onboard and he tells Heat Vision expect it to be decidedly more intense and energetic than a period piece:     "It's similar [to 'All the Money in the World'] in that there's a lot of research involved and there's a question with all that of how do you want to do it and how do you make something new out of it? With Getty, part of the idea was to take two genres we felt we knew, which was the kidnapping genre and what we'll call the 'great man' genre – the 'Citizen Kane' genre – and smash them together and make something new out of them.
       With 'Cleopatra' … instead of doing the movie as the prestige picture – the three-hour, lots of pageantry, people with fans and English accents and all that stuff – [we] really treat it as a political thriller. Dirty, bloody, lots of people swearing and having sex and all of that other stuff and just treat it as a two-hour, lean, mean political thriller, full of assassinations, etc. Just going the opposite direction from the way we think that movie is going to go."This approach doesn't always work, Michael Mann's Dillinger biopic "Public Enemies" showed how telling a period tale with modern thriller sensibility and filming techniques like steadicam doesn't necessarily work.When "Cleopatra" will go into production isn't known as Villeneuve is slated to film an adaptation of Frank Herbert's "Dune" next.
 source :
Dark Horizons


Details

Published on Thursday, 21 December 2017 11:44
Written by Game's radar
           Alicia Vikander will be picking up a bow and arrow to play Lara Croft in the upcoming Tomb Raider movie reboot next year, but she's very aware that she's not the first actress to take on the role of the iconic video game character.Talking to our sister publication Total Film magazine, Vikander talked about Angelina Jolie's version and how her Lara Croft will differ. "[Angelina] made that an iconic role," says Vikander. "I knew we wouldn't be able to redo that, and that's not what we're trying to do either. We go back to the beginning, and tell the origin story." At the beginning of the 2018 movie, Lara's backstory has dispensed with the privilege and butlers, and she now works for a bicycle courier company and lives in a communal space while she figures out what she wants to do with her life. It certainly marks a change of pace from the 2001 movie, Lara Croft: Tomb Raider, and its risible 2003 sequel, The Cradle of Life.  "What I like is that there will be a lot of young people, a lot of girls, who feel like they can relate to her," Vikander continues. "She's trying to figure out her path in life, who she is, and what her history is." Director Roar Uthaug adds that his main goal was "to make the audience care about Lara Croft and invest in her as a real character." You'll get to see the new Lara Croft in action come March 16, 2018, but to tide you over until then why not pick up a copy of the new issue of Total Film which includes on-set interviews with Vikander, Uthaug, and co-stars Walton Goggins and Dominic West? Plus, it also includes a full 2018 movie preview.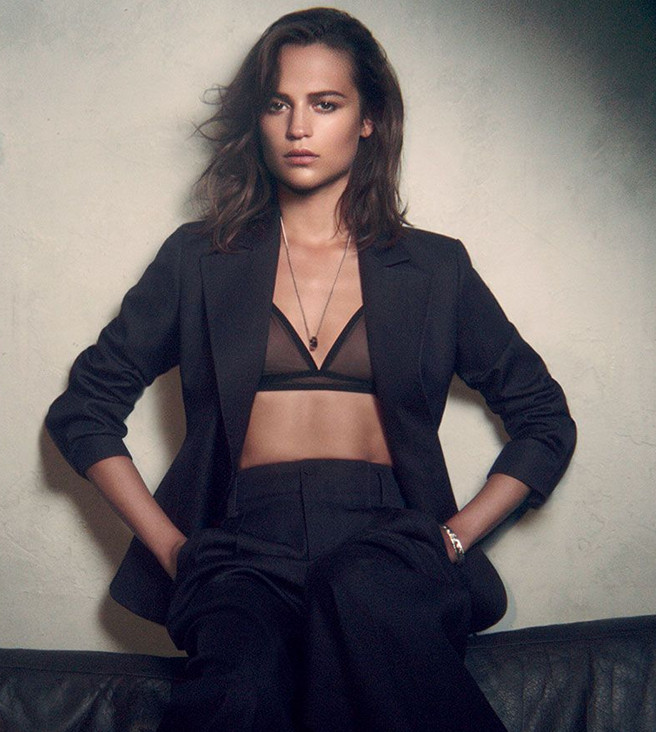 source :
Game's radar


Details

Published on Thursday, 21 December 2017 07:01
Written by Daily mail
         Angelina Jolie is overseeing the education of her children Maddox, 16, Pax, 14, Zahara, 12, Shiloh, 11, and twins Vivienne and Knox, aged nine.On Wednesday People reported the 42-year-old beauty has the kids home schooled inside their new $24m mansion in Los Feliz, California.They are learning all the basics like reading and arithmetic, but are also taking on languages classes and learning musical instruments.And they don't all speak the same languages.In 2016 she told BBC: 'All the kids are learning different languages.'I asked them what languages they wanted to learn and Shi is learning Khmai, which is the Cambodian language, Pax is focusing on Vietnamese, Mad has taken to German and Russian, Z is speaking French, Vivienne really wanted to learn Arabic, and Knox is learning sign language.'The People source added: 'They have tutors for all kinds of subjects, including different languages and instruments.'The kids are also very physically active. They like soccer and love skateboarding, and also take self-defense classes,' said the source.Her ex, Brad Pitt, sees the kids on the weekends, which he 'treasures,' the source noted. The Allied actor lives only 10 minutes away from his family. At a screening of First They Killed My Father in early December, she told People: 'It bothered me how little I was taught in school.'I do worry about my children's education.'I homeschool partially because they are from around the world and it's very … I didn't want them to have the same education I had when it came to Vietnam or Cambodia.'
        As far as how Jolie spends her time, the source added that she is very focused on the kids. 'Angelina is busy with everything she is doing, including being a super mom to her kids.'But she is doing fine and working with Brad on ways to continue their lives so everyone is happy.' The divorce is not yet finalized. But it is 'moving forward.' The siren has been 'working out time for him to be with the kids, which he treasures.' 'The process has been difficult for him,' said a source. 'But he is OK and remains committed to his family.' It was added that he has dated already but she has not it seems. On Friday Angie took some of her kids to the Bangsokol: A Requiem for Cambodia at BAM (Brooklyn Academy of Music) event in NYC. She was joined by daughter Shiloh and son Maddox.The brunette bombshell wore a clever beige trench coat over a white top and dark slacks with her long locks worn down. The star appeared completely wrinkle free as she wore minimal makeup. She posed with author of First They Killed My Father Loung Ung as well as designer by Rithy Panh and composer Him Sophy.
        Later the Salt star was joined by Executive Producer, Brooklyn Academy of Music Joseph V. Melillo, President, Brooklyn Academy of Music Katy Clark, and Executive Director, Cambodian Living Arts, Phloeun Prim. Maddox apparently stayed home to take care of Vivienne who had a tummy ache, according to a source with People.Earlier on Saturday they hit a screening of Star Wars: The Last Jedi in Manhattan.The actress-director lived up to her fashionista image, donning a wintry ensemble of a textured wrap dress with a tan belt with heeled black boots.The beauty accessorized with black sunglasses with a black leather handbag with metallic buttons. She was impeccably made up with her dark brown locks slightly parted to the left as she walked with her quartet of kids, who were bundled up amid the frosty conditions.The family seemed to be in a great mood as they made their way through the city.They were coming off a big night in the Big Apple Friday, where they visited Cipriani Wall Street for the 2017 United Nations Correspondents Association Awards, where Angelina accepted the honors for 2017 UNCA Global Citizen of the Year.The Academy Award-winning actress, accepting her honors, said that people have an obligation to envision themselves 'in the struggles of others,' and fight 'their fight for human rights and freedom as your fight,' according to People.
 source :
Daily Mail


Details

Published on Wednesday, 20 December 2017 11:51
Written by Christian Post
            Production for "Maleficent 2" begins in 2018 and the Disney movie will shoot in the U.K. Will Elle Fanning reprise her role and re-join Angelina Jolie? "Maleficent 2" with Jolie as the lead is one of four major movies expected to film in the U.K. in 2018, as per KFTV. Also expected to start production on the other side of the pond are Disney's "Artemis Fowl," a Robert Downey, Jr. film, and "Detective Pikachu" starring Ryan Reynolds.Jolie confirmed in September that she's returning to play the famous character from the "Sleeping Beauty" classic fairytale. It's not yet clear, however, if the sequel will feature Princess Aurora again as Fanning's casting hasn't been announced.Fanning is set to star in the Patty Hearst biopic "American Heiress" with director James Mangold. There's still no production schedule for this film so far, which might mean that the young star will be free to join "Maleficent 2."Is Princess Aurora, however, still part of the story in the sequel? Details to the plot of "Maleficent 2" are scare but Jolie said that the script is still in the works.It was Maleficent's kiss that woke up Aurora at the end of the first movie as they forged a strong motherly bond against Aurora's father, the evil Stephan (Sharlto Copley). Maleficent and Aurora's friendship unified the magic forest Moors and the human's kingdom as Aurora finally took reigns as the new Queen.The movie, which ran in theaters in 2014, ended with Maleficent watching with pride as her ward received her crown. Back then, Jolie wasn't keen on doing sequels. She turned down offers to reprise her roles in films like "Salt" and "Wanted." The actress, however, changed her mind about doing a follow-up to "Maleficent" since she became the family's breadwinner following her divorce. "Maleficent 2" will be Jolie's comeback movie after taking a break from acting for three years to concentrate on directing.
 source :
Christian Post


Details

Published on Monday, 18 December 2017 12:41
Written by People
          It seems Drake missed out on a date with one of Hollywood's leading ladies.The "Hot Line Bling" singer shared a funny Instagram post on Thursday sitting alone at a table and looking morose.The 31-year-old wrote in the caption, "Stood Me Up," along and tagged Angelina Jolie (or at least he tried, as he actually tagged a fan site).While this infatuation is just playing out in the musician's mind and on his social media, in real life he is no stranger to pursuing a Hollywood actress.In 2016, the rapper and Jennifer Lopez were spotted together a few times and featured on each others' Instagram accounts (including a cuddly picture of the two shared by Lopez), with sources telling PEOPLE at the time the mother of twins seemed "smitten" with him.While the relationship didn't last long, an insider close to the rapper told PEOPLE this between them were "never very serious." "They like one another and had fun together," the source said.Drake has also been romantically linked to his frequent collaborator Rihanna and tennis ace Serena Williams.
 source :
People