Details

Published on Sunday, 28 November 2021 10:16
Written by Daily mail
           Angelina Jolie cut a stylish figure in a long camel coat while on a coffee run with her daughters Zahara and Vivienne on a coffee run on Friday morning.After picking up three iced beverages to enjoy with her teens in Los Feliz, the star radiated beauty under a black face as she walked back to her car.For the laid-back outing, just a day after Thanksgiving, the Oscar-winning actress, 46, wore a plain t-shirt and a black and white pair of floral pants. She completed her casual ensemble with a leather handbag, sandals and her glossy dark brown hair cascading freely past her trim shoulders. The Know Your Rights author's youngest Vivienne, 13, stuck by her mom's side toting their coffees while rocking a pair of light-wash ripped jeans. Her older sister, 16, sported a yellow patterned tank top, black jeans and white sneakers.   Last month, after Jolie confessed that she suffers from mom guilt and can be 'pretty tough' on herself when it comes to how she raises her six kids. While making a rare comment about her family, the performer admitted to regularly questioning her parenting decisions as a single mother since her split from ex-husband Brad Pitt back in September 2016. 'I'm not a perfect parent by any means,' the Maleficent star told People. 'Every day I feel like I'm more aware of everything I don't do right.' She continued: 'I'm pretty tough on myself, because I feel often, 'Am I doing the right thing? Did I says the right thing?' Despite doubting herself from time to time, Jolie gushed: 'My children's kindness has been very healing to me.' In addition to Zahara and Vivienne, she's a mom to Maddox, 20, Pax, 17,  Shiloh, 15, and 13-year-old Knox.  Speaking of her tribe, the Golden Globe winner called them all 'pretty great people.' 'Because there's so many of them, I think they've had a very significant effect on each other. It's not like I'm the head of anything,' she explained. Jolie added: 'I'm very honest with my kids. And I'm very human with my kids.'  The Know Your Rights and Claim author also noted she is 'curious about all the different aspects of who they are' and is passionate about helping them develop 'all the different aspects of who they are.''I have six very individual human beings in my home. I am so excited about all the different stages and feelings and curiosities that they go through,'  Jolie told the outlet. As a mother, she feels it is her job to 'help them figure out who they are' but says that's impossible if you don't 'don't enthusiastically develop with them.'
 source : Daily mail 


Details

Published on Saturday, 27 November 2021 10:02
Written by Designer women
            "Lara Croft: Tomb Raider" has grown into a blockbuster video game franchise – and it didn't take long for the narrative to hit theaters.The first film was released in 2001 and starred Angelina Jolie in the title role. Jan de Bont, known for his forays into the action genre (such as "Maximum Speed" and "Twister") spearheaded the project and returned as a result – but the commercial and critical failure of Chapter Two has caused it. moves away from future blockbusters.In an interview with Uproxx, the director said he di not have a good experience with the sequel to the saga, 'Lara Croft: Tomb Raider – The Origin of Life', released in 2003."It was not a good experience. Especially since the studio is really interfering. [no filme] in a sense. And the point is, the creators of the game were also involved. And they never told me that they would also have a vote in history. Suddenly all of these changes were happening, who was supposed to be what and who was the cast. And then it became a big stage. Everything was a matter of discussion. On the first day of filming, in Greece, we received a call: "We would like to congratulate you on the first day. And by the way, we're going to have to cut the budget by $ 12 million. First day! Today, $ 12 million is four stages ".Failure and disappointment at not having control over his own work caused De Bont to shy away from big projects."There are films I wanted to work on and unfortunately they weren't made. None of them. I said, 'Wait a minute, is that a lot of work? It is too hard'. I felt like it wasn't something traditional, where the studios picked up a lot more of the movie. And it became… It's not worth it. He knows?". The director also commented on a specific moment when he got a call in which they said they didn't like the buttons on one of the characters' shirts."They didn't like the buttons on a shirt! I still remember, I got a call: 'I don't like buttons'. I don't even remember it. What was the guy's name? The male protagonist? Dude, I forgot his name. But then I said, 'Wait, are you calling me because you don't like buttons?' It was absurd. Truly."Despite the first film's solid revenue, the sequel was slaughtered by critics and grossed just over $ 160 million at the global box office.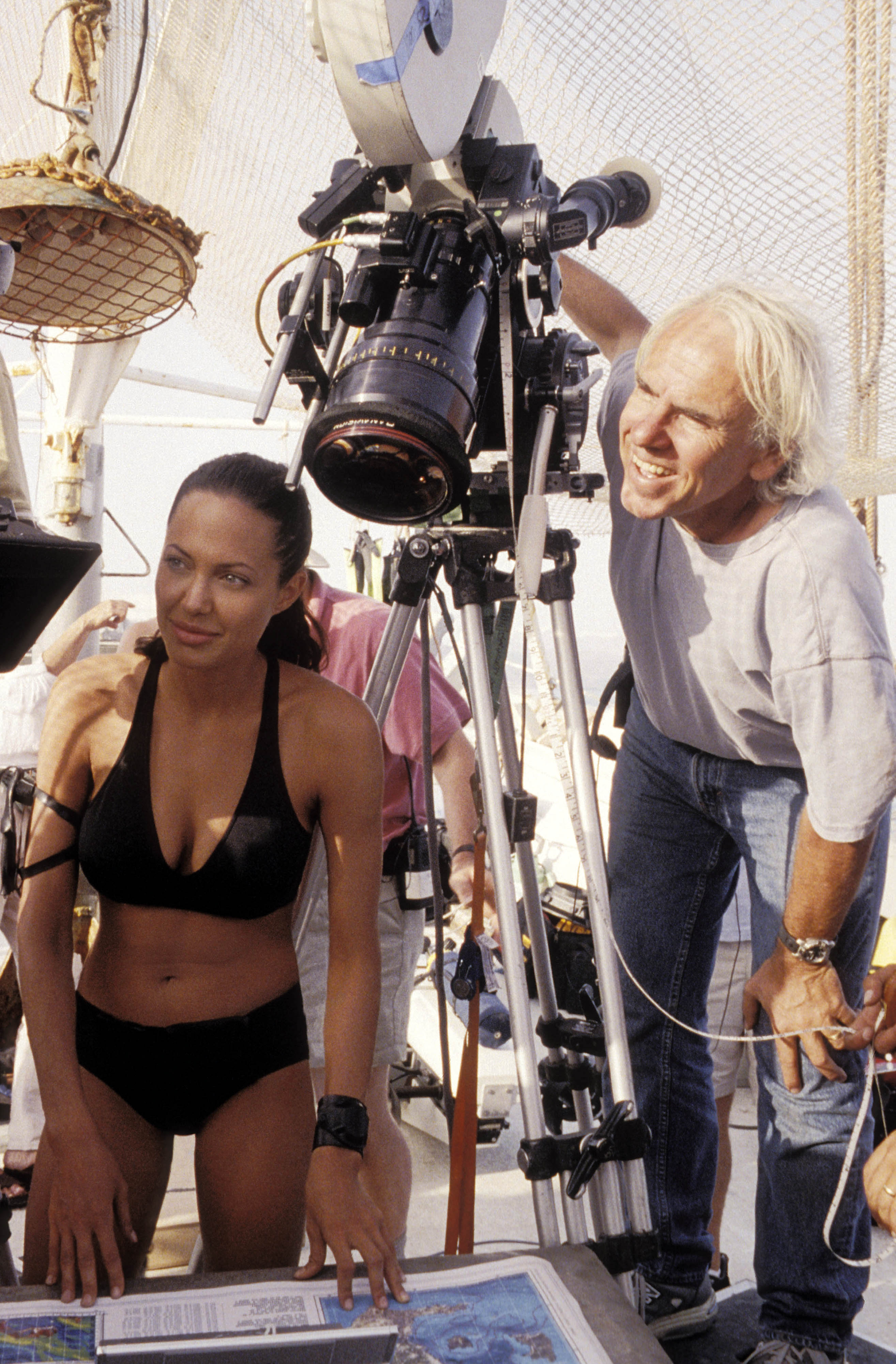 source : Designer women


Details

Published on Saturday, 27 November 2021 09:56
Written by GMA Network
         The "Train to Busan" actor shared that he has been a "big fan" of the award-winning actress for a long time.In an exclusive interview with Unang Hirit, South Korean-American actor Don Lee confessed his admiration for "Eternals" co-star Angelina Jolie both as an actress and a person."I've been a big fan for a long time. Not only is she an amazing actress, but she is also such a good and warmhearted person," he said.He added that his "strong bond" with the actress made it comfortable for him to film their scenes together.He also shared about the tight-knit relationship between the film's cast members, saying, "We just bonded like [a] family. There was one particular time, Chloé Zao and I, we took the cast and went out on an adventure in London. We took them to a Korean barbecue." Don Lee, also known as Ma Dong-seok, plays Gilgamesh in the box-office Marvel film. As the strongest of the Eternals, his character is to protect Angelina Jolie's mighty warrior, Thena.Asian actors Gemma Chan and Kumail Nanjiani also joined the cast of the much-awaited superhero movie.Directed by Chinese filmmaker Chloé Zao, "Eternals" is a story of 10 immortal aliens who join forces to fight creatures known as Deviants. The Marvel film will premiere in Philippine cinemas on December 1.Meanwhile, marvel in the transformation of some of our favorite Pinoy celebrities into iconic Marvel characters.
 source : GMA Network


Details

Published on Saturday, 27 November 2021 09:52
Written by Screen Rant
          VFX Supervisor Matt Aitken shares that the costumes for Thena and Eros in Marvel's Eternals were redesigned entirely during post-production.The VFX supervisor for Marvel's Eternals recently shared that two of the Eternals costumes were entirely computer-generated. Marvel's latest family from director Chloé Zhao explores the origins of the Marvel Cinematic Universe and expands on the concept of Celestials, massive entities that oversee universal life, which was first introduced in 2014's Guardians of the Galaxy. However, Marvel's latest lore-heavy epic expands on these beings and shows the power and destruction that the Celestials leave in their wake.The film features a diverse ensemble cast including Gemma Chan, Richard Madden, Kumail Nanjiani, Brian Tyree Henry, Don Lee, Barry Keoghan, Lia McHugh, Laura Ridloff, Salma Hayek, and Angelina Jolie, playing the roles of the Eternals. They are instructed to protect the Earth from the Deviants. However, when the rise of a new Celestial threatens the world's existence, they have come to know and love, the group is forced to decide whether or not to fulfill the mission for which they were created or to save the world they believe they were protecting.In an interview with Comicbook.com, Weta Digital's Matt Aitken, visual effects supervisor for Eternals, shared that while most characters wore their costumes, Thena's (Angelina Jolie) and Eros' (Harry Styles) suits were completely CGI. According to him, this had to do with design changes during post-production. Here is what he had to say about Thena's costume design:    "Thena, when she's in her superhero suit, it's always entirely CG. She's a CG from the neck down, because the suit design changed in post-production. Getting her body performance so that it had that iconic aspect to it, they've cast Angelina Jolie for a reason. And part of that is that she has a way of moving that's almost like a dancer." In regards to Harry Style's Eros' costume,  this is what Aiken had to say: "Obviously we had digi-doubles of them all, but the only other one that changed completely was, you mentioned the post-credits or the mid-credits scene with Starfox, or Eros slash Starfox and Pip the Troll. Eros' costume was another redesign." With a budget of $200 million, Eternals is one of the more expensive Marvel movies. So, it makes sense that a good portion of the budget would be dedicated to visual effects to bring this epic to life, not just for the Eternals themselves, but for the massive space settings, hordes of Deviants, 300-mile-high Celestial threats, and even for some of the characters' costumes. With an enormous budget, it only makes sense that a VFX team will have more freedom for character redesigns. As a film enters its post-production phase, changes are likely to be made. So it would be possible that some of the characters' costumes would need a CGI overhaul to match the action sequences and character movements. While the Eternals is likely to earn a profit, there is still a risk in doing a complete redesign in post-production, sacrificing practical effects for CGI. However, it seems that Eternals was able to pull it off and dazzle audiences with its visual storytelling.
 source : Screen rant 


Details

Published on Thursday, 18 November 2021 09:38
Written by Daily mail
         Angelina Jolie hit the red carpet alongside French photographer JR, 38, her lookalike daughter Shiloh, 15, and son Pax, 17, for the premiere of the artist's new documentary Paper & Glue on Thursday. The Eternals star, 46, was a vision in all-black as she sashayed down the red carpet at LA's the Museum of Tolerance alongside two of the six children she shares with her ex Brad Pitt and the man of the moment JR.  Having been joined by her kids at a number of her recent red carpet events, Angelina yet again made the event a family affair as she was joined by Shiloh and Pax alongside mysterious JR.  Angelina paired her ribbed black turtleneck with a calf-skimming, biased-cut skirt that highlighted her trim frame and reached down to her knees. She stayed on theme with a pair of classic black pumps. The Academy Award winner had her lustrous brunette locks parted down the middle and resting across her shoulders, and she kept her makeup fairly low key. She completed her premiere look with small hoop earrings. Shiloh meanwhile was undergoing another style overhaul, having recent shed her trademark androgynous looks in favour of her stunning gowns and trendy, girlish ensembles.She wore a hoodie with ripped jeans and Converse trainers while scraping her blonde locks back and showing her remarkable likeness to her movie star mother.  Pax showed off his winning smile while wearing a gray plaid shirt buttoned all the way to the top and charcoal jeans to complement it, as well as black sneakers. He laughed and giggled while he stood with his mother's arm draped over his shoulders in doting style. Angelina's friendship has been chronicled in recent months after he snapped her during a trip to France in August. Also showing off a casual ensemble was actress Sofia Boutella, who was draped in a grey overcoat with thick breast pockets that swallowed up her trim figure.The Climax actor had on a plunging black blouse under it that was decorated with white floral designs, and she layered up with a white blazer over it.She completed the look with cream-colored slacks that flared at the bottom and completely covered her footwear. Los Angeles Times described the movie as: 'In the film, he looks at five of his most iconic installations, relayed via casual anecdotes nested inside the process of creating other projects...'While JR is visiting a supermax prison near Tehachapi, Calif., and enlisting its inmates to participate in one of his projects, he describes an installation he created at the U.S.-Mexico border: A giant photograph of a toddler, Kikito, peering over the fence from the Mexican side...'It became a social media sensation, and when the scaffolding the photo was attached to needed to come down, JR threw a party with tacos and a band that erased the border for a moment.'The Algerian actress had her long raven locks layered across her coat at first, but she swept them back.JR, the guest of honor, set the tone for the relaxed evening with a cream-colored jacket over a black flee and an extra sweater.He contrasted the items with jeans and white sneakers, and he wore his identifiable trilby hat and dark round-frame sunglasses. JR — whose real name and identity have never been confirmed, despite him having made several public appearances in recent years — is best known as a street artist who prints monumental versions of black-and-white photographs and posts them onto public buildings.He later expanded into making documentary features about his work, though his most-acclaimed film was his 2017 documentary Faces Places, which he co-directed with the late French New Wave pioneer Agnès Varda.
 source : Daily mail