Details

Published on Tuesday, 21 November 2017 07:15
Written by Gossip Cop
          Angelina Jolie snubbed Margot Robbie at the Hollywood Film Awards? That's the claim in one of this week's new tabloids, which is trying to create a nonexistent feud between the two A-list actresses. Gossip Cop looked into the situation and we've exclusively learned the truth.According to In Touch, Robbie received the cold shoulder when she approached the fellow actress at the awards gala earlier this month. A so-called "source" tells the magazine that the Suicide Squad star attempted to introduce herself to Jolie, who allegedly responded, "I know who you are" and then "turned her back." The outlet's dubious insider further contends Robbie "looked shocked " that her "friendliness wasn't reciprocated by Angelina." The questionable source goes on to theorize that the supposed snub is related to Robbie's cameo appearance in Brad Pitt's 2015 movie The Big Short. "Rumors swirled about Brad crushing on Margot and that Angelina had tried to stop Brad from casting Margot in the film. It was clear from Angelina's reaction to Margot that she still holds a grudge." However, Gossip Cop already debunked this phony narrative last year after HollywoodLife used it to baselessly accuse Robbie of causing Pitt and Jolie's divorce. Regardless of this entire article being based on a false premise, Gossip Cop still checked in with sources connected to the event, none of whom heard anything about Jolie brushing off the actress. It also seems odd that In Touch was the only media outlet to witness this supposed snub considering that the high-profile gala was attended by many members of the press. All of the reputable publications that covered the event, such as Vanity Fair, observed both Robbie and Jolie behind the scenes and made no mention of any conflict between the two. It should be noted, In Touch is the same unreliable outlet that Gossip Cop busted last week for wrongly reporting Jolie is secretly getting married to a wealthy British philanthropist. Clearly, the frequently discredited tabloid isn't the best source for accurate news about the actress.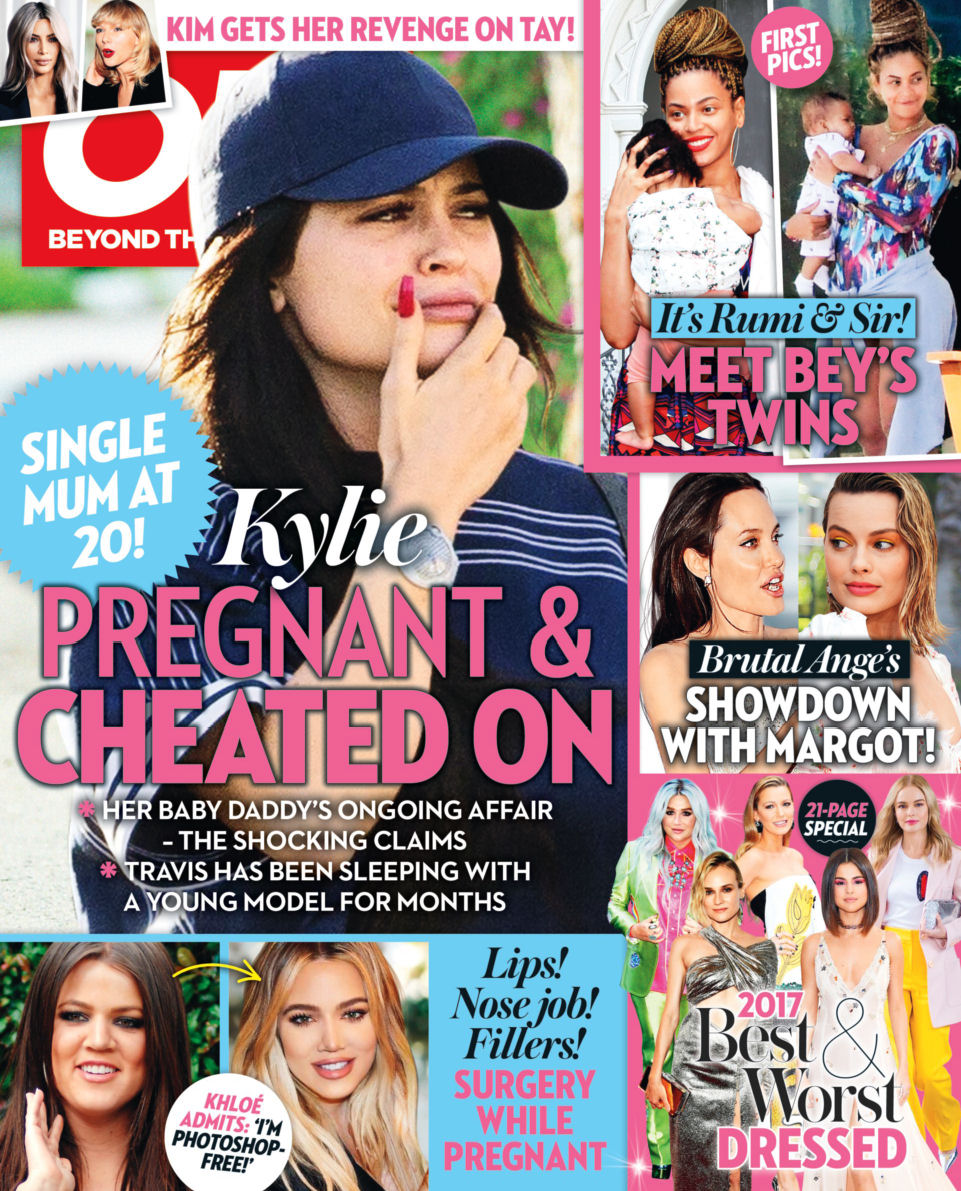 source :
Gossip Cop


Details

Published on Friday, 17 November 2017 07:26
Written by US magazine
           With Thanksgiving approaching, Brad Pitt is counting his blessings. Fourteen months removed from his split with Angelina Jolie, he's celebrating a year of sobriety ("I've got my feelings in my fingertips again," he told GQ Style in May) and "is focused on work and shooting a movie," says a source.The dad of Maddox, 16, Pax, 13, Zahara, 12, Shiloh, 11, and 9-year-old twins Knox and Vivienne is also fixated on cementing his custody arrangement with Jolie, 42, says the source, who notes, "He's still determined to have a fully resolved situation for the sake of the whole family." Not a high priority: finding romance. Contrary to reports, the Oscar winner is not dating Monaco royalty Charlotte Casiraghi, says the source. While an insider told Us this summer the actor, 53, "may have gone on a couple of dates, he's focused on the kids." Added the source: "Things are in a much better place." Jolie opened up to the New York Times in September about how their kids are coping with the split. "None of it's easy. It's very, very difficult, a very painful situation, and I just want my family healthy," Jolie, 42, said. "They're getting better." "They really help me so much. We're really such a unit," she said of her kids. "They're the best friends I've ever had. Nobody in my life has ever stood by me more." As previously reported, the couple, who married in 2014 after dating for 10 years, split after an alleged incident involving their son Maddox on a private plane. The FBI investigated allegations of child abuse against Pitt, but later cleared him. Although their divorce was contentious, the two A-listers began speaking cordially again in March in order to focus on their children, a source told Us Weekly at the time. "They are in a place where they can put anger or hurt aside to focus on their children and how they plan to coparent," one insider close to Jolie told Us. "It's been a difficult time for Angelina, and both are now willing to move forward and begin the next chapters of their lives."
 source :
US magazine


Details

Published on Friday, 17 November 2017 04:50
Written by Daily mail
           Angelina Jolie gave an impassioned keynote speech on Wednesday at the United Nations Peacekeeping Defense Ministerial conference in Vancouver, in the Canadian province of British Columbia.The 42-year-old - who is a Special Envoy for the United Nations High Commissioner for Refugees - spoke about preventing sexual violence in armed conflict at the event.In her powerful speech, the activist for the rights of women and refugees touched up current conflicts around the world, while also indirectly addressing the recent stream of sexual abuse allegations in Hollywood.She shared from the podium: 'We have to ask, how is it, after all these years, all these laws and resolutions and all the horrors endured, women still have to ask for this most basic of all entitlements: the right to a life free from violence?'Sexual violence is everywhere – in the industry where I work, in business, in universities, in politics, in the military, and across the world. It affects men as well as women.Adding: 'However it is recognized by the UN one of the prime reasons why women remain in a subordinate position in relation to men in most parts of the world, and as a critical obstacle to achieving women's equality and our full human rights.' The philanthropist recently opened up to the New York Times about her experience with disgraced US producer Harvey Weinstein and described the encounter as a 'bad experience' which left her refusing to work with him.Appearing to reference her past with the discredited movie mogul, Angelina explained that unfortunately crimes of sexual violence against women are often 'laughed off'. 'The first myth is that this behavior is sexual,' she said. 'All too often these kinds of crimes against women are laughed off, depicted as a minor offense by someone who cannot control themselves, as an illness, or as some kind of exaggerated sexual need.'But a man who mistreats women is not oversexed. He is abusive.' Arriving to the summit, the beautiful brunette looked elegant in a cream dress with a deep cowl neckline and pencil skirt that she teamed with cream high heels. The Maleficent actress styled her long, thick brunette tresses to cascade over her shoulders and frame her perfectly made-up face.Angelina chatted with Canada's Defense Minister Harjit Sajjan, 47, the first Sikh to hold the post.Then they joined the representatives of 80 countries at the conference for a group photo.Angelina was named a UNHCR Goodwill Ambassador at the body's headquarters in Geneva, switzerland, on August 27, 2001.On April 17, 2012, after more than a decade of service, she was was promoted to the rank of Special Envoy to the High Commissioner.Brad Pitt's estranged wife has made dozens of trips to areas in need in Africa, both as an actress and as a Special Envoy.  They adopted three of their six children from the continent: Maddox, 16, from Cambodia; Pax, 13, from Vietnam; and Zahara, 12, from Ethiopia.They also have three of their own children, Shiloh, 11, and nine-year-old twins Knox and Vivienne.
Details

Published on Tuesday, 14 November 2017 12:22
Written by Daily mail
          She routinely excels in the fashion department.And Angelina Jolie did not disappoint when she arrived to a Q&A at the Egyptian Theatre in Hollywood on Monday night.The actress, 42, looked effortlessly sophisticated in a chic grey blouse, tight black skirt, and ankle boots.She had her brunette tresses styled into flowing waves that cascaded down her shoulders. And her hazel eyes popped with ample amounts of mascara and eye liner.Accessorizing the look with a pair of sparkling diamond earrings and a ring, the starlet had a black leather purse slung over her shoulder. Angelina has been busy as usual, having directed the recently released drama, First They Killed My Father.The film was based on the memoir of the same name by Loung, which was published in 2000 and is about her childhood under the Khymer Rouge regime.First They Killed My Father stars Sareum Srey Moch as Loung. The accomplished actress-turned-director will be releasing another film soon later this month.Angelina's next film, The Breadwinner, follows a young girl in Afghanistan who turns to disguising herself as a boy in order to provide for her family after her father is arrested.The animated movie will be released on November 17 and features the voices of Saara Chaudry and Laara Sadiq.

Details

Published on Monday, 13 November 2017 07:19
Written by Daily mail
             Angelina Jolie dripped chic when she was glimpsed in Los Angeles on Sunday, having a chat with a couple of male pals.The 42-year-old superstar wrapped a charcoal blazer over a sleek black cocktail dress, adding a splash of contrast via nude stilettos.A polka-dotted purse hung from her left shoulder, and she wore her elegantly wavy hair down, resting her right hand in her jacket pocket.Angelina - the scion of Jon Voight and Marcheline Bertrand - spent Saturday night at the Governors Awards, which the Academy Of Motion Picture Arts And Sciences threw at The Ray Dolby Ballroom at Hollywood & Highland Center.She danced onstage with Ixelles-born director Agnès Varda, whose work formed part of the French New Wave and whom Angie presented with an Honorary Oscar.Agnès had said during her acceptance speech: 'And so, the Governors gave me this award. It just – I took it as recognition of my body of work, over the more than 60 years, and it, how you say, enlight- it gives light on me, as well as French cinema.' The 89-year-old icon closed: 'And I feel I'm dancing the dance of cinema,' before actually breaking into movement and being joined by Angelina as the band played.After 11 years as half of Brangelina, one of Hollywood's premier power couples, Angelina filed for divorce from Brad Pitt last September.Though they had publicly been a couple since 2005 - when Brad infamously left his first wife Jennifer Aniston for Angelina - Brangie had waited to marry until 2014, holding the ceremony at their Château Miraval in the South Of France.They are the parents of six children, three of whom are adopted and three of whom Brad and Angelina conceived together.When she split from Brad last year, Angelina enlisted the services of divorce-lawyer-to-the-stars Laura Wasser, as TMZ had reported at the time.ast month saw the stateside release of First They Killed My Father, the fifth and latest movie Angelina has directed.Set in Cambodia under the brutal Khmer Rouge, the movie is based on a memoir by Loung Ung, who co-wrote the script with Angelina.The country concerned - where the film was shot on location - has a family significance to Angelina, whose 16-year-old son Maddox was born in Cambodia.