Details

Published on Thursday, 30 November 2017 10:26
Written by Tribune
          It's no secret that Angelina Jolie has a massive fan following – some of which, are true diehard fans.However, one fan in particular seems to have taken her love for Jolie way too far.In a bid to look just like her 'idol', an Iranian girl underwent at least 50 surgeries in an attempt to appear exactly like the Maleficent actor, reported Al Arabiya.Sahar Tabar claims to be Jolie's biggest fan and states that she would do anything to look and be just like Angie.The 19-year-old specified that she even went on a completely strict diet to lose weight and maintain it at 40 kilos.However, in her passion to imitate the star, Tabar seems to have lost her natural features altogether.According to close family and friends, she has 'turned herself into Tim Burton's Dead Bride'.The Iranian teenager regularly posts pictures of herself on Instagram where she has over 307,000 followers.
 source :
Tribune


Details

Published on Thursday, 30 November 2017 04:57
Written by Daily mail
           Jon Voight has spoken publicly for the first time about daughter Angelina Jolie's claim to have been sexually harassed by movie mogul Harvey Weinstein.Asked if he knew about her experience with the Miramax co-founder, the Oscar-winning actor, 78, said: 'No, I did not.'He was asked about the sex scandal engulfing Hollywood as he passed through Los Angeles International Airport on Wednesday.Pressed for further comment, he simply responded: 'Angie's spoken about that and that's it.'As for the number of predators named and shamed, Voight expressed the opinion that the casting couch is something that has always existed.'This happens anywhere people have power over other people,' he said. 'They can misuse it and of course it's going to happen.''Generally speaking, people are respectful,' he added.In October, Jolie, 42, told the New York Times that Weinstein had acted inappropriately towards her in the late 1990s when he was an executive producer on her film Playing By Heart, released in 1998.In an email to the NY Times, that published a blistering expose of Weinstein, Jolie said: 'I had a bad experience with Harvey Weinstein in my youth, and as a result, chose never to work with him again and warn others when they did.''This behavior towards women in any field, any country is unacceptable,' she added.Jolie has had a complicated relationship with her famous father from whom she has been estranged for most of her life.Despite a brief reconciliation when they worked together on 2001's Lara Croft Tomb Raider, they spent years not speaking.Voight separated from Jolie's mother Marcheline Bertrand in 1976 when Jolie was just a baby.They hardly spoke or interacted for years with Jolie allegedly blaming him for breaking up the family.In 2002, the actress filed to legally change her last name from Voight to Jolie, the middle name she had used professionally. That same year, after she split from her second husband Billy Bob Thornton, Voight told Access Hollywood that his daughter had 'serious mental problems.'Following the death of Bertrand from ovarian cancer in 2007, Jolie and Voight began a slow process of reconciliation that culminated when the Midnight Cowboy star was spotted in Venice, Italy, in February 2010 with his daughter, her then partner Brad Pitt and their children.Voight has continued to be a part of his grandchildren's lives and joined Jolie and the kids for the New York premiere in September of her passion project First They Killed My Father.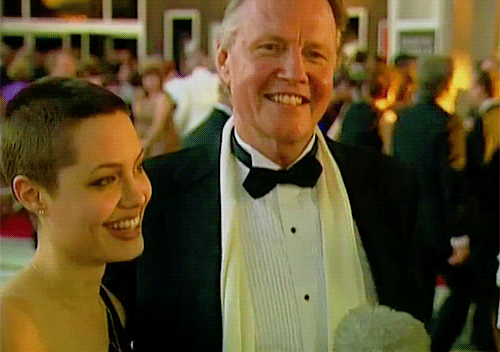 source :
Daily mail


Details

Published on Wednesday, 29 November 2017 12:44
Written by Inquisitr
          Before Angelina Jolie stunned everyone (including Brad Pitt) by filing for divorce, Brad picked his movie roles based on what he thought could boost his career. Seen filming around the world, Pitt reportedly didn't stress when it came to how far he would travel from home in order to make the perfect film. But in the wake of his split from Angelina Jolie, Brad reportedly has changed his career strategy. An insider told Life & Style about the drastic career change that Pitt is making for the six kids.Brad Pitt Prioritizes Being Close To Kids Over Choosing Perfect Movie, Claims Source.The source said that even if Brad is offered a dream movie opportunity, Pitt is rejecting films that would force him to travel far from the six kids he shares with Angelina Jolie."While his custody battle with Angelina Jolie, 42, drags on, Brad Pitt is doing what he can to stay close to his six kids — including staying close to home!"Brad reportedly has become much more conscious about how far he would need to travel for roles. As a result, the film actor is allegedly looking for films that he can work on near his six children rather than seeking films to polish his film career."Brad is determined to spend as much time as possible with his children," summed up the insider.Angelina Jolie Split Reportedly Keeps Brad Pitt Anchored In California Near Shiloh Jolie-Pitt And Other Kids.
          Angelina Jolie lives in California with Maddox, Pax, Zahara, Knox, Vivienne, and Shiloh Jolie-Pitt. As a result, the insider revealed that Pitt is looking for movie roles he can film in California."He's specifically working on movie projects based in California so he can be near [the kids]." The 53-year-old is multi-tasking when it comes to his career at this point in his life. Brad is producing and starring in Ad Astra while producing the film Backseat. Because both projects are filming north of Los Angeles in Santa Clarita, Pitt is close enough to co-parent the children. However, Brad isn't planning to rule out films that require him to travel outside of California forever."It's temporary while his kids adjust to their new lifestyle," clarified the insider.Angelina Jolie-Brad Pitt Custody Arrangement Sparks Rumors About Kids As Pawns.
          Life & Style alleged that Angelina is "using the kids as pawns against Brad," quoting an insider's allegations that Jolie has changed plans.  "Brad knows he can't count on scheduled days with the kids because Angie has changed the plans abruptly at the last minute multiple times."The source claimed that Pitt believes Angelina is not "ready to let go of that hostility" but does not want to take actions that might result in "jeopardizing losing his children." According to the insider, Brad has the choice of creating a battle by getting "angry" each time, but that choice would impact the children.Instead, Pitt is focused on managing the situation "like a mature adult," said the source. Brad reportedly has "made peace" with the custody arrangement schedule about seeing the kids.As the Inquisitr reported, one recent story from Hollywood Life offered similar allegations, questioning whether the Grinch might steal Christmas this year if Pitt doesn't see his kids.However, Gossip Cop reported that Life & Style's story about Pitt choosing all of his movies based on location is not true. A source close to Brad said that the tale was not accurate. After filming around the globe during his career, Brad knows how to balance home and work life.
          Gossip Cop also debunked allegations about the kids' custody, such as Angelina Jolie using the kids as pawns and changing the schedule. "Since their custody battle is not yet resolved, they are working off a temporary agreement that is overseen by a third party."Valid insiders would not reveal details about Brad and Angelina's custody arrangement or Pitt's feelings, pointed out Gossip Cop. Instead, they would protect the privacy of the family and children.Moreover, both Angelina and Brad are now focused on moving forward. Rather than using the children as pawns or changing the schedule, Jolie and Pitt are working together to achieve a "fully resolved" custody agreement, according to Us Weekly."They are in a place where they can put anger or hurt aside to focus on their children and how they plan to co-parent," an insider told Us Weekly.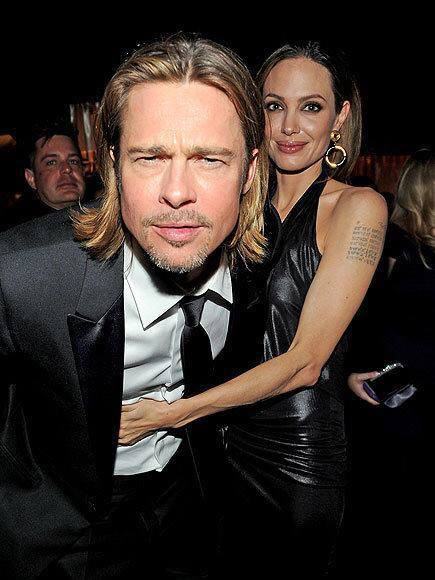 source :
Inquisitr


Details

Published on Wednesday, 22 November 2017 07:31
Written by Gossip Cop
           HollywoodLife claims to have "exclusively learned" that Angelina Jolie and Brad Pitt's six kids hope their estranged parents will reunite over the holidays so they can all "spend Christmas together as a family." Gossip Cop, however, has learned that no one close to the family spoke to the untrustworthy website about the Jolie-Pitt children's Christmas wishes.A so-called "source" tells the outlet that the actress "really wants to take the kids away for Christmas," particularly to Cambodia, but her estranged husband "wants to spend time with the children too, so he's begged Angelina to stay in town." The site's alleged insider goes on to say the exes' kids also asked their mom to stay in Los Angeles because "they hate to think of [their dad] being on his own."The blog's bogus source further purports that Jolie "will have the kids Christmas Eve and Christmas Day morning, then they will go to their dad's for a few hours before heading back to Angelina's for dinner." The supposed insider adds, "The kids would really love to spend the day with both of their parents together, but that's still really not an option. Brad and Angelina have come pretty far since their break-up, but they're definitely not at the stage of being friends yet."
           Does HollywoodLies, as its known, really expect its readers to believe that someone close enough to either Pitt or Jolie would then leak the information to an untrustworthy blog? Gossip Cop has repeatedly been assured that no one in the actor or actress's inner circles discuss their personal life with the website, and that's especially true when it comes to their kids.It should also be noted, Gossip Cop busted HollywoodLife for concocting other bogus holiday-related stories about the family. We called out the outlet just last week for making up a phony article about Pitt and Jolie fighting over who spends Thanksgiving with the kids. Shortly before that, we debunked the webloid's made-up report about Jolie inviting Pitt to go trick-or-treating on Halloween with her and the children. Based on its (predictable) history, Gossip Cop suspects HollywoodLies will next fabricate a story surrounding the family's New Year's plans.
 source :
Gossip Cop


Details

Published on Tuesday, 21 November 2017 07:15
Written by Gossip Cop
          Angelina Jolie snubbed Margot Robbie at the Hollywood Film Awards? That's the claim in one of this week's new tabloids, which is trying to create a nonexistent feud between the two A-list actresses. Gossip Cop looked into the situation and we've exclusively learned the truth.According to In Touch, Robbie received the cold shoulder when she approached the fellow actress at the awards gala earlier this month. A so-called "source" tells the magazine that the Suicide Squad star attempted to introduce herself to Jolie, who allegedly responded, "I know who you are" and then "turned her back." The outlet's dubious insider further contends Robbie "looked shocked " that her "friendliness wasn't reciprocated by Angelina." The questionable source goes on to theorize that the supposed snub is related to Robbie's cameo appearance in Brad Pitt's 2015 movie The Big Short. "Rumors swirled about Brad crushing on Margot and that Angelina had tried to stop Brad from casting Margot in the film. It was clear from Angelina's reaction to Margot that she still holds a grudge." However, Gossip Cop already debunked this phony narrative last year after HollywoodLife used it to baselessly accuse Robbie of causing Pitt and Jolie's divorce. Regardless of this entire article being based on a false premise, Gossip Cop still checked in with sources connected to the event, none of whom heard anything about Jolie brushing off the actress. It also seems odd that In Touch was the only media outlet to witness this supposed snub considering that the high-profile gala was attended by many members of the press. All of the reputable publications that covered the event, such as Vanity Fair, observed both Robbie and Jolie behind the scenes and made no mention of any conflict between the two. It should be noted, In Touch is the same unreliable outlet that Gossip Cop busted last week for wrongly reporting Jolie is secretly getting married to a wealthy British philanthropist. Clearly, the frequently discredited tabloid isn't the best source for accurate news about the actress.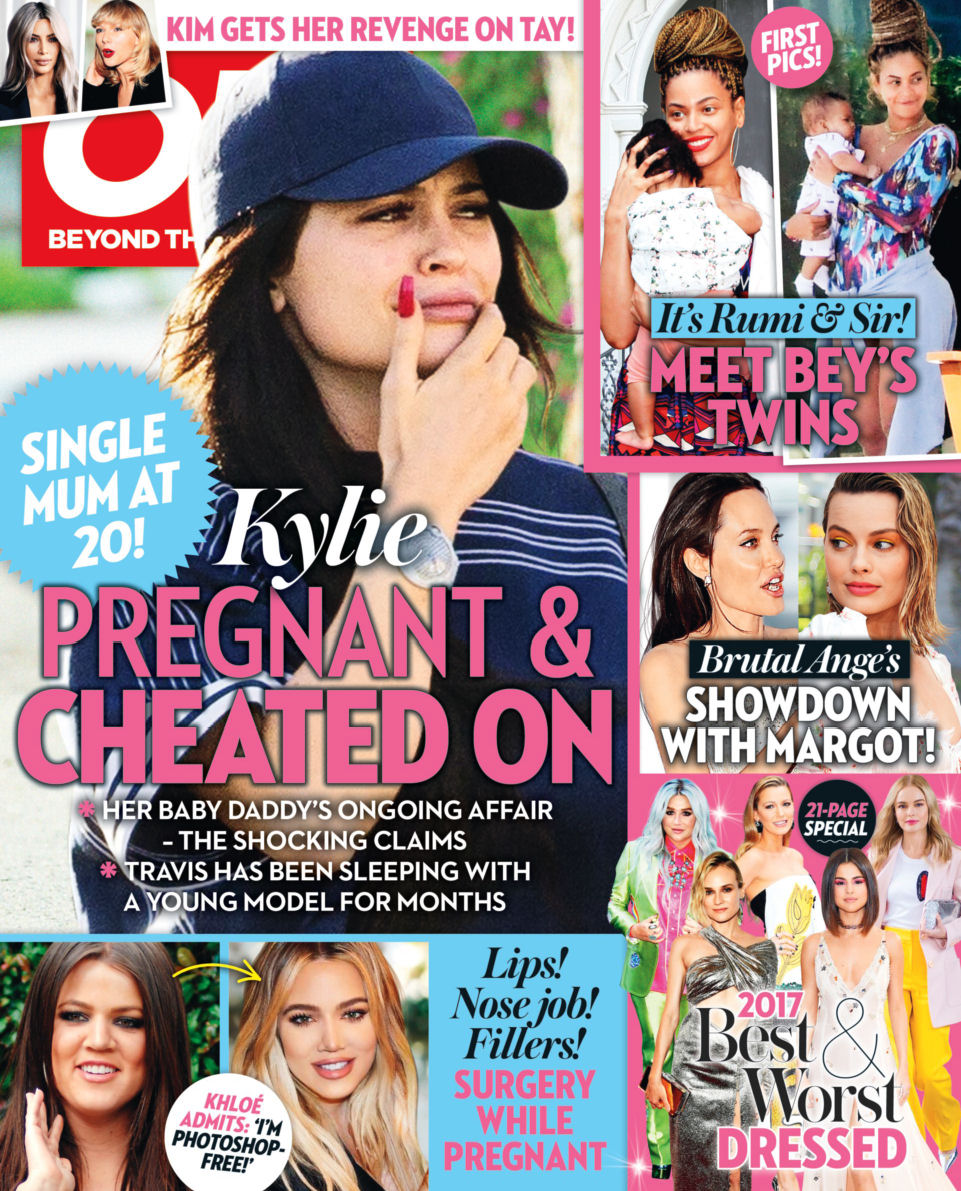 source :
Gossip Cop