Details

Published on Thursday, 07 December 2017 04:49
Written by The Sun
         A TEEN who claimed she had undergone 50 surgeries to look like her idol Angelina Jolie has admitted she faked the whole thing to "amuse" herself.Sahar Tabar had been called a "zombie" by cruel viewers after her gaunt Instagram selfies went viral.But, as The Sun Online reported last week, many more viewers had a hunch that the teenage superfan may be using Photoshop to tweak her pictures.And now 19-year-old Sahar has come clean and admitted that her shocking, emaciated look is not real.Rather than a result of surgery or drastic weight loss, the Iranain teen's look was created through a combo of make-up magic and computer wizardry.Sahar told Sputnik : "Now I can see that I have something in common with (Angelina Jolie), but I amuse myself, and to look like someone is not my goal." The Iranian teen had been the subject of intense speculation about whether her story was true .She added that her look, characterised by hollow cheeks, inflated, pouting lips and bright, blue eyes, shouldn't be taken at face value.Sahar, who reportedly also dropped 40kg as part of her transformation, said: "Over time I post a photo, I make my face more fun and funny, it is a form of self-expression, a kind of art."My fans know that this is not my real face."Now, un-touched photos have emerged which allegedly show the Instagram star without her make-up and contacts.Sahar looks startlingly normal in the pics, posted on her second Instagram account back in October.It's a far cry from the "zombie" selfies which saw the young woman compared to the Corpse Bride.Suspicion emerged around her photos after an eagle-eyed viewer claimed one of her more extreme selfies had been edited in Photoshop.The warped background and odd lines in the shot suggest that it has been tweaked using a computer.We've been bringing you all the updates on Sahar's sensational story.Previously, we revealed that the teen admitted she had been using make-up to exaggerate her look.We also shared a YouTube video where the teen can be seen using a Kylie Jenner kit to plump up her lips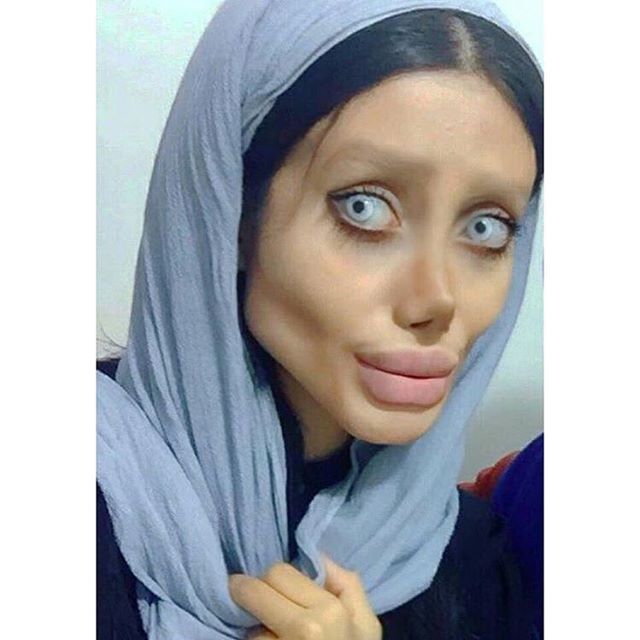 source :
The Sun


Details

Published on Wednesday, 06 December 2017 04:32
Written by Daily Mail
            She filed for divorce from her movie-star husband in September 2016 after 12 years together.And now Angelina Jolie, 42, has revealed she thought working with ex Brad Pitt, 53, on 2015's By The Sea would help them communicate better as a couple.The actress directed the marital drama movie two years ago and admitted she thought it could have had a positive impact on their relationship by working together on a big project.Speaking to The Hollywood Reporter's podcast Awards Chatter, she said: 'We had met working together and we worked together well...I wanted us to do some serious work together...I thought it would be a good way for us to communicate.'In some ways it was, and in some ways we learned some things. But there was a heaviness probably during that situation that carried on and it wasn't because of the film.She continued: 'It was something that we were dealing... things happen for different reasons, and things... why did I write that exact piece? Why did we feel that way when we made it? I'm not sure.'The couple - who together have six children - met while filming Mr. & Mrs. Smith in 2005, and Jolie candidly explained how she had a difficult time in the decade after they sparked a romance.'Over the span of that decade, I did lose my mother,' she added. 'I did have my mastectomy, and I did then have an ovarian cancer scare and have that surgery as well, and other things of course that happened in life that you go through.'A piece of art can be something that's healing or something that's difficult. I don't know. I'm glad we did that film because we did explore something together. She finished: 'Whatever it was maybe it didn't solve certain things, but we did communicate something that needed to be communicated to each other.'
            Together, the former couple have Maddox, 16, Pax, 13, Zahara, 12, Shiloh, 11, and nine-year-old twins Knox and Vivienne.And on Monday, Angelina spent some quality time with daughter Vivienne in Los Angeles.The Hollywood star looked in high spirits as she stepped out with the nine-year-old as she arrived for her Karate class.Sunglass-clad Angelina looked endless chic in a cream knee-length coat, black denims and white tee, while Vivienne looked ready for her active class in her white martial arts trousers and a green T-shirt. Elsewhere, Angelina was candid while promoting her new film First They Killed My Father when she admitted that filing for divorce after a 12 year relationship has been difficult.She said: 'Sometimes maybe it appears I am pulling it all together. But really I am just trying to get through my days.' 'I don't enjoy being single. It's not something I wanted,' she continued in an interview with the Sunday Telegraph. 'There are no upsides, there's nothing nice about it. It's just hard.' Meanwhile, she signed up for Maleficent 2 this summer following the success of the 2014 original.Speaking at the Telluride Film Festival over the weekend, the actress said: 'We have been working on the script and this is going to be a really strong sequel.'Although not much else is known about the upcoming sequel, last week, Disney revealed they have hired Spectre co-writer Jez Butterworth to rewrite the screenplay for the film.
 source :
Daily Mail


Details

Published on Sunday, 03 December 2017 13:13
Written by Gossip Cop
            Angelina Jolie is not "desperate" for a reconciliation with Brad Pitt, despite reports contending she wants him "back." Gossip Cop can correct this misinformation and explain how it originated.HollywoodLife is announcing in a headline, "Angelina Jolie Reportedly Desperate For Brad Pitt Reconciliation: Why He'd Never Take Her Back." For a change, the webloid isn't guilty of making this up. Rather, it's guilty of picking up these contentions from a tabloid without bothering to fact-check them first. The claims were initially published by Life & Style, and HollywoodLife saw fit to regurgitate them with no regards to whether they're even accurate. And, of course, they're not.But the site quotes a purported source from the magazine as saying of Jolie, "She's been in tears over losing him. She's told friends, 'I made the mistake of a lifetime.'" The problem, according to these two publications, is that "Brad feels too much damage has been done and she's tormented him for too long to consider taking her back." In actuality, the real problem is that this was all manufactured by one outlet and then spread online by another.What's particularly mind-boggling is that both places are pretending these assertions aren't inconsistent with allegations they've peddled in the past. For instance, while now running these contentions about one side wanting a reconciliation, Life & Style isn't acknowledging that it previously claimed Jolie and Pitt were "secretly dating" in May. And HollywoodLife is conveniently forgetting that it fell for that false story and similarly wrongly claimed Jolie and Pitt were back together. If that were the case, why are the two insisting now that she wants to reconcile and he's refusing? After all, months ago they were already supposedly reunited.That wasn't true, of course, and it's obvious that in addition to not caring about accuracy, these publications don't care about consistency, either. It's also obvious that if either had real insight on Jolie and Pitt, it wouldn't have run wrong information in the first place. But the estranged spouses weren't back together in May, and one half isn't pushing for a reunion now. They remain separated, and while Jolie has admitted she doesn't "enjoy being single," that doesn't mean the divorce isn't going to move forward, Gossip Cop is told.

 source :
Gossip Cop


Details

Published on Saturday, 02 December 2017 12:17
Written by Radaronline
          Why she's desperate to make 'maximum impression.' RadarOnline.com can exclusively reveal Angelina Jolie is sexing up her image in the run-up to awards season! "Angelina is getting more aggressive ever with her fashion choices and social appointments in order to make a maximum impression, especially at events where there's no chance Brad Pitt or any of his extensive network of Hollywood colleagues will be attending," an insider revealed."This is a good year for Angelina to make this kind of move because she's a serious contender for Best Foreign Language Film" with First They Killed My Father, said the source.It also helps that single-mom Jolie, 42, probably won't have to deal with any awkward Oscar run-ins with her ex."Brad's company is not in contention with a major film as they have been in all three of the previous awards seasons," noted the insider."That's given Angie the freedom to make bold choices you just don't see her doing that often, and it's working, because Angelina is the frontrunner and Netflix is a company willing to spend tens of millions to win its first big Oscar — and it looks like Angelina will be the one to win it for them."
 source :
Radaronline


Details

Published on Friday, 01 December 2017 04:37
Written by Hollywood Reporter
          Brooklynn Prince will star in the film written by Mike White ('School of Rock'), adapting the Newbery Medal-winning book by Katherine Applegate and illustrated by Patricia Castelao.Brooklynn Prince, the breakout lead of acclaimed indie drama The Florida Project, may have just nabbed her first big studio feature.Prince is in talks to join Angelina Jolie in The One and Only Ivan, Disney's adaptation of the Newbery Medal-winning book written by Katherine Applegate and illustrated by Patricia Castelao.Thea Sharrock, director of the tearjerker Me Before You, is helming Ivan, which has a script by Mike White and is intended to be a live-action hybrid. Prince and Jolie will make up part of the voice cast for the movie.Published by HarperCollins in 2011, the book centers on a silverback gorilla named Ivan who lives in a cage in a shopping mall along with an elephant named Stella and a stray dog called Bob. Ivan does not remember life before the mall, but when a baby elephant named Ruby enters and Ivan finds himself taking care of her, he begins to rediscover his previous life and concocts a plan to take the baby elephant away from their abusive owner.Prince will voice Ruby, opposite Jolie's Stella.Casting searches are underway to play the human characters.Brigham Taylor (The Jungle Book) has boarded the project as a producer, joining Allison Shearmur — who was one of the producers on Disney's live-action take on Cinderella as well as Rogue One: A Star Wars Story — and Jolie.The Florida Project, which is slowly being unspooled by A24, has been generating major buzz this awards season.Prince recently signed with UTA, and is also repped by Thirty Three Management and Hansen Jacobson.
 source :
Hollywood Reporter