Details

Published on Thursday, 11 January 2018 04:55
Written by Hollywood Reporter
             Ariana Greenblatt will play one of the human leads in the live-action/CG hybrid.Ariana Greenblatt, who appears on Disney Channel's Stuck in the Middle, has joined the cast of The One and Only Ivan, Disney's adaptation of the Newbery Medal-winning book written by Katherine Applegate.Angelina Jolie is producing the live-action/CG hybrid as well as voicing one of the lead characters. Allison Shearmur and Brigham Taylor are also producing.Published by HarperCollins in 2011, the book centers on a silverback gorilla named Ivan who lives in a cage in a shopping mall along with an elephant named Stella (Jolie) and a stray dog called Bob. Ivan does not remember life before the mall, but when a baby elephant named Ruby enters and Ivan finds himself taking care of her, he begins to rediscover his previous life and concocts a plan to take the baby elephant away from their abusive owner.Greenblatt will play one of the human leads who make up the live-action portion of the project.Brooklynn Prince, the breakout lead of acclaimed indie drama The Florida Project, is already cast as the voice of Ruby.Thea Sharrock, director of the tearjerker Me Before You, is helming Ivan, which has a script by Mike White.Greenblatt has been appearing on Middle since the series began in 2016. The show is now in its third season. The youngster made her feature debut in last year's STX comedy, A Bad Moms Christmas.She is repped by Paradigm, Untitled Entertainment and Schreck Rose.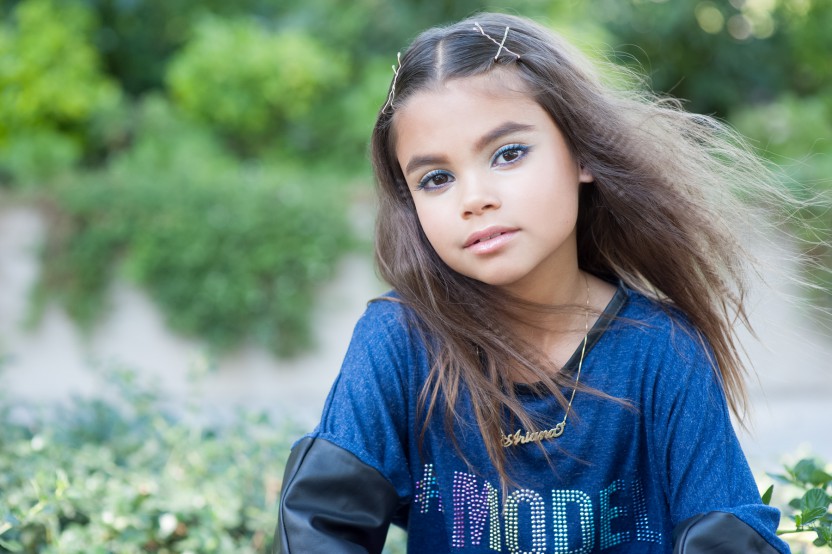 source :
Hollywood Reporter


Details

Published on Wednesday, 10 January 2018 19:45
Written by Bews
         CHRIS Hemsworth's wife Elsa Pataky has responded to remarks made about Angelina Jolie sitting next to her man at the Golden Globes overnight.CHRIS Hemsworth's wife Elsa Pataky has responded to remarks made about Angelina Jolie sitting next to her man at the Golden Globes overnight after fans said her husband looked like Brad Pitt.The Thor hunk was seated next to Jolie and Thor Ragnarok director Taika Waititi, who originally shared the picture of the trio online.Eagle-eyed social media users were quick to reach out to the newly-single Jolie to tell her how much Hemsworth looked like her ex.One tweet said: "No one acknowledges the similarity between these two! I confuse Chris with Brad all the time lol." Another said: "For a long time I thought that Brad Pitt played Thor in avengers. LOL."And Pataky wasn't shy to jump in on the fun."What a great couple! I mean you boys!" she commented on Waititi's post.Just last week, Hemsworth's brother Liam's fiancee Miley Cyrus joined Pataky for some shopping at Spell & The Gypsy Collective at the northern NSW holiday town.Cyrus has been a frequent visitor of the area after she and Liam celebrated last New Year's at the nearby Falls Festival.Hemsworth has also attracted a number of A-list stars including Matt Damon to his hometown of Byron Bay, where he is regularly spotted playing at the beach with his three children.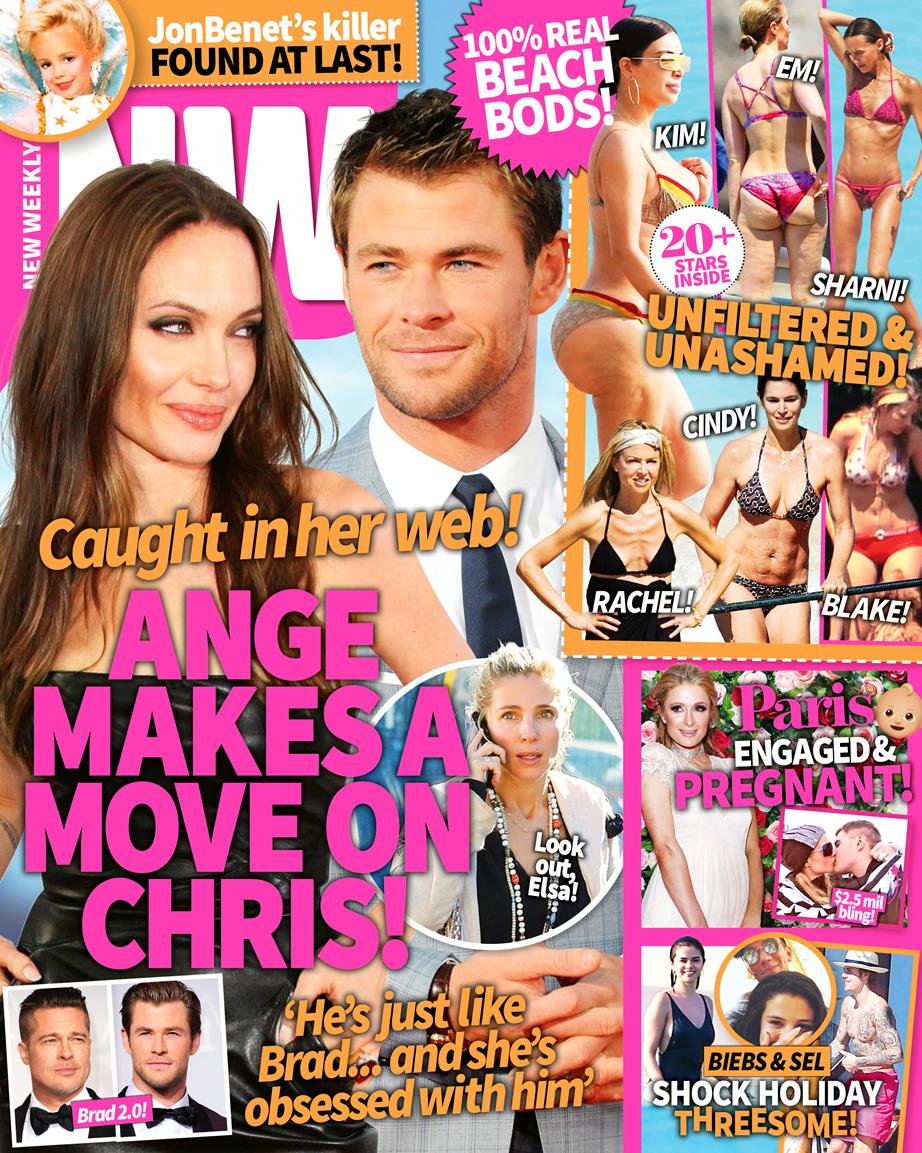 source :
News


Details

Published on Wednesday, 10 January 2018 11:36
Written by Daily mail
        She entrusted the help of her 14-year-old son Pax to escort her to Sunday's Golden Globe Awards in Los Angeles.And Angelina Jolie, 42, gave the honor to daughters Shiloh, 11, and Zahara, 13, on the red carpet of the National Board of Review Awards Gala at Cipriani in New York on Tuesday evening.The Academy Award-winning actress looked stunning in a sheer black dress with her daughters opting for black suits alongside human rights activist Loung Ung. Angelina donned a long black dress with delicate straps worn underneath a sweeping lace cape.She fastened a black velour belt around her slender waistline as bunches of lace fabric billowed to her sides.Her long, chocolate brown hair was worn in sultry loose curls and cascaded down past her shoulders. Her adorable daughters seemed to have caught the all-black memo as they both opted for fitted suits.The two girls set their looks apart from each other with Shiloh donning a crisp white shirt and Zahara opting for a black crew neck sweater.Human rights activist Loung Ung wore a sleeveless gown adorned with bunches of black flowers.Wonder Woman Gal Gadot flashed some abs wearing a long powder blue gown with a cut-out along her torso. Her tanned and toned arms were on full display in the sweeping frock which featured one thick strap across her shoulder.Husband Yaron Versano looked dapper dressed in a black suit with a matching black tie and shoes.(...)
 source :
Daily Mail


Details

Published on Wednesday, 10 January 2018 07:04
Written by The Sun
            ANGELINA Jolie appears to have been caught on camera ignoring Jennifer Aniston at the Golden Globes.Fans are convinced the Oscar-winner was deliberately blanking her former love rival during her turn on stage at the ceremony on Sunday night - and Dakota Johnson saw the whole thing.The former Friends star took to the stage with veteran actress Carol Burnett to present a gong at the glitzy awards show.A screenshot taken during the presentation has been shared by fans online and seemingly shows Angelina sitting at a table, looking away from the stage while Jen spoke.Some fans pointed out that fellow guest Dakota  appeared to have been caught looking at Angelina from the other side of the table while Jennifer was on stage.One Twitter user wrote: "You're lying if you can't relate to Dakota staring at Angelina's face for a reaction to Jennifer being on stage."Another tweeted: "Dakota Johnson got caught watching Angelina Jolie while Jennifer Aniston presented..."When you're trying to be subtle, but you can't help yourself." The video shows Angelina watching from her table before looking away, and Fifty Shades of Grey actress Dakota seems to glance across at the star, seemingly scouring her face for a reaction.Jennifer and Angelina, who were both married to Hollywood hunk Brad Pitt, were seated on opposite sides of the room during the ceremony.The former Friends star is also said to have skipped the red carpet in an attempt to avoid running into Angelina.However, they later risked a run-in as they both attended the same Netflix afterparty following the show.The pair, who were last in the same room at the Critics' Choice Awards in 2015, have allegedly been feuding since Brad left Jennifer for Angelina in 2005.Brad and Angelina - who famously became known as "Brangelina" - starred as love interests in the film Mr & Mrs Smith the same year.Just months later, Brad and Jennifer announced they were separating and he married Angelina in August 2014 after nine years together.Angelina filed for divorce in September 2016 after an "incident" on a private jet.Jennifer was recently spotted enjoying a break in Mexico with husband Justin Theroux, 46.The couple got married in a top-secret ceremony at their Bel Air estate in 2015.They have recently been dogged by rumours they had split because of the amount of time they spend apart.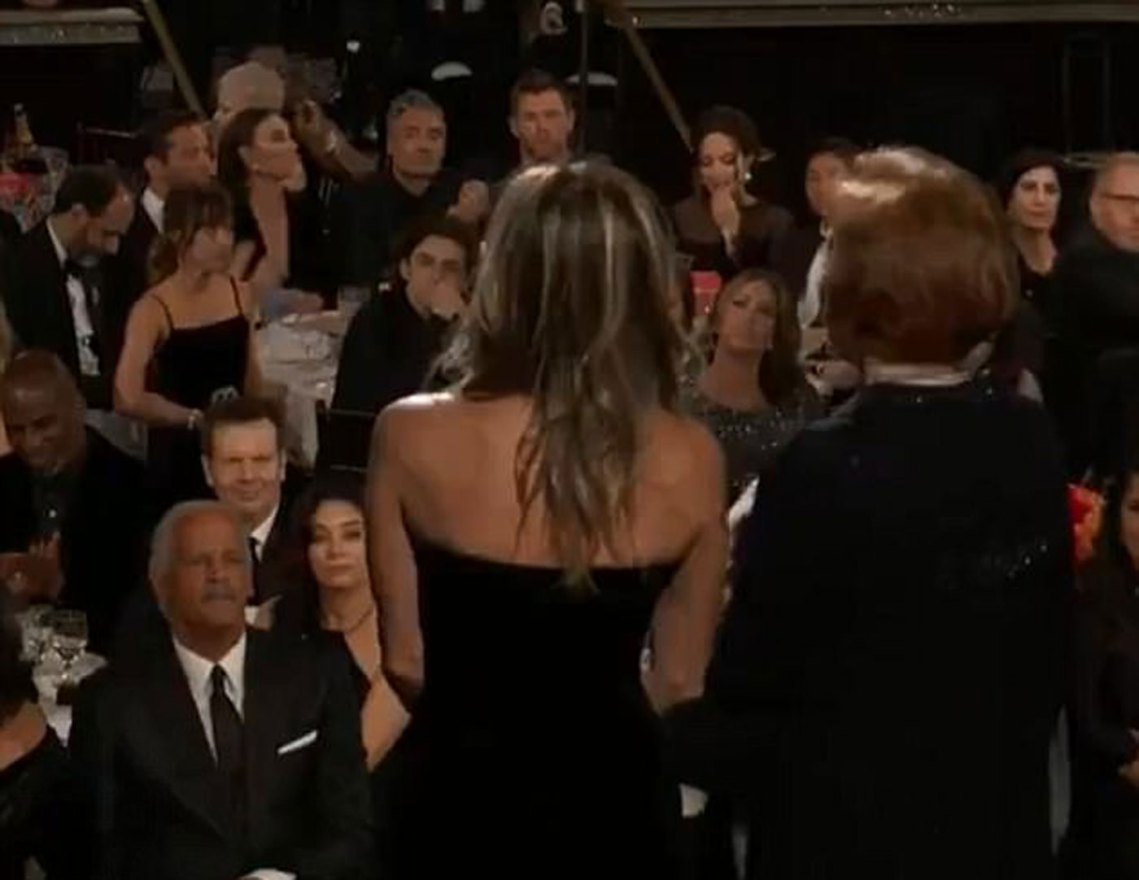 source :
The Sun


Details

Published on Wednesday, 10 January 2018 04:34
Written by Now To Love
           Let's face it, Chris Hemsworth is pretty much everyone's ultimate Hollywood crush. Tall, funny, blokey, muscley – the Aussie actor ticks all of our boxes and then some.But NW has learnt that a big-time actress has also fallen hard for the hunky father-of-three – Ms Angelina Jolie! And she's doing everything in her power to get close to him."Angie's had a crush on Chris for a while," an insider says. "She's gone out of her way to watch his films. Like many, she thinks he's absolutely gorgeous, and very talented of course." Now the mother-of-six, 42, is making it her mission to have him as her leading man. The actress still has her long-gestating Cleopatra movie in the works and we're told she's eager to have Chris, 34, play Marc Antony to her Egyptian queen."She thinks they'd have great chemistry," spills the insider.Great love affairs aside, she also wouldn't even mind getting down and dirty with Chris in an action film so she's pitching a Mr & Mrs Smith-style blockbuster to the big studios with her and Chris in the lead roles."Ange's got the script written in her head and says Chris is perfect for the part," says the insider. "She's excited about this project. Just the prospect of working on this with him seems to be giving her a boost."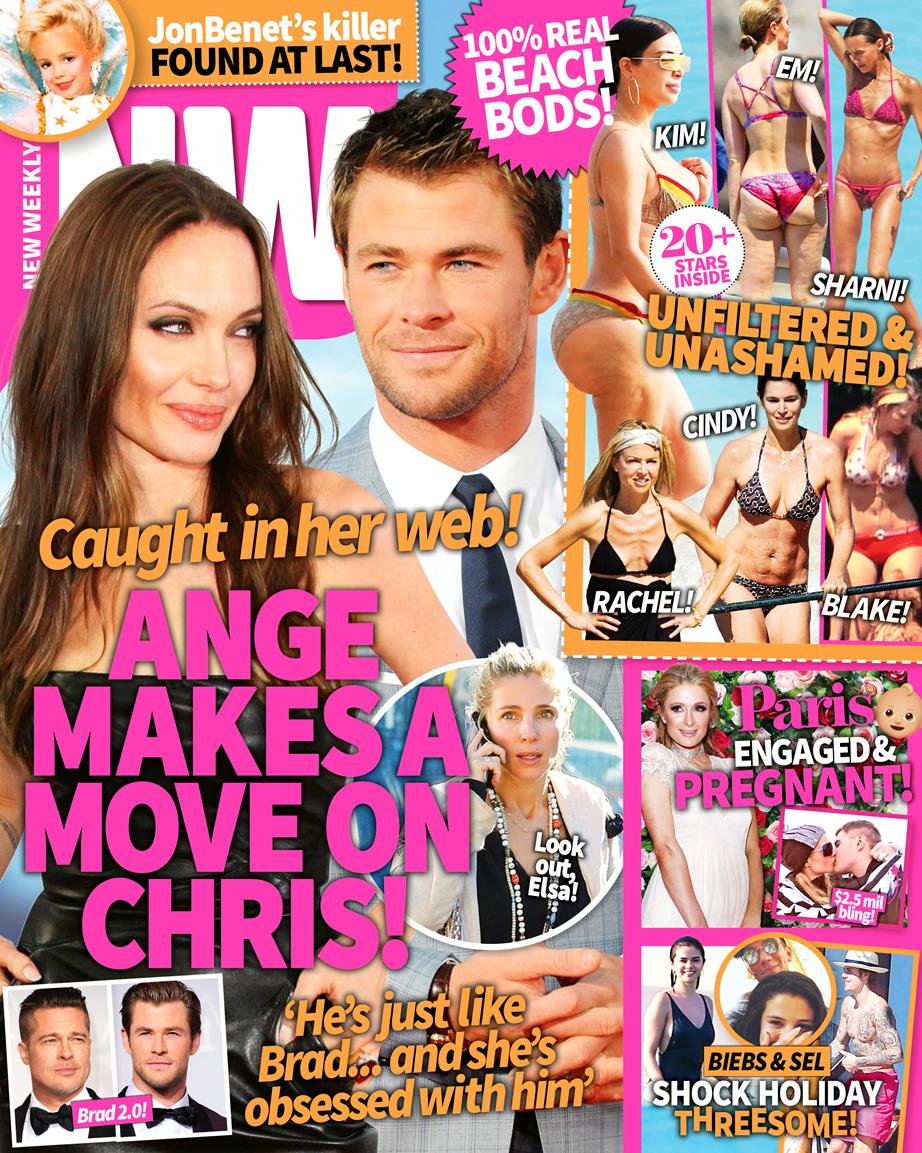 source :
Now To Love