Details

Published on Saturday, 05 January 2013 19:39
Written by Daily mail
   At least they're prepared for the slightest hint of trouble.One of Brad Pitt and Angelina Jolie's kids accidentally pushed a 'panic alarm' inside their house last night that prompted a Herculean response from the LAPD, according to TMZ.Police cars AND a helicopter were sent to the family's Los Feliz home at 9pm after an alarm went off.TMZ's sources say the police were told it was a huge mistake when they arrived at the compound in the trendy east hills, and informed by a nanny that one of the children pressed the alarm by mistake.Brad and Angelina weren't at home but were informed about the false alarm by the nanny. The family have just returned from Donna Karan's home in Turks and Caicos where they spent the holidays with their families, and all those children. But it seems the family may not be taking care of Maddox, Shiloh, Knox, Vivienne, Pax and Zahara alone.Architectural Digest editor-at-large Jeffrey Slonim posted on his blog: 'At lunch on a small island three away from Parrot Cay,'A woman said she'd heard from a local that [Pitt and Jolie] were in town with two nannies per child. Count 'em, 12 nannies!'.But their youngsters had better not get to comfortable on the island, as reports have said the power couple are taking their kids around the world for the holidays.Witnesses on the island claim the family are loving being away from the limelight.An insider said: 'They are at Donna's house, without Donna, and have been loving the island because it is so secluded.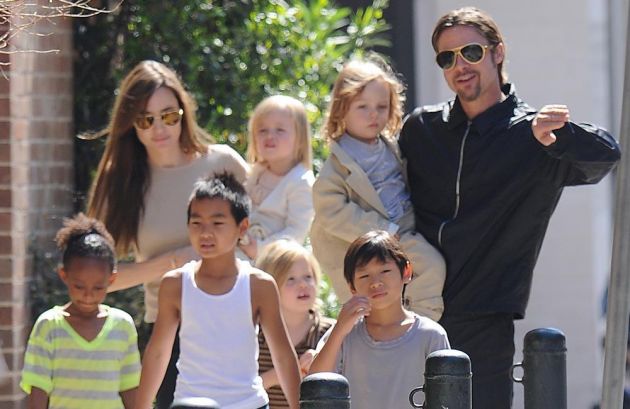 source : 
Daily Mail



Details

Published on Friday, 04 January 2013 20:33
Written by US Magazine
   Even stars get starstruck!As Amy Poehler and Tina Fey prepare to co-host the 2013 Golden Globe Awards on Sunday, Jan. 13, they're just like any other fans -- except for the fact that they each have their own shows on NBC, of course."The big thing is that television and film get to be together. So the beautiful people of film rub shoulders with the horrible, disgusting people of television," Poehler quips in a new teaser for the broadcast. "And that's always nice to see."One "beautiful person of film" the Parks and Recreation actress can't wait to meet? Brad Pitt's better half. "I'm hoping to meet Angelina Jolie," the comedienne says, joking with Fey that she's already had plenty of "imaginary conversations" with the A-list movie star. "I'm hoping to have a real one onstage or on camera live at some point."Her co-host is less enthused. "I hate everyone," the 30 Rock actress deadpans. "I don't want to meet anyone." So what does she want? "I personally would like to win Best Picture. Just me, as a person, winning Best Picture, I think would be unprecedented. Especially 'cause I didn't even really make a movie this year," she jests.But seriously, folks. "We decided to host because the Golden Globes seem like they're pretty fun," Poehler says."Yes. We've been to them before, and it's a very kind of sloppy, loud party," Fey adds. "And that seemed like our kind of thing."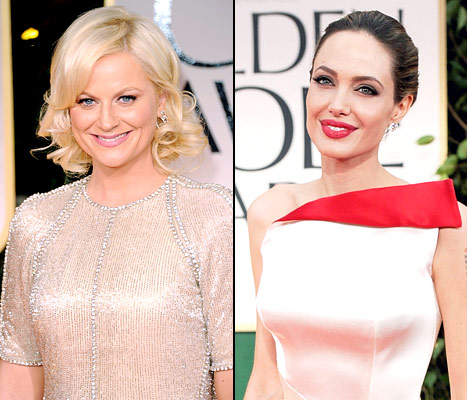 source : 
US Magazine



Details

Published on Friday, 04 January 2013 20:28
Written by News
   Brad Pitt and Angelina Jolie's son was apparently lacking in Christmas spirit over the holidays, declaring "Santa is dead to me".The Hollywood stars spent the festive season in the Turks and Caicos Islands with their six children as well as some of Pitt's family members. Although no expense was spared on the luxury trip, it seems the couple's nine-year-old son Pax was less than impressed.According to British newspaper The Sun, Brad's niece Josie Neal took to Twitter to reveal Pax had said "Santa is dead to me" as they dined on the beach on December 24.The pair's four-year-old son Knox also had a testing time over the holidays.The young boy reportedly refused to get out of a box before the family embarked on a boat trip. Knox is believed to be scared of water and had hoped he could miss out on the voyage by remaining inside the container.Along with the boat trip, the male members of the clan are also believed to have organised a treasure hunt on the islands. However, six-year-old tomboy Shiloh was determined not to be left out and insisted on joining in too.More than 22 people are believed to have stayed with Brad and Ange over the Christmas and New Year holiday at the private Parrot Cay estate owned by fashion designer Donna Karan. The hunk's parents Jane and Bill, his brother Doug and sister Jill were among the guests.The large family gathering has sparked rumours the power couple may even have tied the knot in the Caribbean over Christmas. There is speculation they wed on December 25 in an intimate ceremony.Brad and Angelina announced they were engaged in April 2012 after seven years together.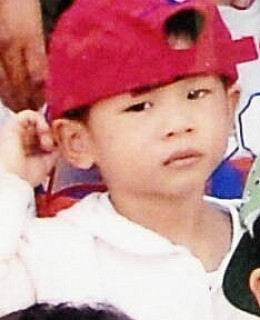 source :
News



Details

Published on Sunday, 23 December 2012 11:30
Written by Hindustan Times
   Brad Pitt and Angelina Jolie are rumoured to have tied the knot on Christmas day in the Caribbean, reports have claimed.The Hollywood super couple apparently married in an intimate ceremony on the Turks and Caicos Islands, according to The Telegraph. The pair have been spending the Christmas and New Year holiday at the private Parrot Cay estate of fashion designer Donna Karan with their six children, Pitt's parents Jane and William, his brother Doug and sister Julie.News of their reported nuptials comes eight months after Pitt, 49, and Jolie, 37, announced their engagement in April 2012 after seven years together.Speculation they had finally wed comes after a magazine report in early December claimed the pair had picked up their wedding rings from celebrity jeweller Neil Lane.In November, Pitt told reporters on the red carpet of the New York premiere of his film Killing Me Softly the nuptials would be "soon".Pitt and Jolie started dating after meeting on the sets of the 2005 romantic comedy action film Mr & Mrs Smith.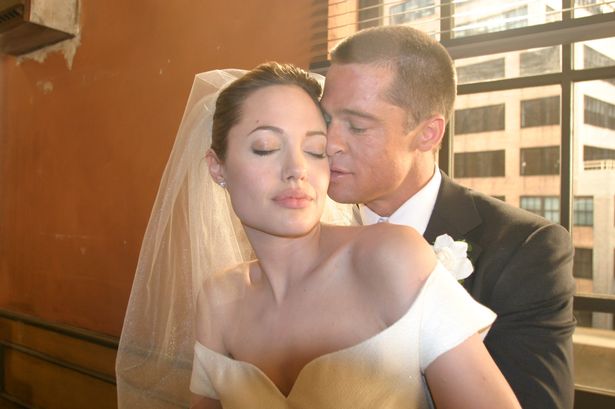 source :
Hindustan Times



Details

Published on Sunday, 30 December 2012 18:20
Written by Entertainment Wise
   Angelina Jolie loves to celebrate a wedding with a non-traditional memento (remember the vials of blood with Billy Bob Thornton?) and now it's been claimed the actress is keen to seal her union with fiance Brad Pitt by getting matching wedding tattoos.The couple, who got engaged earlier this year, are reportedly planning their wedding as we speak and though there's no sign of when and where the nuptials will be yet, a source has revealed the pair are planning a special gift to one another."When Angelina Jolie and Brad Pitt finally take the plunge into matrimony this summer they are going to mark the occasion with something even more lasting than jewelry: They plan to get special tattoos," a source tells US OK!"They're finalizing designs now, but all they'll say is it will be 'very intimate.'"There's a problem though as apparently the A-listers are finding it tricky agreeing on a design:"Angelina loves complicated and deeply thought-out tattoos that only have meaning to her and those closest to her. Brad likes something more visual and even suggested they do something a little silly, like a favorite cartoon character.""They can't seem to decide what size and on which body part they should add the new decorations," adds the insider.A cartoon character? Sounds like the father of six has been spending too much time watching telly with the kids...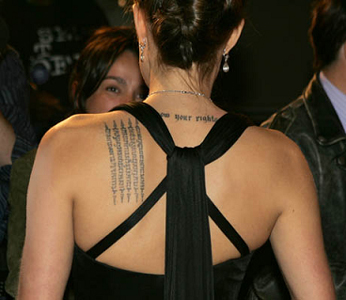 source : 
Entertainment Wise