Details

Published on Wednesday, 23 January 2013 12:18
Written by Showbiz Spy
  ANGELINA Jolie has a new addiction — TV's Discovery ID Channel!The actress is hooked on ID's round-the-clock documentaries dealing with true crime tales of murder, rape, robbery and relentless criminal investigations featuring undercover cop stings, fascinating forensics."My fave show is Wives with Knives – and I love its tagline: 'The Quickest Way to a Man's Heart Is…Through His Chest!'" the actress reportedly said.Meanwhile, Jolie's wedding to Brad Pitt is so top secret, not even her father knows what day it'll be taking place.Jon Voight — who reconciled with her in 2010 after nearly a decade of estrangement — has admitted he isn't privy to any of the couple's wedding plans and said he only really spends time with their six children, Maddox, 11, Pax, eight, Zahara, seven, Shiloh, six, and four-year-old twins Knox and Vivienne."Actually, I don't know," he said. "I'm not like that with them. You know, I've heard the rumors and so and so and what's going on. No, I'm not like that."I'm happy when I see them, we play with the children and that's it."Recent reports claimed Jolie approached Russian President Vladimir Putin about repealing the nation's recent ban on Americans adopting children from his country.And, according to American tabloid the National Enquirer, the powerful politician responded by asking Angie to tie the knot with Pitt in Russia.
  "Instead of selling her wedding photos for millions and donating the money to charity, Angelina now has the chance to make a political statement with her walk down the aisle," a source said."After she asked President Putin to relax his country's new adoption policy, he agreed to consider it — IF she agrees to marry Brad Pitt in a high-profile ceremony in the heart of Moscow or one of the famous palaces in St. Petersburg."On Dec. 28, Putin signed a bill that bans U.S. citizens from adopting Russian children, raising tensions with Washington."Angelina thinks the adoption ban is retaliation against a new U.S. law seeking to punish Russians accused of human-rights violations," explained the source."She went through diplomatic channels to extend an olive branch to Putin in an attempt to smooth over strained relations between the countries.""In light of Angelina's rank in the diplomatic community, it will be difficult for Putin to dismiss her out of hand."Getting Putin to change Russia's policy would not only help numerous orphans, but also be a major coup for Angie."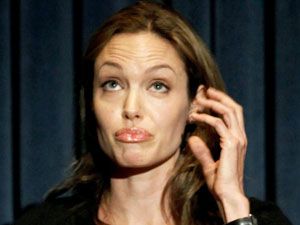 source :
Showbiz Spy



Details

Published on Friday, 01 February 2013 08:20
Written by Daily Mail
   Lana Del Rey gets in touch with her hippie bohemian side as she graces the cover of a top French magazine.The singer looks like a true child of the 1960s as she sits in a retro-style straw chair with her hair held in place by a leather head band.The laid back 26-year-old was photographed by French fashion photographer Jean-Baptiste Mondino for Le Figaro madame magazine as she admitted she wants to be like Angelina Jolie.Speaking candidly to the publication about her charity work, Lana revealed that she admires Jolie and her involvement with African charities.She said: 'Music was my passion, but my work with this foundation is more important. I myself had the chance to be [helped by an establishment].'Helping others now feels like it's my turn to give something back. I want to become a sort of Angelina Jolie.'Like her, I think fame is nothing in itself, but it can be put to good use - by using it to generate money for charity for example.'
   Lana's past alcohol issues perhaps stemmed from her artistic temperament and feeling odd compared to other children when growing up.She said: 'As a child, I felt different, she says. I always wanted to make my life a work of art.'The singer has certainly managed to achieve her aspirations as she sits picture perfect wearing a cool brown suede snake skin lined jacket.Looking like the embodiment of a mellow artist, Lana discussed how she began drinking at age 14 and was sent to detox at age 16 by her parents.The demons of her past alcohol issues still haunt her today and she said: 'When you no longer drink, it is more difficult to celebrate.'In fact, when I quit drinking, I lost my life. It took my all to reinvent myself. Find the roots. It was very difficult. At the same time, I had never felt rooted in whatever I've done or wherever I've been since.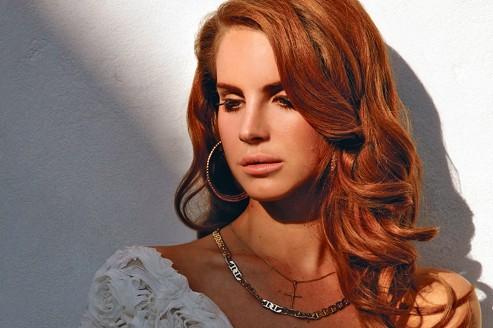 source :
Daily Mail



Details

Published on Monday, 21 January 2013 11:50
Written by Total Film
   "You can read the full discussion in the brand new issue of Total Film (available for just £1.99 on your iPad), but here's a sneaky snippet of what Jolie had to say about her directorial debut In The Land Of Blood And Honey, a brutal love story set during the Bosnian war.When we asked what drew the Oscar-winning actress to directing the film, she told us:"I didn't set out to ever become a director or write a script. I was never intending to make a film. I often give myself homework on different things; it's good exercise to get your mind working. So I was very frustrated by the lack of intervention."I've been travelling for over 10 years to these conflict and post-conflict zones, and thinking about what happens to people when they live inside these situations, and how their humanity is just stripped apart."I spent so much of the time bringing people back - like they're in the refugee camp and returning them to the place where they faced war."So I wanted to have a meditation on what this is and how people who are neighbours can turn against each other." In The Land Of Blood And Honey will open in the UK in 2013.For much more from Angelina Jolie, pick up Total Film magazine issue 203 - which is out now!
source :
Total Film



Details

Published on Monday, 21 January 2013 05:41
Written by Entertainment Wise
  Angelina Jolie struggled to cope when she travelled to a third world country on her first United Nations trip.The actress, who works as a Goodwill Ambassador for the organisation, broke down when she met local people living in extreme poverty, famine and war.She told Total Film: "My first trip out changed me completely. When I first travelled, I was just a ridiculous crying mess. And maybe there was a moment when I realised I was crying more than the people who had suffered a lot more than me. I think that's the thing you realise."These people have had their families killed, had their houses burnt down, become stateless – they're not crying, because they don't have time for it, and I'm not helping them by just feeling for them. I had to stay practical and focused."The 'Tomb Raider' star was advised to write her emotions down in a diary to help her process the harrowing things she's seen and admits the experiences changed her as a person.She said: "It's funny because you are always asked to sum up who you are, and your personality and your changes – and I've never had therapy, so I don't know exactly how I did that!"I just know that I opened myself up to want to learn more about the world and about other people and things that are going on. So I changed."I adopted a child, and that changed me, and I went through a divorce [with Billy Bob Thornton] and that changed me."So all these different events that happened and I did grow up, as we all do. I felt really fortunate that I was exposed to the right things to become a better person."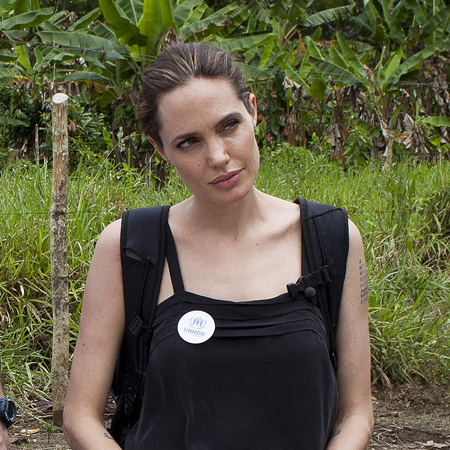 source :
Entertainment Wise



Details

Published on Monday, 21 January 2013 05:39
Written by CBS News
   It appeared Bono and arachnids didn't mix when his "Spider-Man" musical had a rough Broadway run, but that didn't keep a biologist from naming an actual spider species after the U2 singer.Jason Bond of Alabama's Auburn University has identified 33 new species of trapdoor spider (genus Aptostichus), including three of them in the California desert at Joshua Tree National Park. The park's namesake is featured in the title and cover of U2's 1987 album, "The Joshua Tree."The Riverside Press-Enterprise reports that Bond named two of the spiders after Indian tribes and one, A. bonoi, after Bono.Bond also named other spider species after actress Angelina Jolie and civil rights activist Cesar Chavez.All but three of the new species were discovered in California.Other species have been named after naturalist John Muir, photographer and photojournalist Dorothea Lange, magician Penn Jillette, President Barack Obama, Sarlacc (a creature from the fictional desert planet Tatooine in "Star Wars"), and Bond's 9-year-old daughter, Elisabeth.The paper reports that, after complaining that he wasn't honored with a spider name, political satirist and talk show host Stephen Colbert was also honored by Bond with his own species.The trapdoor spider, found in the Southwestern U.S., is so-named because it makes a hatch to hide from prey.
source :
CBS News