Details

Published on Friday, 28 December 2012 11:27
Written by Contact Music
   Brad Pitt and Angelina Jolie have taken their six children and Brad's mother Jane on a Christmas vacation to the Caribbean island of Turks and Caicos where they are staying at fashion designer Donna Karan's home.Brad Pitt and Angelina Jolie are spending the Christmas holidays in the Caribbean.The couple, their six children - Maddox, 11, Pax, nine, Zahara, seven, Shiloh, six, and four-year-old twins Knox and Vivienne - and Brad's mother Jane are staying at the home of fashion designer Donna Karan on the idyllic island of Turks and Caicos in the exclusive Parrot Cay area.The luxury home comes complete with an infinity pool lined with black volcanic stone and features 360-degree views of the tropical paradise, an open-air film screening room and a private spa.A source told the New York Post newspaper: ''They are at Donna's house, without Donna, and have been loving the island because it is so secluded. Angelina's taken the kids to Karan's yoga spa. They've been running around the island without a care in the world and relaxing.''The engaged couple have also allegedly been joined on the trip by a team of nannies to help them care for the kids as they try and enjoy some down time.Architectural Digest editor-at-large Jeffrey Slonim posted on his blog on Christmas Day (25.12.12): ''At lunch on a small island three away from Parrot Cay. A woman said she'd heard from a local that [Pitt and Jolie] were in town with two nannies per child. Count 'em, 12 nannies! (sic)''Brad and Angelina and their brood are not the only stars relaxing on the island.Rolling Stones guitarist Keith Richards - who completed the band's 50th anniversary shows just a few weeks ago - is enjoying a winter vacation with his family, while 'Star Trek Into Darkness' director J.J. Abrams is enjoying a break with his loved ones.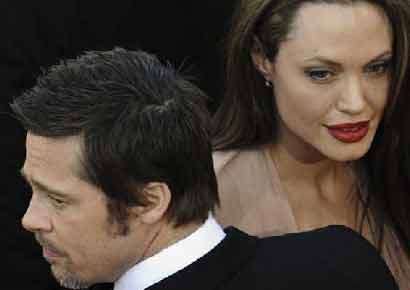 source : 
Contact Music



Details

Published on Friday, 28 December 2012 10:58
Written by Gossip Cop
   Brad Pitt is "ready to shell out a staggering $10 million" to make sure "raunchy photos and a rumored sex  tape" starring Angelina Jolie "never see the light of day," according to the National Enquirer.In its latest "world exclusive" (cough), the Enquirer claims there may be a set of previously unseen racy photos featuring Jolie "floating around — including some involving self-mutilation — as well as a possible sex  tape."The tabloid's source says Pitt fears that if these "rumored" photos and video ever surface, "it would scar the couple's six children emotionally and psychologically.""Brad's out to protect the new image that Angelina has tried hard to build — A-list actress, doting mother of six and UN human-rights crusader," explains the Enquirer insider. "He'll do whatever it takes to buy these photos and track down the alleged sex tape."We're sure Pitt would do anything to save Jolie and his children from embarrassment.Except the Enquirer has NO CLUE whether there's actually a Jolie sex  tape.A source tells the tabloid that Pitt hired investigators to look into his partner's past, and was allegedly told that she "may have made a sex  tape during a 'drug-fueled session' in 1999."From there, the magazine dives head first into wild speculation about an alleged heroin bender more than 13 years ago and what Jolie may or may not have been photographed doing.
   "Angie was so whacked out on dope that she doesn't recall exactly what she did," a so-called "insider" tells the Enquirer. "But she believes that it may have involved 'cutting,' as well as racy sex ."Uh-huh.It's important to note that the Enquirer, which has an abysmal recent track record with Jolie and Pitt, has absolutely no idea whether any previously unseen raunchy photos or video exist.Everything in the article is couched in terms like "alleged" and "rumored."There's no explanation for why the supposed sex  images from 1999 would suddenly be released now.And the "$10 million" figure only comes in the very last line of the piece, when the Enquirer source says Pitt is "willing to spend $10 million if he has to. When it comes to Angie and the kids, money is no object."And when it comes to printing baseless speculation as an "exclusive," reality is no object to the magazine.It's pretty clear that the Enquirer just wanted an "Angelina Jolie sex  Tape" story, regardless of specifics or facts or evidence.A source close to the situation tells Gossip Cop the report is 100 percent "false."
source :
Gossip Cop 



Details

Published on Wednesday, 26 December 2012 19:39
Written by Celebuzz
   "If there's one thing that stands the test of time, it's the bikini.Year after year barely there swimwear has not only become a key essential for the beach, but a rite of passage.Hollywood's leading ladies have taken note and are showing off their best bikini bods for the world to see.From Angelina Jolie's killer curves to Katy Perry's ample assets, Celebuzz collected the top 100 best bikini bodies of all time.Megan Fox certainly knows how to work a two-piece. The This is 40 star looked sexier than ever showing off her six-pack abs while vacationing on the beach in Maui.Another Hollywood hottie is George Clooney's main squeeze, Stacy Keibler. The blonde's insanely toned figure is something to be envious of and her ability to look stunning in a bikini is second to none.Today's ladies aren't the only ones who can look amazing in revealing swimwear.Sophia Loren, Betty Grable and Bo Derek have all been celebrated for their voluptuous physiques. It seems like curves, and cleavage-baring bathing suits, don't ever go out of style.
source : 
Celebuzz



Details

Published on Wednesday, 26 December 2012 19:39
Written by E online
   "Sam Riley is a lucky man.Not only does he costar alongside Kristen Stewart in the just-released On the Road, but he also plays the sidekick Diaval to Angelina Jolie's evil queen in the Sleeping Beauty flick Maleficent.He got a taste of K.Stew's fame when On the Road director Walter Salles put the cast through "beatnik boot camp," where they were given dialect lessons, listened to jazz and watched Jean-Luc Godard and John Cassavetes movies at a Montreal hotel.Find out what K.Stew has to say about making her fans "angry".A car pulled up in front of him one day and the driver asked if Riley could walk down the street again so he could get a better photo of him.The actor thought he was someone from production, but quickly realized it was a paparazzo waiting for Stewart. "At 19, I think I would have wanted to be that famous, but now that I'm older and settled, I wouldn't like it at all," Riley says in the new issue of Bullet magazine. "Actually, I wouldn't mind the money."As for Jolie, Riley says she was "quite subversive" when they were making the movie. "She's doing Disney but she doesn't want it to be too safe," he said. As if Angie's ever safe.Riley isn't the only thing Kristen and Angelina have in common.
source : 
E online



Details

Published on Monday, 24 December 2012 13:51
Written by Entertainment Wise
   "You would expect Angelina Jolie and Brad Pitt to splash out on expensive gadgets and toys for their large brood, but the couple have simply opted to splash out on Liverpool football kits for their six children.The couple have spent a great deal of time in the UK this year and it seems they picked up a love of football while here, in particular Liverpool player Steven Gerrard and have decided to buy their children a hoard of memorabilia."They rang the club shop and spent hundreds. Son Maddox is a big fan and his favourite player is Steven Gerrard," a source told The Sun, before adding that the Hollywood couple ordered several shirts, mugs, caps and tracksuits.Angelina is believed to have developed a passion for the team in 2002 when she and eldest son Maddox, 11, spent time in the Merseyside where she was filming a movie.Aside from the football memorabilia, ever jet-setting couple Brad and Ange are treating their kids to a round-the-world trip over the Holidays as they couldn't decide where to spend the festive period."They couldn't make up their minds where they wanted to spend Christmas, so they've decided to take a very quick trip around the world," an insider told Now magazine."They have less than two weeks free, so it's going to be a whirlwind tour!"Sounds like the Jolie-Pitt household have quite the adventure in store!
source :
Entertainment Wise