Details

Published on Friday, 18 January 2013 05:49
Written by 3news
   The 37-year-old star is widely regarded as one of the most beautiful women in Hollywood. Angelina embraces her sex  symbol status, insisting females never tire of being complimented on their looks."And that's a good thing!" she laughed to Total Film when it was claimed she started winning admirers with her earlier movie roles. "I'm a woman, and anytime you tell a woman that she looks nice, it's not going to upset her. It's very nice to feel sexy, and it's important. But you don't become involved in the world, and suddenly that means you're not a sexy person."Angelina is engaged to Brad Pitt and they raise six children. The pair famously met while starring in the 2005 action comedy Mr & Mrs Smith and have been in a relationship since Brad split from his then-wife Jennifer Aniston.Angelina believes in fate and will always be grateful for the movie role which led to her falling for Brad."Yes, we do talk about that," she replied when asked if they ever think about the circumstances in which they met. "We look around at our kids. I'm not somebody that thinks about destiny and fate but I don't walk away from it when something unfolds. It's like my children. Especially when you adopt, in some countries… Maddox had a bit of a say when I met him… but all my other children were just, 'This is the child that has been chosen for you,' and I suppose it's like a child you give birth to, as you can't have a say in it. I see that when I look at my kids. It just seems to be right. It's hard to understand how it could unfold so beautifully; at certain times things do feel that way."Angelina and Brad are devoted parents and always make sure that one of them takes a break to be with the kids when the other is working on a movie.The actress says motherhood has changed her life and keeps her grounded."The great thing about having a bunch of kids is that they just remind you that you're the person who takes them to go poop," she laughed. "That's who you are! We have a very normal, very grounded home. And we're friends, and we have a laugh with our kids. And we don't pay attention to this [celebrity] view of ourselves. We don't buy those magazines, we don't watch those TV shows. We just shut it out. We just explain to our kids that people like to take pictures of people who make movies. And that's all it is. It's not anything special about mommy and daddy – we just happen to make movies."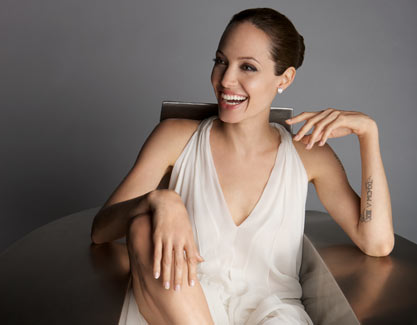 source :
3news



Details

Published on Thursday, 17 January 2013 18:32
Written by Gossip Cop
  Angelina Jolie "plans to produce a documentary on her own life," claims OK!The tabloid says the project will cover Jolie's evolution "from Hollywood brat bullied for being skinny, to international superstar and humanitarian — including two marriages, a lesbian affair, substance use and self-mutilation.""She hopes people will see she's simply human and made mistakes," a so-called "insider" tells OK!, which definitely knows something about "mistakes."Yes, the same publication that has gaffed on virtually every aspect of Jolie's life now claims it has the inside scoop on the actress' "tell-all" movie, reporting that fiancé Brad Pitt convinced her to do it."Brad suggested that she would be the most fascinating [documentary] subject to focus on," explains the OK! source. "She wasn't sure that she wanted to open up that way, but Brad persuaded her that by sharing her struggles she'd be able to help a lot of people."The tab's insider says, "Angelina's nervous about going through her past, but she told him she feels strong and confident enough now to do it."Uh-huh.This is not happening.Jolie is not making a documentary about her life — private struggles or otherwise.The OK! sources who have failed countless times before have done so again.An actual insider close to Jolie tells Gossip Cop, "This is 100 percent false."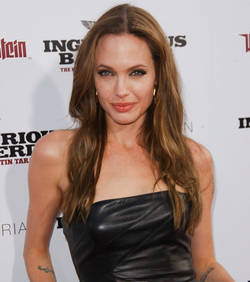 source :
Gossip Cop



Details

Published on Wednesday, 16 January 2013 05:29
Written by Contact Music
  Angelina Jolie's dad unsure about wedding.Angelina Jolie's dad Jon Voight has revealed he isn't privy to her and fiance Brad Pitt's wedding plans because he only spends time playing with their children.Angelina Jolie's father has revealed he has no idea when she will marry her fiance Brad Pitt.The actress's father Jon Voight - who reconciled with her in 2010 after nearly a decade of estrangement - has admitted he isn't privy to any of the couple's wedding plans and said he only really spends time with their six children, Maddox, 11, Pax, eight, Zahara, seven, Shiloh, six, and four-year-old twins Knox and Vivienne.He told EOnline.com: ''Actually, I don't know. I'm not like that with them. You know, I've heard the rumours and so and so and what's going on. No, I'm not like that. I'm happy when I see them, we play with the children and that's it.'' The 37-year-old 'The Tourist' star is rumoured to have tied the knot with her 49-year-old long-term partner on Christmas Day (25.12.12) but they have yet to comment on the reports.An assistant for the Hollywood couple collected their wedding rings for them from top Los Angeles jewellers Neil Lane at the end of November.Brad previously claimed he is in no rush to marry his fiancée and is happy to wait until the time was right for them both, even though he popped the question back in April and has been with her for more than seven years.He said: ''We don't have a date yet. I don't know what's going to happen in two weeks never mind the New Year. We're such migratory workers that it'll be a matter of convenience location wise.''This would be Angelina's third marriage after previously being wed to British actor Jonny Lee Miller between 1996 and 1999 followed by musician-and-actor Billy Bob Thornton from 2000 to 2003.Brad was married to 'Friends' star Jennifer Aniston but he separated from her in 2005.Meanwhile, 74-year-old '24' star Jon said he wouldn't be surprised if the couple has more children in the near future.He said: ''Well, you never know with those guys. They're a very surprising couple so you never know, but I think six is quite a lot.''
source :
Contact Music



Details

Published on Tuesday, 15 January 2013 11:34
Written by India Glitz
  While she is the diva every woman celebrity would like to be while she is cute new replica of her who is slowly and gradually making her firm grounds in the tinsel town.... folks we are talking about our dear charmer Esha Gupta who has a gifted uncanny resemblance to the international icon Angelina Jolie.Well the similarities has been converted into a great blessings for Esha who can now make the fantasy of a desi Lara Croft becoming a reality on indian screen.Its been heard that Esha is set to play the lead role in the desi version of Laracroft, Tomb Rader (2001). She has been signed for an International co-production (IndoAmerican) to play the Indian Lara Croft Esha was approached for the role as she's tall and has a very athletic physique.Obviously, her looks are an advantage, as those who've seen the original will be able to connect with the film better. This is a huge project for her, considering there will be a Hollywood studio backing it along with Indian producers. Due to Esha's back to back hits in a row, the makers did not have any double thoughts before approaching her, reveals an insider.Apart from this project, the actor will also be seen in another Vishesh Films movie, thus completing her three-film contract with the banner..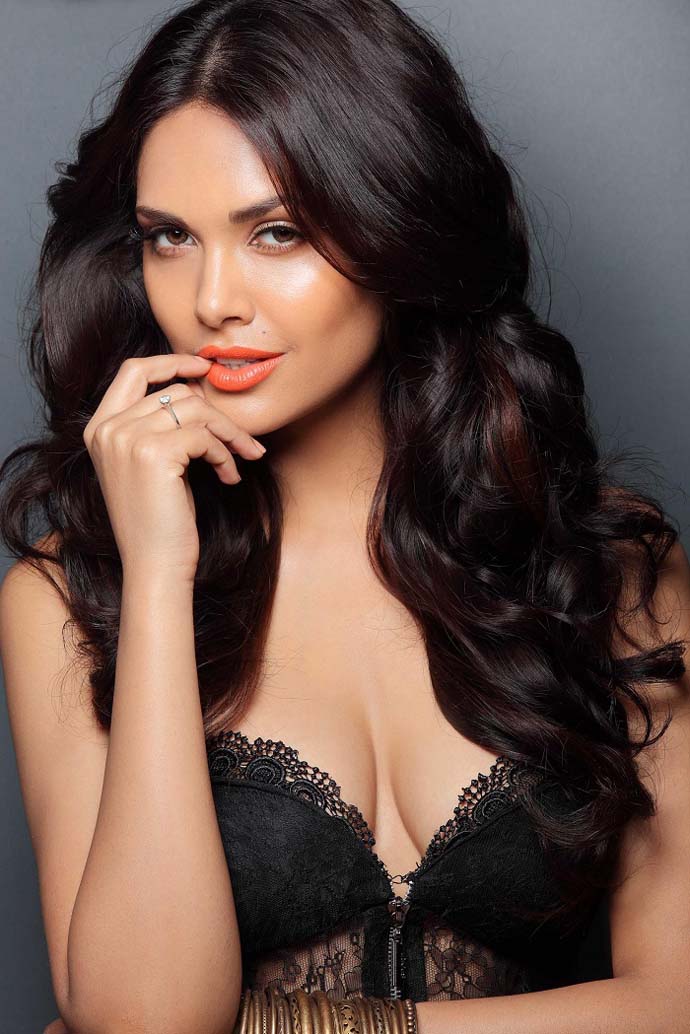 source :
India Glitz



Details

Published on Monday, 14 January 2013 12:41
Written by Huffington Ppost
   Angelina Jolie's right leg became an unlikely comedy figure at last year's Oscars, when she made every effort to stick it out of her high-split dress.And at Sunday night's Golden Globes, Eva Longoria decided to see if she could go one better as she took to the red carpet outside the Beverly Hilton Hotel, where the 70th annual ceremony was held. Seemingly doing her best Ange impression, the star flashed her impressive pins in her floor-length sheer gown. But Eva's leg wasn't the only flesh she was flashing.Not content with having the highest leg split on the red carpet, the former 'Desperate Housewives' star showed off her cleavage and most of her back with her dress' daring cut-out sections.She topped off her look with her hair in a quiff and dark, seductive make-up.
source :
Huffington Ppost