Details

Published on Thursday, 06 December 2012 19:38
Written by Super User
    Angelina Jolie wanted to be the leading lady in hit comedy drama Silver Linings Playbook, according to filmmaker David O. Russell.Jennifer Lawrence has been tipped for an Academy Award for her portrayal of promiscuous Tiffany in the movie, but Russell thought the 22-year-old star was too young and he had other "major actresses" in mind, including Jolie.At a screening for TheWrap.com, he explains, "Quite frankly, (Lawrence's audition) was like a formality. I didn't think she was really a contender. We had three very serious contenders (already). We had a lot of major actresses in town interested in the role, from Angelina Jolie to some other big stars, because it's a dimensional role for a young woman. Jennifer we frankly thought was too young."The Hunger Games beauty went on to win the part after auditioning over Internet phone service Skype, while Bradley Cooper was recruited to play her love interest, but Russell admits he considered a number of other A-list stars during the casting process.He adds, "I wrote it with Vince (Vaughn) and Zooey (Deschanel) in mind, because I love Vince's cadences... And then Mark Wahlberg, who I love and made three movies with, there was a moment where he was going to do it. That didn't work out... and it was out of my hands... I originally wrote it for other people."But as Matt Damon very graciously said to me about the Christian Bale role in The Fighter - which he was originally intended to play, 'It just goes to show, the right people play the right role at the right time.'"
source :
Starpulse



Details

Published on Tuesday, 04 December 2012 11:16
Written by The Celebrity Cafe
    Angelina Jolie said in an interview on Saturday she plans to quit acting in the future to spend more time with her family.Angelina Jolie and British Foreign Secretary William Hague sat down with Cathy Newman from Channel 4 News in the U.K. to talk about war-zone rape. Jolie is a UN (United Nations) Special Envoy and feels strongly about helping victims of sexual violence.While being interviewed, Jolie talked about her plans for the future, including her plans to quit acting and focus on her family."I think I'm going to have to give up acting as kids hit the teenage years because there is going to be too much to manage at home," she says."But I have enjoyed being an actress and I'm so grateful for the job... I will do some films," Jolie continues. "I'm so fortunate to have the job. It's a very lucky profession to be a part of and I enjoy it. But if it went away tomorrow, I would be very happy to be at home with my children."When asked if she felt her humanitarian work is more rewarding than acting she said "of course," later stating she hopes "to be a part of the world in a positive way."Jolie has gone on various mission for the UN, first starting as a Goodwill Ambassador in 2001 and now as a Special Envoy according to the UNHCR. Jolie and her partner actor Brad Pitt are currently engaged, but Pitt says there is no set date yet as we reported. The couple have six children.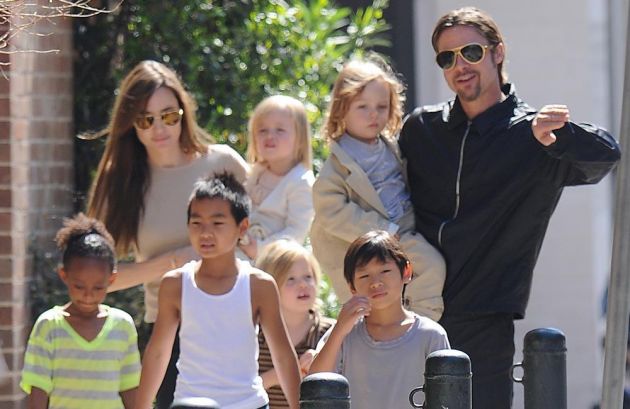 source :
The Celebrity Cafe



Details

Published on Tuesday, 04 December 2012 11:13
Written by Digital Spy
   Miley Cyrus has revealed that she feared for her life performing stunts for new action-comedy So Undercover.The former Hannah Montana star, who plays an FBI agent going undercover at a college sorority in the film, told Digital Spy that her father tried to talk her out of filming a precarious action set-piece."In the opening scene, I'm dangling off the side of a building in New Orleans which is 100% real. I am so scared of heights. Going up an escalator freaks me out!" Cyrus said. "In the first shot, I was supposed to stand up on this flowerpot to climb on to the side of the building and the flowerpot tipped over. I was so scared."My dad had his arms wrapped around his chair and he was like, 'No, you can't do this!' I was literally walking on the side of the building, which is one of the craziest things I've ever done. It was just nuts." Asked to name her favourite action hero, Cyrus said: "Angelina Jolie is the sexiest superhero of all time who can kick ass. She always looks amazing, and is so believable. Wanted is one of my favourite movies. "What girl doesn't want to be flipping a car while giving the hottest look to camera? She's like, the coolest chick in the world!"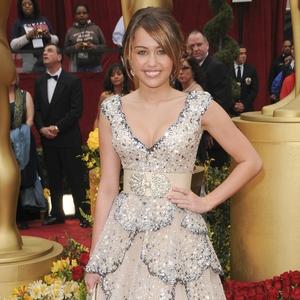 source :
Digital Spy



Details

Published on Tuesday, 27 November 2012 18:29
Written by Celebrity Gossip
   For many of their fans it seems like it's taking forever for Brad Pitt and Angelina Jolie to finally tie the knot. However, according to the "Fight Club" stud himself, it won't be too long before he says "I Do" to his blushing bride. During an interview at the premiere of "Killing Them Softly" in NYC, Pitt shared, "I am getting more pressure from my kids, and it is something I want to do within their lifetime, but I also feel like the time has come." Brad added, "The time is nigh. It's soon. I got a good feeling about it," sparking speculation of a Winter wedding. He added, "We've had a family, we've raised the kids. I am surprised how much [marriage] meant to me once you had that."
source :
Celebrity Gossip



Details

Published on Friday, 23 November 2012 05:42
Written by Just Jared
    Angelina Jolie poses for a picture with her pal Ewan McGregor at a screening of his film The Impossible on Sunday (November 18) at the Soho Hotel in London, England. The 37-year-old actress hosted the private screening, where she praised Ewan's work in the film. "I have known you for years and you are one of my favorite actors and I've always loved to watch you, but I watched this and I didn't recognize you," Angelina said. "To say it is one of the best performances of the year, really doesn't give it credit, because it doesn't feel like a performance. It's from such an honest place and so deeply emotional." "The true testament of any film is what you walk away with, and I think in this film you walk away with more empathy, with a greater sense of connection to your fellow man, and you want to run home and hug your kids, and tell the people you love that you love them," Angie added. FYI: Angelina wore an Atelier Versace black long sleeve silk-crepe cocktail dress with a criss-cross pleating effect on the front with a black belt.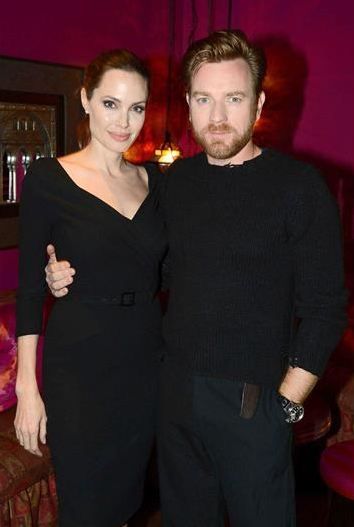 source :
Just Jared