Details

Published on Monday, 17 December 2012 06:01
Written by Daily mail
   Andy Serkis was rightly praised for his work turning a civil Londoner into a feral version of a hobbit in the Lord of the Rings films, but was the millions of dollars spend capturing his performance really necessary? With the Hobbit just released you can decide for yourself comparing that film to these hysterical images of celebrities turned into Gollums with the magic of computer graphics as opposed to a corrupting enchanted ring. Angelina Jolie, Brad Pitt and Rhianna may be sex  symbols but the look of a hobbit doesn't suit them. Hollywood.com created the images of celebrities with 'Gollum Eye' in celebration of the Hobbit's release. The bizarre portraits are made using face morphing software, which can take two separate images and find the midpoint between them. Director Peter Jackson's Oscar-winning series of epic films based on the works of J.R.R. Tolkien were huge critical and financial successes. The new film, The Hobbit: An Unexpected Journey, is already a smash having broken two US records at the box office to become the highest grossing Christmas movie of all time. Peter Jackson's adaption of JRR Tolkien's classic novel kicked off with takings of $37.5 million - the biggest December Friday opener in domestic history. Though so far a box office success, the new film has been given a middling reception by critics with some criticizing the film for drawing out a fairly slim story better suited for single film than an entire trilogy. The film then took $28.1 million on Saturday to claim the record of the largest December weekend at the American ticket office, even without Sunday's takings being calculated. Warner Brothers are predicting the movie could earn over $85 million in the U.S. for the whole weekend.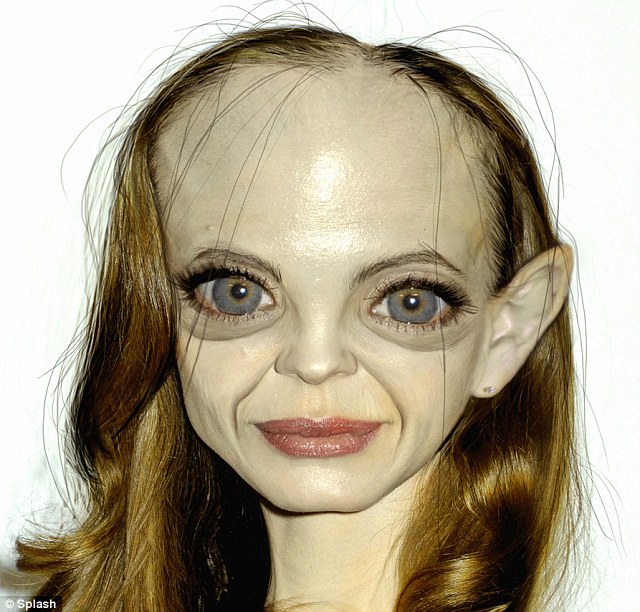 source :
Daily mail



Details

Published on Friday, 14 December 2012 12:08
Written by Contact Music
   Brad Pitt and Angelina Jolie are massive fans of British comedy series 'The Thick of It' and praised star Peter Capaldi for his role as spin doctor Malcolm Tucker.Brad Pitt and Angelina Jolie are massive fans of 'The Thick of It'.The Hollywood couple spent a whole weekend watching back-to-back episodes of the comedy series, which is a satire of the workings of British government, and after having both worked with the show's star actor Peter Capaldi they praised him for his performance as spin doctor Malcolm Tucker.Speaking after receiving his award for Best TV Comedy Actor at the British Comedy Awards in London on Wednesday (12.12.12) Peter, 54, told The Sun newspaper: ''Brad said someone had given them the box set. They'd spend the weekend learning to swear.''I didn't need to teach them anything new, as they had watched Malcolm Tucker already. But I was happy to give them a few partners.'' Brad, 48, has been shooting upcoming film 'World War Z' with Peter, while 37-year-old Angelina appeared in 'Maleficent' with him.Angelina recently revealed she plans to give up acting when her children get older.The 'Salt' actress - who raises kids, Maddox, 11, Pax, nine, Zahara, seven, Shiloh, six, and four-year-old twins Knox and Vivienne with fiance Brad - says once all her brood hit their teenage years she is going to stop making movies so she can spend more time with them.She said: ''I think I'm going to have to give up the acting as the kids hit the teenage years, too much to manage at home ... I will do some films and I am so fortunate to have the job, it's a really lucky profession to be a part of and I enjoy it.''But if it went away tomorrow I would be very happy to be home with the children. I wake up in the morning as a mum and I turn on the news like everybody else and I see what's happening and I want to be part of the world in a positive way.''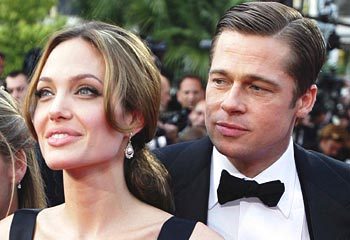 source :
Contact Music



Details

Published on Friday, 28 December 2012 11:21
Written by Gossip Cop
    "Bride-to-be Angelina Jolie plans to undergo an extreme plastic surgery makeover before she weds Brad Pitt!" announces the National Enquirer.According to the tab's "sources," the actress "desperately wants a head-to-toe overhaul, and an expert estimates it could cost her a cool $45,000.""Angelina believes she looks old and she's tired of it," explains an "insider" for the Enquirer.What's supposedly making Jolie upset? "She's freaking out over the frown lines on her forehead, her jowls and a few pockets of fat that she's spotted on her tummy, butt and thighs," says the tab's source. "But this isn't really about weight. Angie's main worry is that her body is starting to sag, which she absolutely hates." Starting to "sag"?That's interesting, because the Enquirer claimed Jolie had "shriveled to 95 pounds" just a couple months ago.It's almost as though the magazine just kind of prints whatever its "sources" say, no matter how contradictory or ridiculous.In any case, the new story's source insists Jolie "can't live with the idea of walking down the aisle with wrinkles and lumps, so she's determined to get all the treatments she needs before the big day."(Quick reminder: The Enquirer falsely reported that Jolie and Pitt were getting married in a "secret wedding" in the Bahamas last spring. So we're not sure which "big day" the magazine is taking about now.) The magazine's misguided insider says Jolie has "consulted cosmetic surgeons in Europe about various touch-ups and high-end laser treatments," and is also supposedly looking into "liposuction" and Botox injections.
    Then the Enquirer trots out some random doctor who's never treated the actress to put a hefty price tag on Jolie's alleged surgical plans."Angelina believes she can look as youthful as she did in her Lara Croft days for her wedding," relays the mag's source. "And she's willing to spend whatever it takes to achieve that."And the Enquirer is willing to write whatever it takes to create the illusion of a scoop.There is NO TRUTH whatsoever to the "extreme plastic surgery" claim, which is not surprising, given the tabloid's track record with Jolie.A source close to the situation tells Gossip Cop the report is "totally false."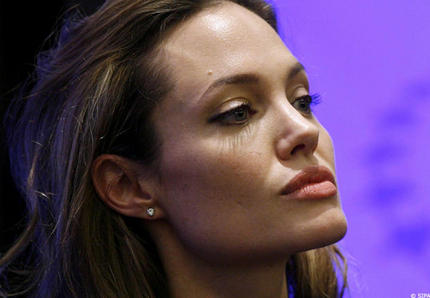 source :
Gossip Cop



Details

Published on Tuesday, 11 December 2012 06:47
Written by Hollywood Reporter
   Becky Johnston is in negotiations to work on the follow-up to the 2010 spy movie for Columbia Pictures. Columbia Pictures is still working to put Salt back on the table.In a move signaling continued interest in a sequel to the 2010 Angelina Jolie spy movie, the studio is in negotiations to hire Becky Johnston to work on the script.In the original, Jolie starred as a CIA officer who discovers she is a Russian sleeper cell agent with a mission to assassinate the U.S. president. Salt grossed $293.5 million worldwide, so Columbia in 2011 hired the movie's credited writer, Kurt Wimmer, to pen a sequel.Earlier this year, however, reports surfaced that Jolie didn't think his script was up to snuff and had not committed to the project, which is being produced by Lorenzo di Bonaventura and Sunil Perkash. Johnston's hiring caps off an almost year-long search for a scribe who could reconceive the script with a take that satisfied all parties.UTA-repped Johnston is a left-of-center choice for the project as her most notable credits are the character dramas The Prince of Tides (1991), which starred Barbra Streisand, and Seven Years in Tibet (1997), which starred Jolie's fiance Brad Pitt.Johnston did work on Wonder Woman as well as Brad Bird's San Francisco Earthquake project 1906 and has the Colin Firth-Emily Blunt drama Arthur Newman awaiting release next year.
source :
Hollywood Reporter



Details

Published on Sunday, 14 April 2013 13:17
Written by Huffington post
   Hey, Brangelina -- Billy Bob Thornton wants an invite to your wedding, and he'll come bearing gifts! Well, kind of. In an interview with TMZ, Thornton, who was married to Angelina Jolie from 2000 to 2003, said he'd attend Jolie's wedding to Brad Pitt if he was invited."I don't go out of town much, but yeah, you never know. I'd be happy to. I'd be more than happy to, absolutely," Thornton said.As to what he'd get them for a wedding present, Thornton complained that he never knows what gifts to buy for his friends."You going to get them a gift card?" an onlooker asked."A gift card, yes," Thornton replied.Jolie and Thornton have remained friends since ending their marriage in 2003, during which they famously wore vials of each other's blood. Watch the video above for more on Brangelina's potential wedding guest.
source :
Huffington post