Details

Published on Monday, 21 January 2013 11:50
Written by Total Film
   "You can read the full discussion in the brand new issue of Total Film (available for just £1.99 on your iPad), but here's a sneaky snippet of what Jolie had to say about her directorial debut In The Land Of Blood And Honey, a brutal love story set during the Bosnian war.When we asked what drew the Oscar-winning actress to directing the film, she told us:"I didn't set out to ever become a director or write a script. I was never intending to make a film. I often give myself homework on different things; it's good exercise to get your mind working. So I was very frustrated by the lack of intervention."I've been travelling for over 10 years to these conflict and post-conflict zones, and thinking about what happens to people when they live inside these situations, and how their humanity is just stripped apart."I spent so much of the time bringing people back - like they're in the refugee camp and returning them to the place where they faced war."So I wanted to have a meditation on what this is and how people who are neighbours can turn against each other." In The Land Of Blood And Honey will open in the UK in 2013.For much more from Angelina Jolie, pick up Total Film magazine issue 203 - which is out now!
source :
Total Film



Details

Published on Monday, 21 January 2013 05:41
Written by Entertainment Wise
  Angelina Jolie struggled to cope when she travelled to a third world country on her first United Nations trip.The actress, who works as a Goodwill Ambassador for the organisation, broke down when she met local people living in extreme poverty, famine and war.She told Total Film: "My first trip out changed me completely. When I first travelled, I was just a ridiculous crying mess. And maybe there was a moment when I realised I was crying more than the people who had suffered a lot more than me. I think that's the thing you realise."These people have had their families killed, had their houses burnt down, become stateless – they're not crying, because they don't have time for it, and I'm not helping them by just feeling for them. I had to stay practical and focused."The 'Tomb Raider' star was advised to write her emotions down in a diary to help her process the harrowing things she's seen and admits the experiences changed her as a person.She said: "It's funny because you are always asked to sum up who you are, and your personality and your changes – and I've never had therapy, so I don't know exactly how I did that!"I just know that I opened myself up to want to learn more about the world and about other people and things that are going on. So I changed."I adopted a child, and that changed me, and I went through a divorce [with Billy Bob Thornton] and that changed me."So all these different events that happened and I did grow up, as we all do. I felt really fortunate that I was exposed to the right things to become a better person."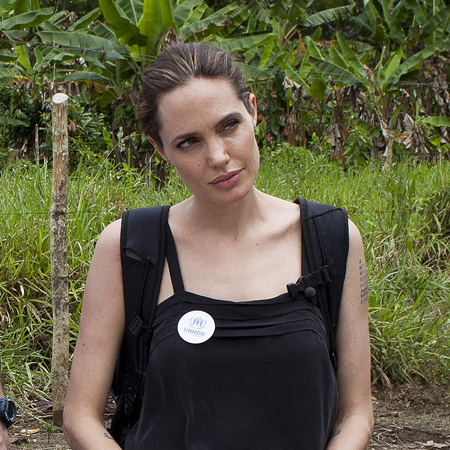 source :
Entertainment Wise



Details

Published on Monday, 21 January 2013 05:39
Written by CBS News
   It appeared Bono and arachnids didn't mix when his "Spider-Man" musical had a rough Broadway run, but that didn't keep a biologist from naming an actual spider species after the U2 singer.Jason Bond of Alabama's Auburn University has identified 33 new species of trapdoor spider (genus Aptostichus), including three of them in the California desert at Joshua Tree National Park. The park's namesake is featured in the title and cover of U2's 1987 album, "The Joshua Tree."The Riverside Press-Enterprise reports that Bond named two of the spiders after Indian tribes and one, A. bonoi, after Bono.Bond also named other spider species after actress Angelina Jolie and civil rights activist Cesar Chavez.All but three of the new species were discovered in California.Other species have been named after naturalist John Muir, photographer and photojournalist Dorothea Lange, magician Penn Jillette, President Barack Obama, Sarlacc (a creature from the fictional desert planet Tatooine in "Star Wars"), and Bond's 9-year-old daughter, Elisabeth.The paper reports that, after complaining that he wasn't honored with a spider name, political satirist and talk show host Stephen Colbert was also honored by Bond with his own species.The trapdoor spider, found in the Southwestern U.S., is so-named because it makes a hatch to hide from prey.
source :
CBS News



Details

Published on Friday, 18 January 2013 05:49
Written by 3news
   The 37-year-old star is widely regarded as one of the most beautiful women in Hollywood. Angelina embraces her sex  symbol status, insisting females never tire of being complimented on their looks."And that's a good thing!" she laughed to Total Film when it was claimed she started winning admirers with her earlier movie roles. "I'm a woman, and anytime you tell a woman that she looks nice, it's not going to upset her. It's very nice to feel sexy, and it's important. But you don't become involved in the world, and suddenly that means you're not a sexy person."Angelina is engaged to Brad Pitt and they raise six children. The pair famously met while starring in the 2005 action comedy Mr & Mrs Smith and have been in a relationship since Brad split from his then-wife Jennifer Aniston.Angelina believes in fate and will always be grateful for the movie role which led to her falling for Brad."Yes, we do talk about that," she replied when asked if they ever think about the circumstances in which they met. "We look around at our kids. I'm not somebody that thinks about destiny and fate but I don't walk away from it when something unfolds. It's like my children. Especially when you adopt, in some countries… Maddox had a bit of a say when I met him… but all my other children were just, 'This is the child that has been chosen for you,' and I suppose it's like a child you give birth to, as you can't have a say in it. I see that when I look at my kids. It just seems to be right. It's hard to understand how it could unfold so beautifully; at certain times things do feel that way."Angelina and Brad are devoted parents and always make sure that one of them takes a break to be with the kids when the other is working on a movie.The actress says motherhood has changed her life and keeps her grounded."The great thing about having a bunch of kids is that they just remind you that you're the person who takes them to go poop," she laughed. "That's who you are! We have a very normal, very grounded home. And we're friends, and we have a laugh with our kids. And we don't pay attention to this [celebrity] view of ourselves. We don't buy those magazines, we don't watch those TV shows. We just shut it out. We just explain to our kids that people like to take pictures of people who make movies. And that's all it is. It's not anything special about mommy and daddy – we just happen to make movies."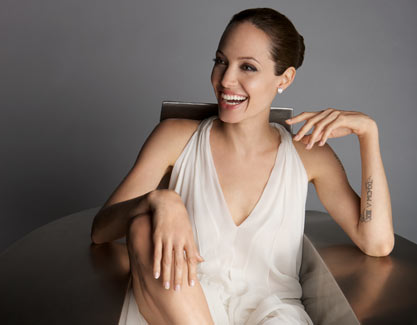 source :
3news



Details

Published on Thursday, 17 January 2013 18:32
Written by Gossip Cop
  Angelina Jolie "plans to produce a documentary on her own life," claims OK!The tabloid says the project will cover Jolie's evolution "from Hollywood brat bullied for being skinny, to international superstar and humanitarian — including two marriages, a lesbian affair, substance use and self-mutilation.""She hopes people will see she's simply human and made mistakes," a so-called "insider" tells OK!, which definitely knows something about "mistakes."Yes, the same publication that has gaffed on virtually every aspect of Jolie's life now claims it has the inside scoop on the actress' "tell-all" movie, reporting that fiancé Brad Pitt convinced her to do it."Brad suggested that she would be the most fascinating [documentary] subject to focus on," explains the OK! source. "She wasn't sure that she wanted to open up that way, but Brad persuaded her that by sharing her struggles she'd be able to help a lot of people."The tab's insider says, "Angelina's nervous about going through her past, but she told him she feels strong and confident enough now to do it."Uh-huh.This is not happening.Jolie is not making a documentary about her life — private struggles or otherwise.The OK! sources who have failed countless times before have done so again.An actual insider close to Jolie tells Gossip Cop, "This is 100 percent false."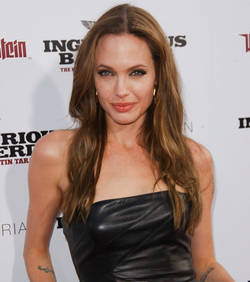 source :
Gossip Cop