Details

Published on Wednesday, 30 November -0001 00:00
Written by Daily mail
           Angelina Jolie and Brad Pitt's daughter Zahara Jolie-Pitt appeared to drop her father's last name as she joined a sorority at Spelman College. Video has emerged of the 18-year-old's induction into Alpha Kappa Alpha, the first historically Black sorority in the Greek system - and viewers noticed Zahara had appeared to drop her father's last name as she introduced herself at the ceremony. She seemed to tell the crowd: 'My name is Zahara Marley Jolie. And [I] landed all the way from the Golden State in the city full of angels: Los Angeles, California,' according to People.Angelina, 48, and Brad, 59, split seven years ago, but the exes have been involved in a contentious years-long feud over custody, the dramatic circumstances under which their relationship ended and their ongoing business affairs. The notable name exclusion did not go unnoticed by various social media users. 'I wasn't gonna say anything, but I definitely peeped that Zahara left Pitt off her last name,' tweeted one viewer. 'Oh Zahara said her last name is Jolie, not Jolie-Pitt,' another posted. 'I need people to respect her as an individual who just said her name out loud ZAHARA. MARLEY. JOLIE. Zero mention of the name PITT. Periodt,' another posted. Zahara is currently a sophomore at Spelman College, a historically Black women's college in Atlanta, Georgia. After controversially meeting on the set of the 2005 film Mr. and Mrs. Smith, Brad and Angelina were seen as Hollywood's 'It' couple during their long-term relationship. They tied the knot in August 2014 during a secret ceremony in the South of France, and welcomed three children together during their romance - Shiloh, now 17, in 2006, and twins Vivienne and Knox, now 15, in 2008. They also adopted two more, Zahara, and Pax, now 19, and Brad legally adopted the son that Angelina had adopted before they got together, Maddox, now 22. But in 2016, it came to an explosive end after the pair got into an alleged physical altercation while on a private flight with their six kids. Angelina later claimed that Brad 'choked' one of the children during the horrifying dispute and 'struck' another in the face, leaving her and the kids feeling like 'hostages' and cowering in fear under a blanket for hours until they landed. She also alleged that he grabbed her by the head, slammed her against a wall, and violently shook her at one point during the flight - which resulted in her injuring her back and elbow.
           Brad's rep called Angelina's account 'completely untrue' to CNN at first, but then released an amended statement to the publication that read, 'Angelina's story continues to evolve each time she tells it. 'Brad has accepted responsibility for what he did but will not for things he didn't do. He has been on the receiving end of every type of personal attack and misrepresentation. 'Thankfully, the various public authorities she has tried to use against him over the past six years have made their own independent decisions. Brad will continue to respond in court as he has consistently done.'Since they split, the two stars have been embroiled in one of the most publicized legal battles in Hollywood history over custody of their children, as well as the winery that they once owned together. In May 2021, after years of duking it out in court, Brad and Angelina were officially granted joint custody of their six kids - but one month later, the judge's decision was thrown out. Zahara's sorority was founded back in 1908, at another HBCU, Howard University, while her chapter Mu Pi was founded in 1979. Fans of Zahara's mom Angelina got a shock back in August of last year when the 48-year-old Maleficent star joined her daughter for Spelman's move-in day. Jolie kept a low profile in a black blouse and matching slacks as she helped Zahara get settled. Darryl Holloman, Spelman's vice president for student affairs, shared a photo to Instagram at the time of himself beaming with Angelina and a masked-up Zahara, and she also stopped to chat on campus with the university president Dr. Helene Gayle. 'Welcome to campus..Zahara, c'2026,' Holloman captioned the post. Zahara's father Brad didn't appear to play a role when she started at Spelman. However, he made it clear that he was very 'proud' of what his daughter had so far accomplished with her education. 'I'm so proud of her,' he gushed to Vanity Fair around the time she started school. 'She's so smart. She's going to flourish even more at college. It's an exciting and beautiful time to find her own way and pursue her interests. I'm so proud.' Earlier this week, the Oscar winner introduced Ines de Ramon, 32, as his 'girlfriend' after the two had dated for nearly a year, indicating that he was ready to take the relationship to a new level.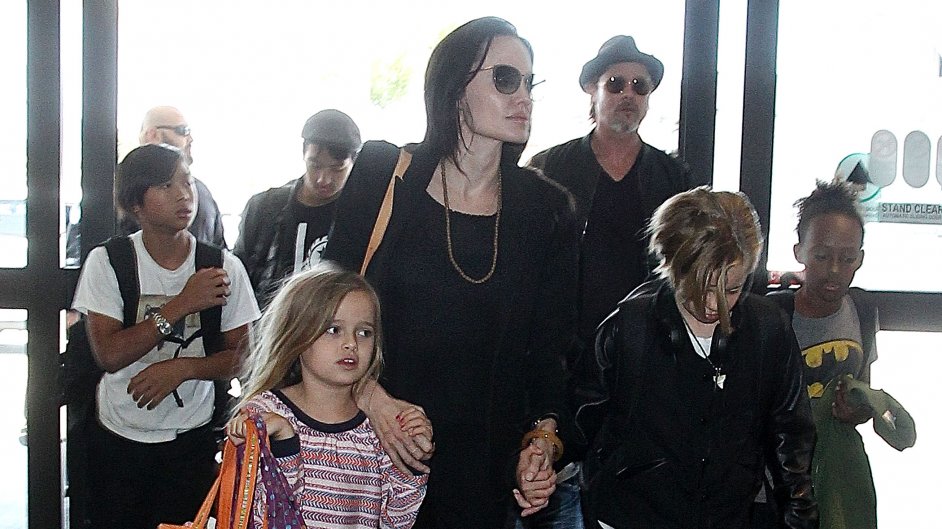 source : Daily mail