Details

Published on Friday, 01 September 2023 09:34
Written by Daily mail
          Angelina Jolie's mysterious middle finger ink has finally been revealed by her tattoo artist — Mr. K — as he also apologized to the star for any stress caused by fan speculation on Instagram on Thursday. The Maleficent actress, 48, had initially teased the new ink with blurred snaps uploaded to the tattoo artist's Instagram page — which prompted social media users to guess the ink was a 'f*** you' to her ex-husband, Brad Pitt. However, while unveiling the designs in a clear photo, the New York-based artist explained the meaning behind the tattoos that are located on the inside of her middle fingers. 'First of all, I feel sorry with all the bad speculations and sincerely apologize to @angelinajolie for the stress that might caused her,' Mr. K penned in the caption of the image. He continued, 'This tattoo represents two daggers in geometric & abstract way / nothing related to religion or cross #angelinajolie #mrktattoo.' In the picture, Angelina could be seen sitting on a chair with her palms turned towards the camera — although the star's face was not in the frame. A gold bracelet as well as a few gold rings were placed on some of her fingers for a flashy touch as she proudly showcased the new ink designs. Mr. K additionally uploaded the snap to his Instagram stories as well, and tagged the Oscar winner followed by a red heart emoji. Earlier on Tuesday, the tattoo artist shard a similar picture to his main page but blurred the new ink to keep the design a mystery so fans would have the opportunity to guess what the tattoos could be. In the caption, he wrote, '@angelinajolie Still can't believe that I actually grabbed her hand and tattooed her. Guess what she got on her palm?' One fan quipped 'F*** Brad' in reference to the star's acrimonious divorce battle with Pitt, 59, with whom she shares six children. Another guessed: 'Had A \ Brad Time' while another typed: 'F**k you'.
          However, on Wednesday, Mr. K followed up in the comment and wrote, 'It has NOTHING related with Brad Pitt,' in order to set the record straight. Her other tattoos include Bengal Tiger, Khmer Script, Quod Me Nutrit Me Destruit, a cross, Geographical Coordinates of her children, Yant ViHan Pha Chad Sada and a M among others. During a past interview with Marie Claire UK back in 2020, Angelina opened up about her array of tattoos. 'I love them. They're body art,' she gushed to the outlet at the time. 'I don't think it's abnormal that someone who spends their life in other skins wants to claim their own by marking things on it that matter to them.' The actress and Brad were linked back in 2005, and officially said 'I do' in 2014. However, Jolie filed for divorce in 2016 citing 'irreconcilable differences' and the court later declared that they were both legally single in April 2019. The former pair have been in a lengthy custody battle with the actress wanting sole custody and Brad fighting for joint - with Brad winning joint custody in 2021. The actress shares Pax, 19, Knox, 15, Shiloh, 17, Zahara, 18, and Maddox, 22 with Pitt. Pitt has reportedly agreed to mediation with ex-wife Jolie over their vineyard dispute. Documents filed last month show that both stars have agreed to mediation as an alternative method of dispute resolution over Chateau Miraval — rather than the matter going to court.Jolie has also said that she's willing to take part in a settlement conference.What's more, it can be revealed that Pitt has appointed a 'provisional administrator' to Chateau Miraval in a bid to resolve the war between himself and the Russians Jolie sold her share of the vineyard to. Pitt and Jolie purchased Chateau Miraval, a 1300-acre estate in the south of France, in 2008. The former couple were even married at the property in 2014. The Once Upon A Time In Hollywood actor has since moved on and recently sparked up a budding romance with Ines de Ramon - who notably filed for divorce from Vampire Diaries alum Paul Wesley in February. The two stars were first romantically linked back in November 2022 as they attended a Bono concert together. At the time, a source told DailyMail.com that the pair, 'have been dating for a few months' and that 'Brad is really into' Ines. 'They met through a mutual friend. She is very nice.' Last month in July, a separate insider told People that Brad and Ines are still 'going very strong.' 'The two have been spending a lot of time together this summer as they truly enjoy each other's company and are very into each other,' the source expressed, adding, 'It's apparent to anyone who sees them together.' Earlier this week, Ines stepped out to run a few errands and was spotted wearing a 'B' necklace, possibly referencing to the first letter of Brad's name.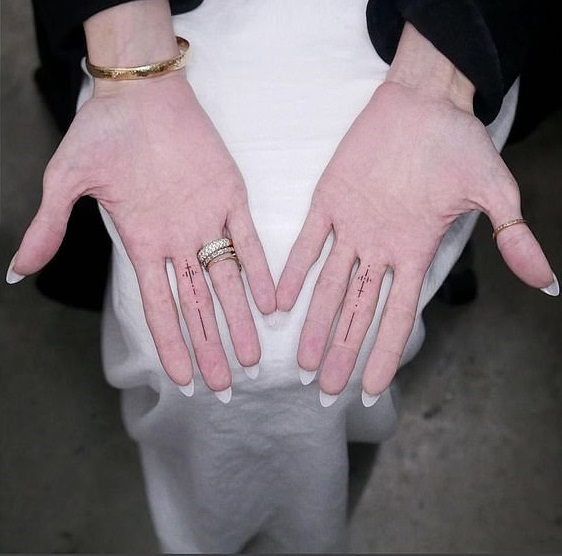 source : Daily Mail