Details

Published on Saturday, 16 January 2016 15:50
Written by WikiHow
Who doesn't want to look like Angelina Jolie? Many people believe she is one of the world's most beautiful women. It's possible for you to look like Angelina too, although you've got to master her vibe, not just her physical appearance. If you really want to look like Angelina, you've got to start with confidence.
Method 1 of 5: Getting Angelina's Body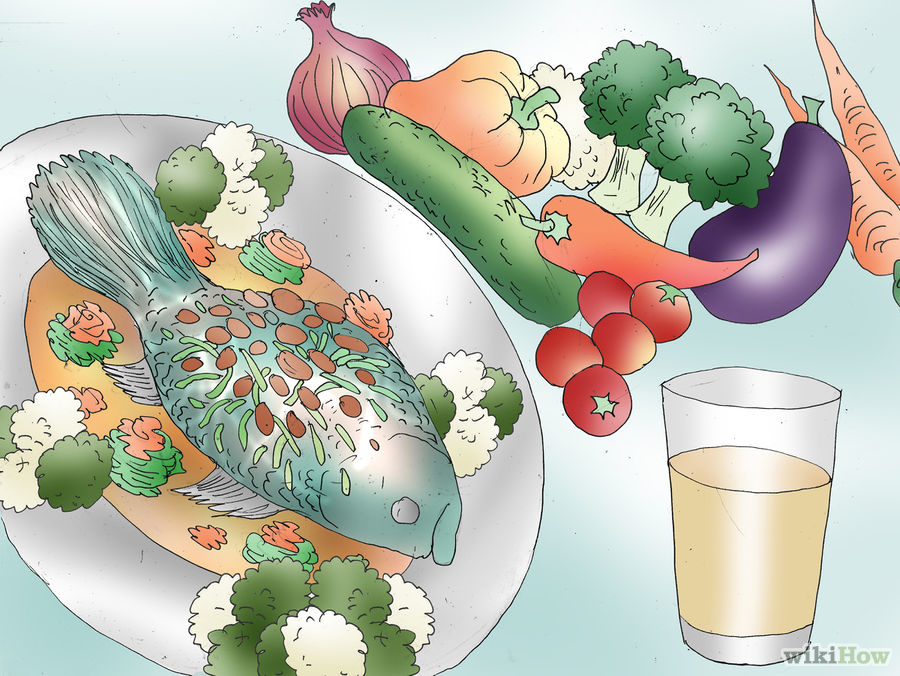 Eat healthy.Angelina is known to eat healthy foods, such as steamed fish, vegetables, and soy milk. She also loves to eat healthy soup. She follows a strict diet when she wants to put muscle on for movies.
Angelina tries not to smoke or drink sugar with coffee.
During filming of the Tomb Raider movie, she worked on achieving a more athletic look. To get this look, she ate a high-protein, low-carbohydrate diet that included a lot of water and steamed vegetables. She didn't eat red meat or food that is wheat based. She enjoyed eating raw salads.
To keep muscle without losing too much weight, she eats four or five meals per day.
She only drinks alcohol on weekends and doesn't eat junk food.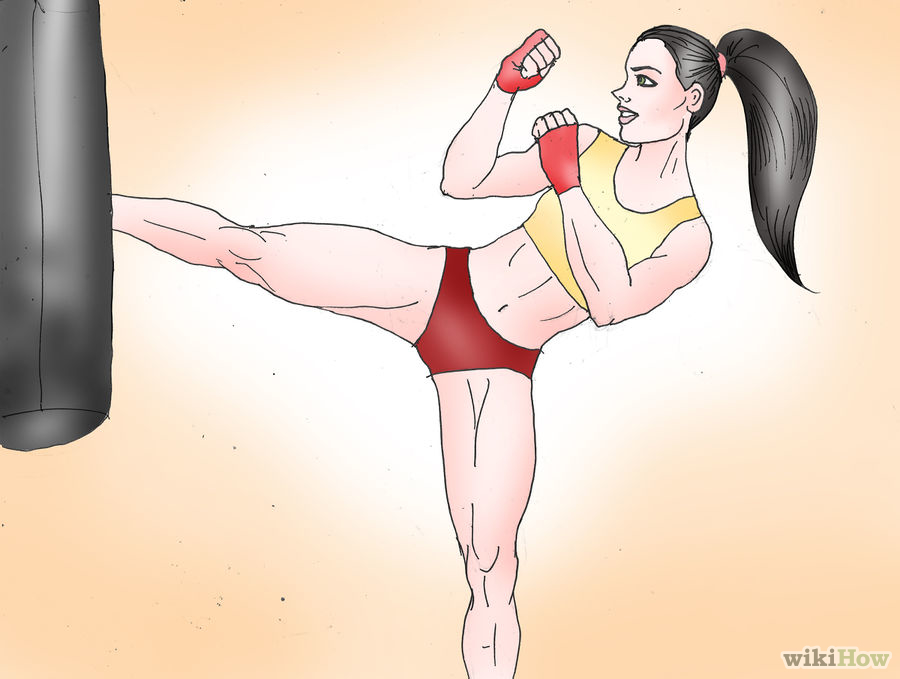 Exercise.Angelina is a thin woman, and her look has veered from very athletic for action roles to simply slender. Either way, you need an athletic routine to really look like her. Diet is important, but exercise is a key part of her routine.
Angelia used kickboxing workouts and martial arts training in her movies Tomb Raider and Salt. This creates strength in the hips and thighs and burns calories.
Angelina has said that she doesn't have patience for Yoga, although she did use it in the movie Maleficent to improve the strength of her core.
To tone your butt like hers, use circuit training. Try lunges and squats. Angelina combines aerobics with resistance training. She likes circuit training exercises that feature different exercises for the arms, abs, chest and legs.
For example, a work out might involve using a 5 to 10 pound dumbbell weight to perform forward and side lunges, squats, leg curls, crunches, bicep curls, and mountain climbers. She alternates these exercises with about 30 to 45 minutes of high-intensity cardio, like running or jumping rope.
Method 2 of 5: Getting Angelina's Hair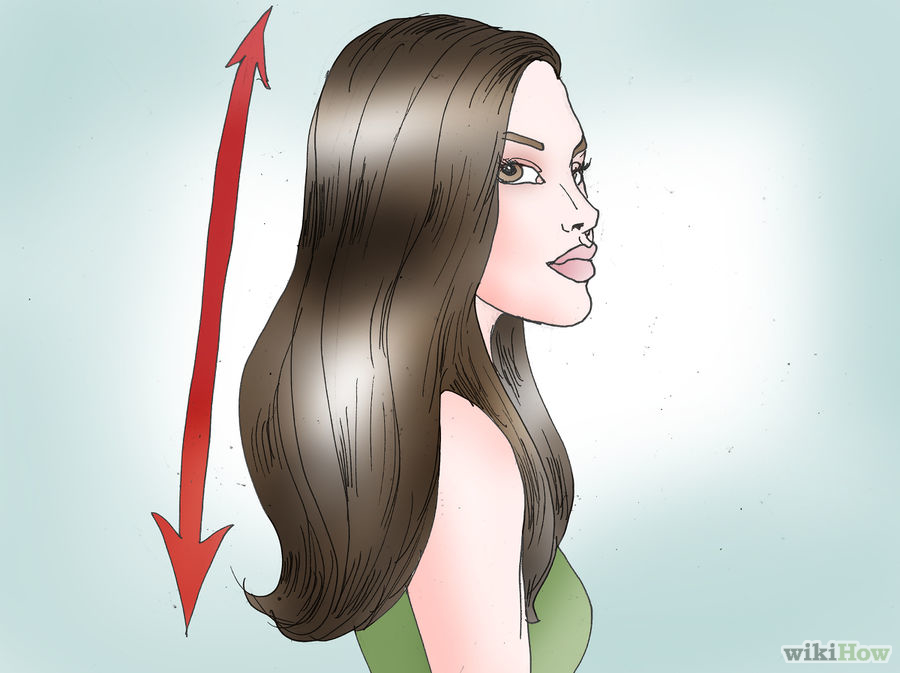 Wear your hair long.
In 1998, Angelina cut her hair into a short pixie style. But this is an unusual look for her. You are more likely to see her with long hair with a slight natural wave in it.
You won't see her with tight curls. She isn't going to be seen looking like she has permed hair.
Angelina's hair is usually past her shoulders to mid chest length.
Avoid short bangs. A hairstylist was once quoted as saying Angelina loves to wear her hair "away from her face." Angelina does often wear her hair parted to the side with long bangs and layers, though.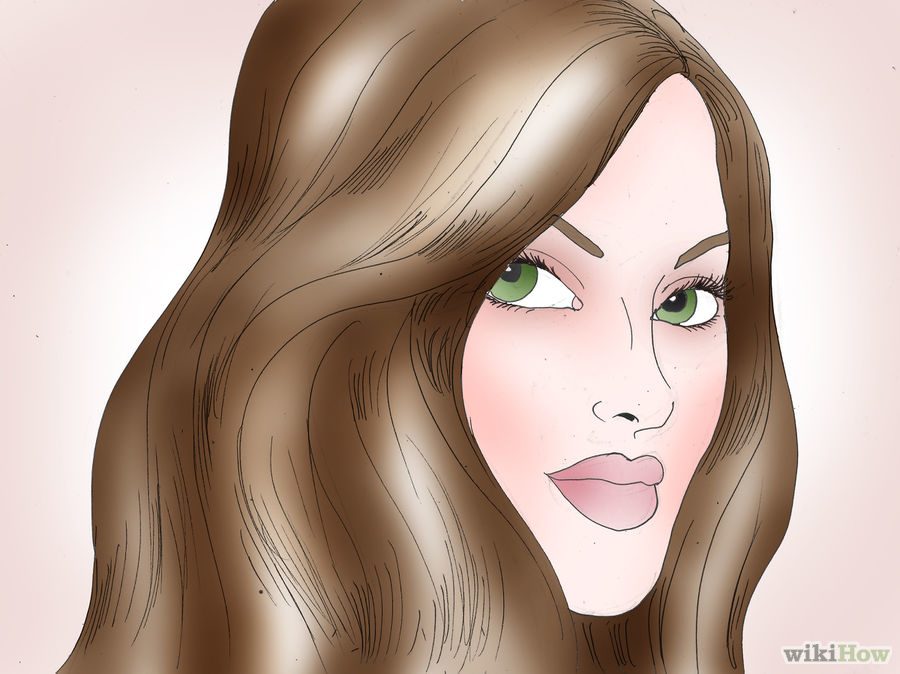 Keep your hair brown.
As with hair length, Angelina has experimented with other hair colors, especially for film roles. For example, she dyed her hair platinum blonde in 1999 for the movie Girl, Interrupted, but she is almost always seen with dark or medium brown hair.
Angelina sometimes brightens her brown hair with an auburn tint. The highlights are painted on her hair one-by-one. Her base hair color is usually medium brown.
Don't paint too many highlights into your hair. Her hair looks mostly naturally brown with just a little bit of softness.
Angelina's been known to keep her hair shiny and healthy by using Aveda products and Couture Colour Pequi Oil Treatment.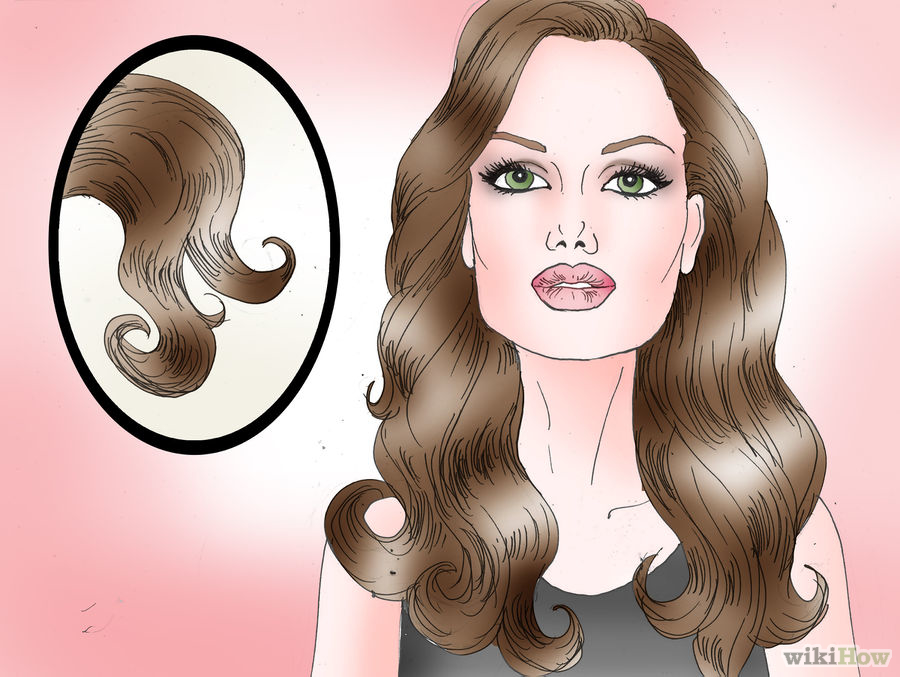 Add some curls.
Angelina is a fan of loose, natural looking curls. To obtain this look, you should curl your hair with a large barreled curling iron or with Velcro rollers. Make sure the curls aren't too tight. Her hair looks natural.
Take random sections of your hair and back comb them, and then brush the hair until it's smooth. Take small sections of hair, twist them, and clip them. Then, use some fixing spray. Then release.
To increase the volume at the roots of your hair, capture sections of your hair with your brush and lift the hair upward 2 or 3 inches (5.1 or 7.6 cm). Hold the section there while you dry underneath with the blow-dryer. Unpin the top section and repeat the drying process. Flip your head upside-down once more and spray a light-hold hair spray at the roots of your hair. Remain upside-down for a few seconds to allow the hair spray to dry, and then flip right-side-up again.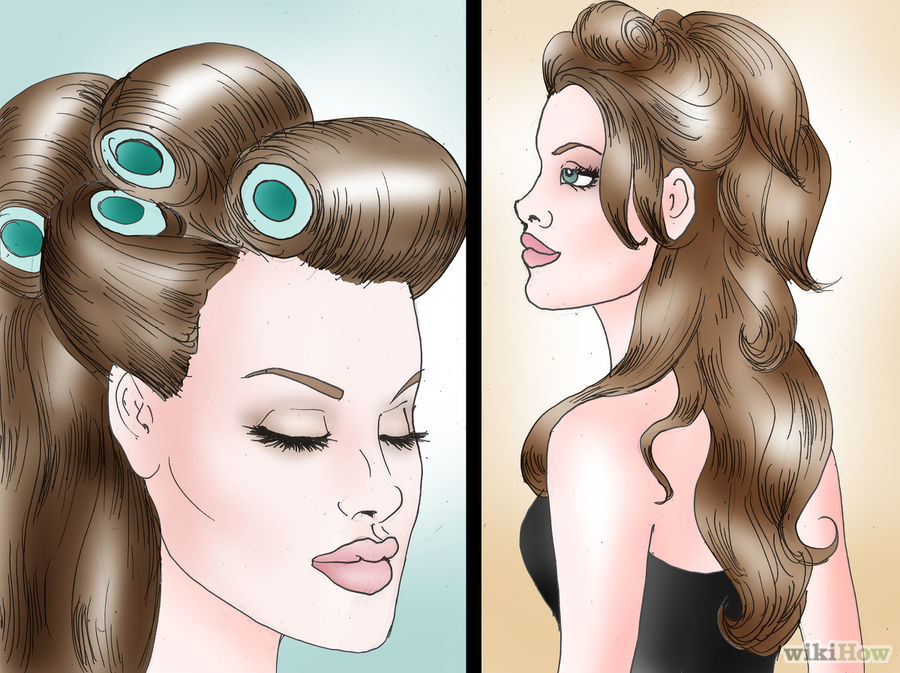 Play with different styles.
When she is at awards shows in particular, Angelina loves to play with different styles. Occasionally, you will see her with an updo, but a half up and half down style is one of her favorites.
To get Angelina's half up and half down style, take large Velcro rollers. Start with your bangs or the hair in the middle of your forehead, and continue rolling the front sections of the hair and then go back on the crown of the head at the middle part to create volume. Roll them toward the face.
If you use a smaller roller, you will get more curl. A large roller provides more volume. Again, you could use a large barreled curling iron instead.
Use larger rollers as you work your way to the back of the head.
Put rollers in the end of your hair too, curling under. Let them set for a few hours. You could use a hair dryer instead if you don't have that much time, but be careful that you don't dislodge the rollers when drying the hair.
Remove the rollers, starting with the top ones. Take the hair at the crown area. Use a round brush to back comb it. Set it with hair spray. Do the same thing halfway to the front. Once the hair spray dries, brush it to smooth it out.
Take a section of the hair at each side and fasten the sections back with a clip.
Method 3 of 5: Getting Angelina's Face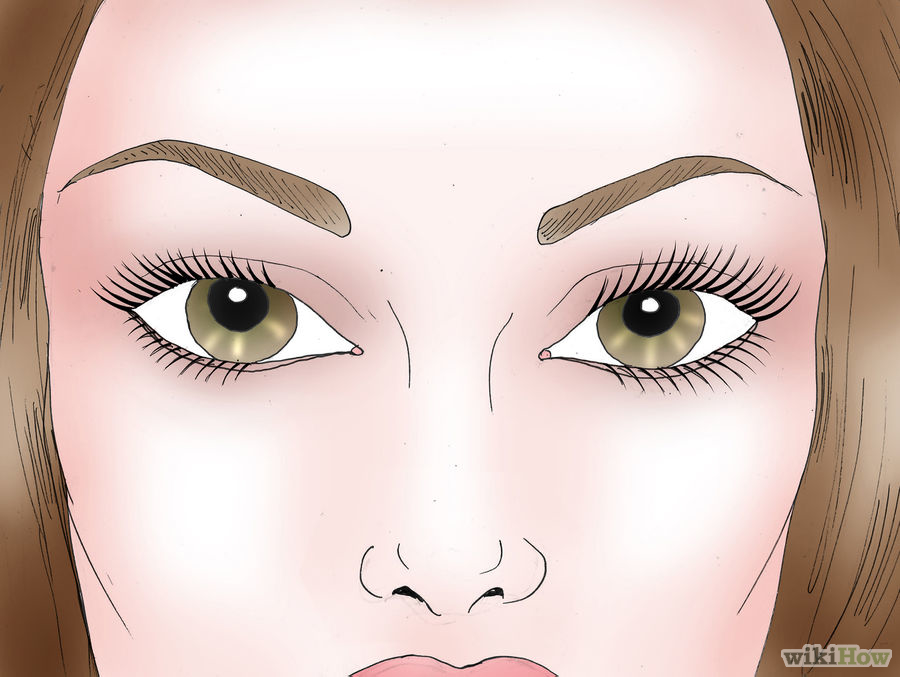 Play up your eyes.Angelina's face is dominated by her expressive, beautiful eyes. She keeps the focus on them with her makeup, not on her lips, which are naturally full.
Make sure that you choose eye shadow colors that closely match your skin tone and aren't too dark. Angelina prefers eye makeup that looks natural. Put the eye shadow on your eyelids from the lashes to your brow. Put a slightly darker shade in your crease, extending it out to the edge of the eye.
Try eye shadow in taupe or light gray. You could also use peach, nude, or light brown colors.
For an awards show, Angelina might vamp it up with a smoky eye look. She has used Terracotta Loose Kohl Powder in Deep Charcoal Black.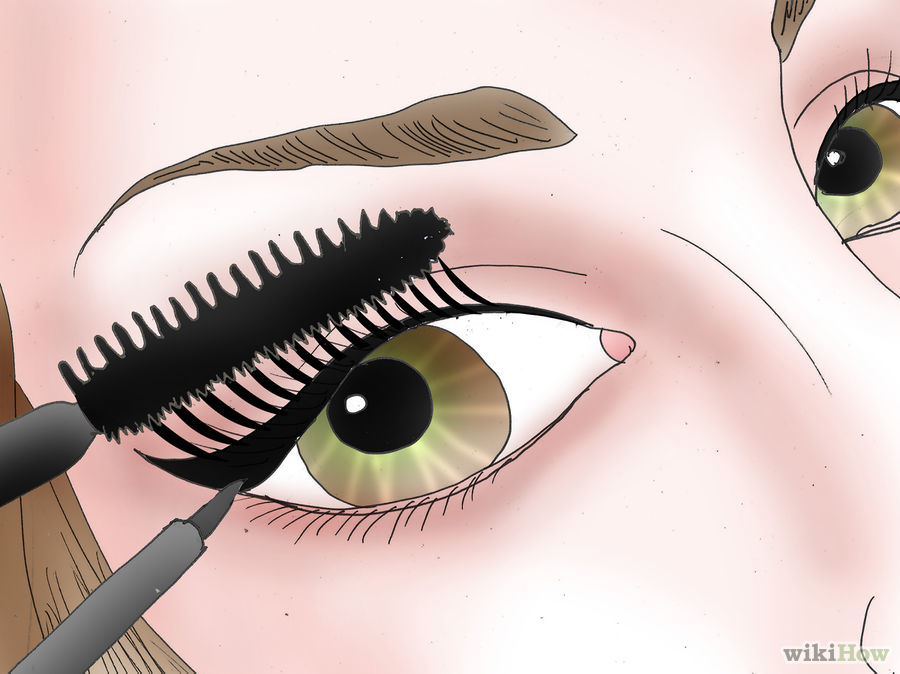 Wear mascara and liquid eyeliner.Mascara and liquid eyeliner are too things she is almost never without. These are key parts of her signature look.
Angelina has long eyelashes. It's probably best to apply two coats of lengthening mascara to get the Angelina's look, which is almost all about the eyes. You could use false eyelashes, but don't overdo it.
Try using black liquid eyeliner, only on the top lash line. Start where the lashes start to grow and extend slightly past the end of the eye in cat eye fashion.
You won't find her using pencil eyeliner much or putting it on the inside of her eyes or underneath the bottom lashes. If she does, it's done lightly.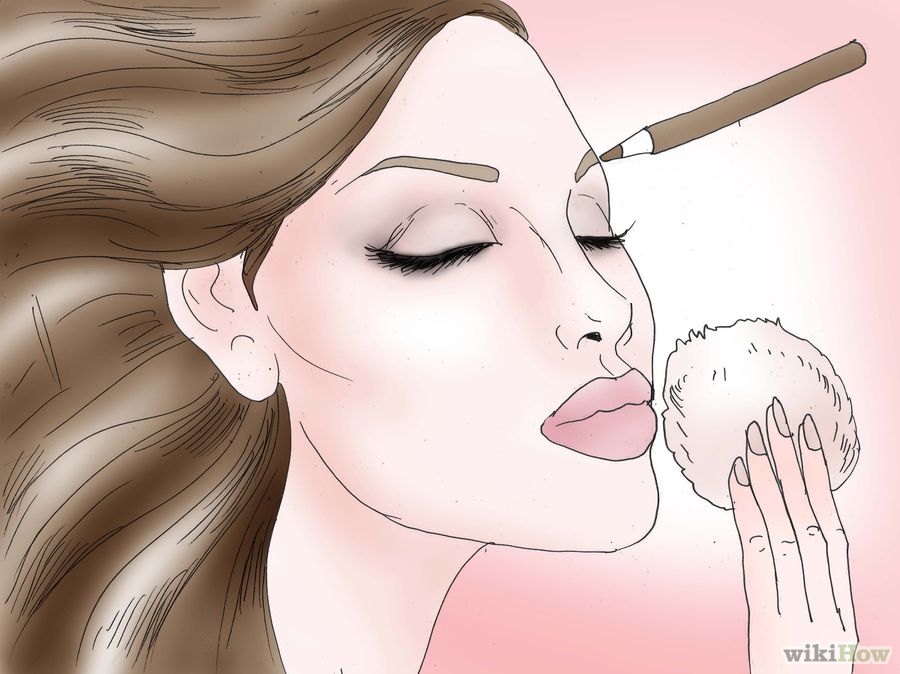 Wear softer makeup overall.
Gone are her goth days. Since she became a mother, Angelina's makeup is more likely to be softer and more natural looking.
Use a brown eyebrow pencil to better define your brows. Angelina's eyebrows are not too thin and are very well defined. Simply draw the pencil over your natural brow shape. Get them waxed at a salon to create the right shape.
One makeup artist says Angelina never wears blush on her cheeks. Instead, she smooths hydrating moisturizer on her face and then a light layer of medium coverage oil-free foundation, such as Laura Mercier Foundation in Honey Beige. She also uses Stila Cover up Stick in Shade B under her eyes to hide dark circles. She dusts Mineral Veil Powder on her face. But she uses makeup lightly.
The goal is to enhance natural beauty, not to be able to see the makeup or pancake it on.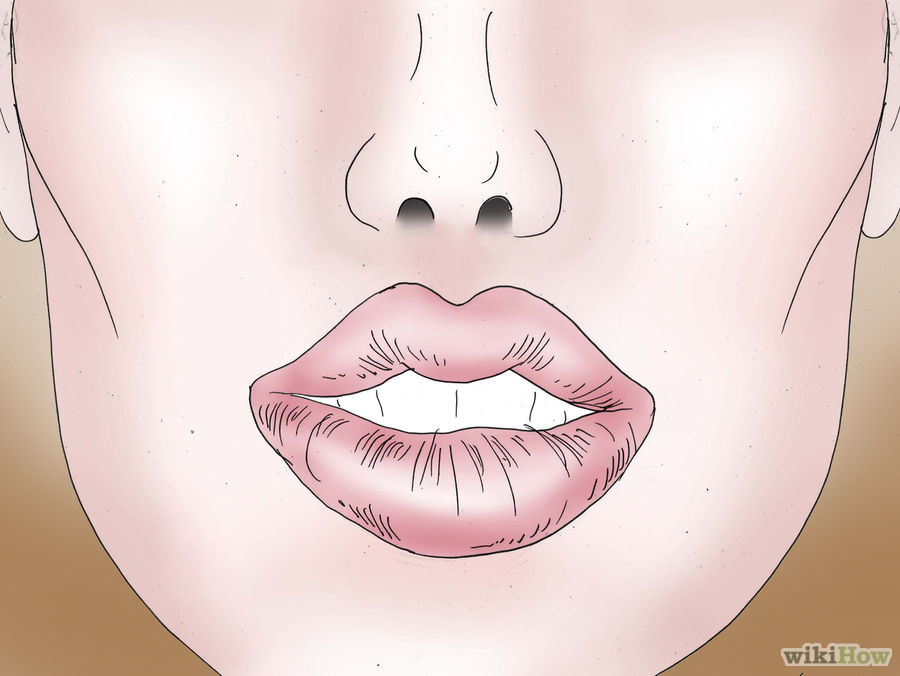 Wear neutral lipstick.
Angelina's makeup artist has said she rarely puts bright or dark lipstick on Angelina's mouth, preferring taupe or neutral colors. That's largely because her lips are already so beautiful and large.
MAC's Blankety shade, Clinique's Long Last Soft Shine Lipstick in Glow Bronze and Mac Kinda Sexy are shades that Angelina would wear. She's also said she likes Urban Apothecary's Charm and Chantecaille Brilliante Glosses in Love and Charm.
Every now and then she goes bold, wearing bright red lipstick, for awards shows or film premieres, like she did at the Cannes Film Festival premiere of Inglourious Basterds. But it's the exception, and you almost never see her wearing dark or bright lipstick in casual wear.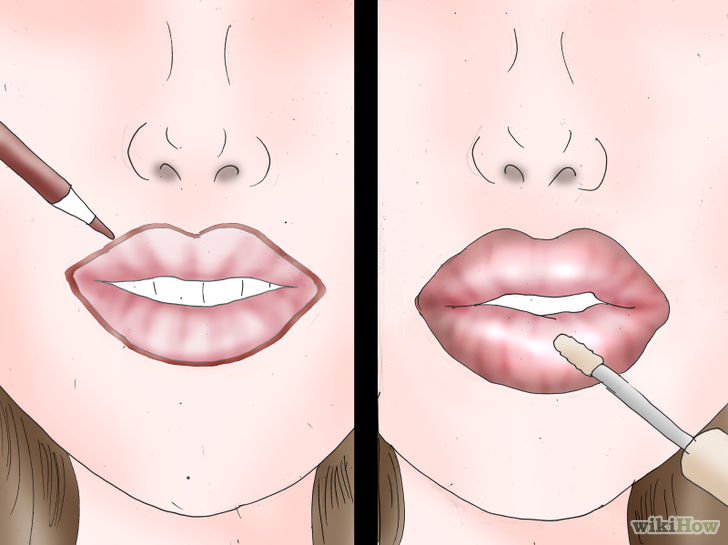 Plump your lips.Angelia's lips are naturally plush. If yours aren't, you won't look like her. There are certain tricks you can use to look like you have thicker lips, though.
Use taupe or nude lip liner to draw your lips slightly larger than they really are. This will make your lips look bigger. Then cover the lips with natural colored lip gloss or lipstick. You can use concealer to apply highlights to the middle bottom portion of your mouth to look more like her.
She wears Blistex lip balm.
Some Angelina fans turn to lip augmentation to get plumper lips through injections, but Angelina's look is all natural so it's a better idea to try to plump up your lips with makeup tricks.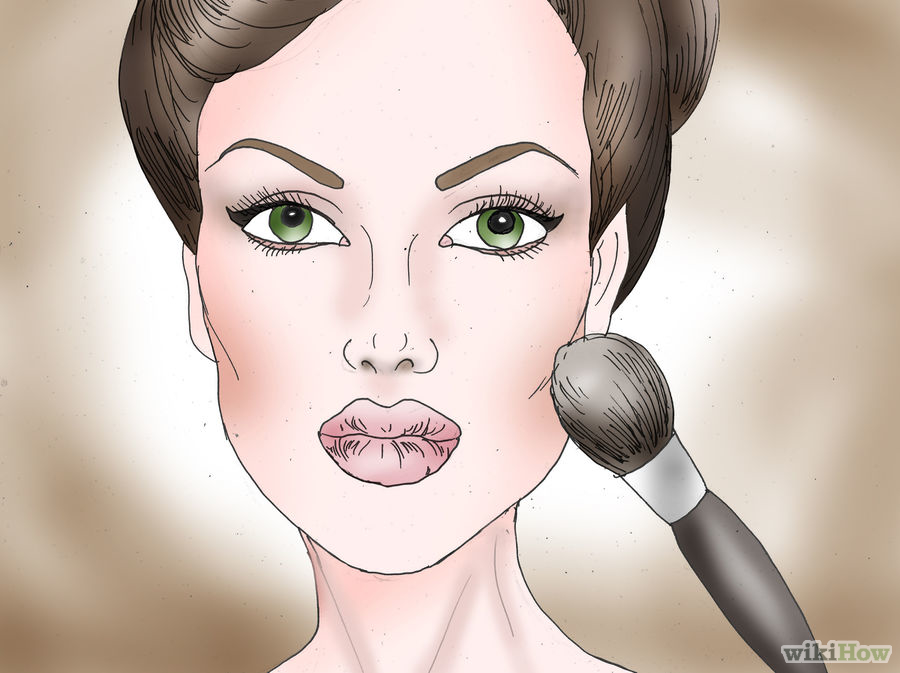 Use contouring and blending. Angelina is known for her dewy, pale, healthy skin. You won't find her with the faked tan look.
To get this look, apply foundation on your face. Then take foundation a few shades darker and apply it to the cheekbones and sides of the face. Remember to blend in all makeup at the jaw line. Put a base on your face, such as Urban Decay Primer Potion.
Use a brush to apply highlighting foundation on the nose and under the eyes, on the chin and on the forehead in a T formation. Set it with translucent powder.
One technique involves applying light gray and then peach eyeshadow on the cheekbones to accentuate them. Or you can use light brown eyeshadow to define the nose. You can use a makeup brush to soften the contouring.
Angelina has well defined cheekbones. You can also use gray eye shadow to better define the lips and the nose. Then warm up the gray areas with powder. Then, apply primer/concealer to the inside of the eyes and by the eyebrows.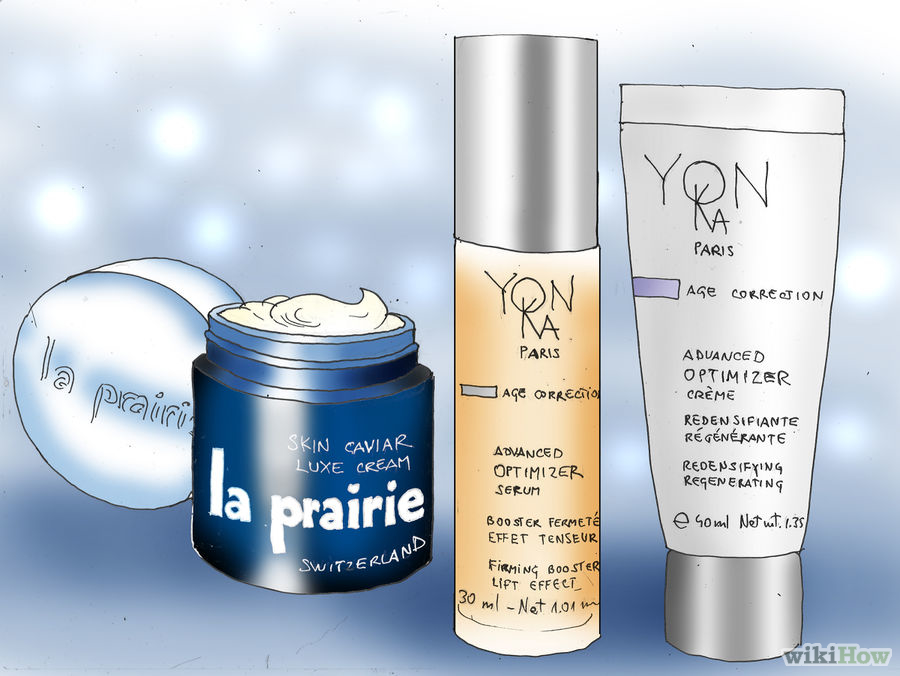 Take care of your skin.Angelina's makeup artist has said Angelina avoids harsh soaps on her face and always wears SPF. She is a fan of high-end skin creams. She takes care of her skin on a daily basis.
You may find Angelina putting creams on her face like La Prairie's Skin Caviar Luxe Cream and YonKa Advanced Optimizer Crème Serum.
When she was pregnant, she used products from Bella Mama, a skin care line for pregnant women.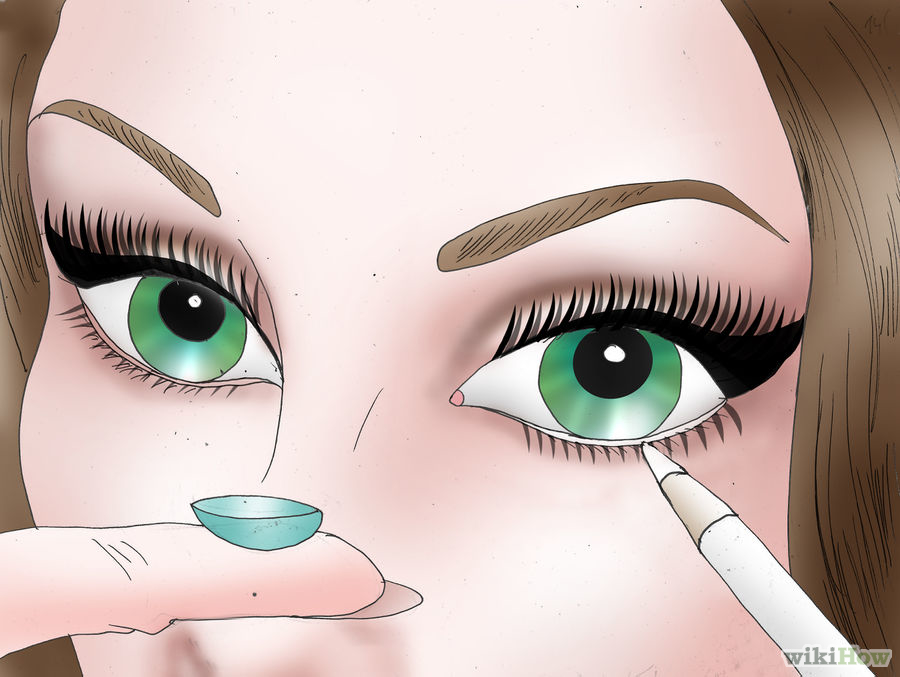 Get blue-green eyes. Angelina's eyes are a blue-green color. If your eyes are not naturally that color, you can use colored contact lenses to achieve the look. You can make your eyes look bigger by putting white eyeliner in the water line of the eye.
Method 4 of 5: Dressing like Angelina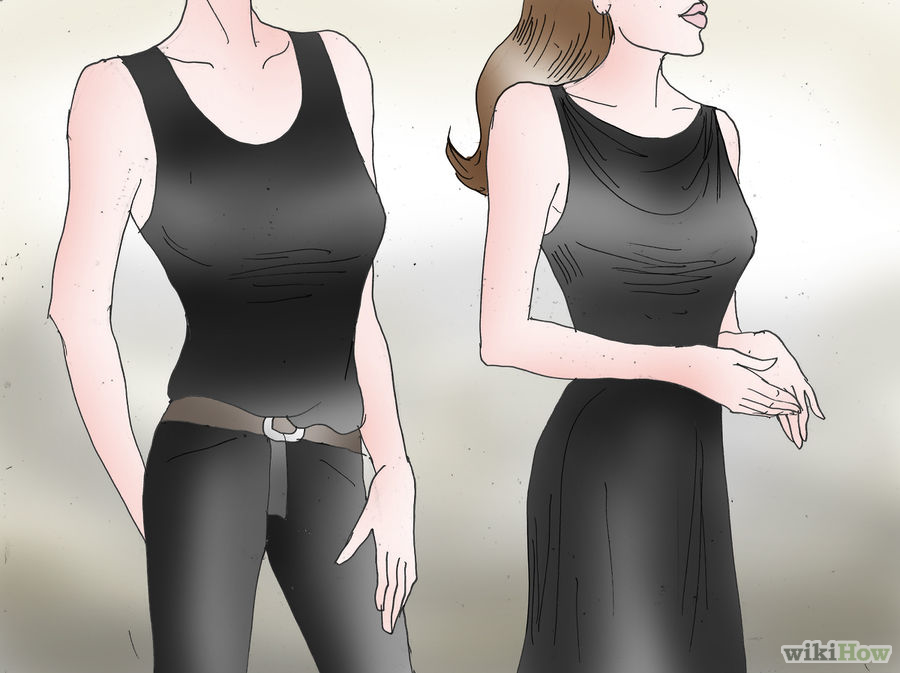 Wear black.
Most of the time when you see Angelina out and about, she's wearing black. Whatever you do, don't wear pastels. She almost never does. You might see her in jewel tones at an awards show, but black's the basic uniform.
Decide which phase of Angelina's life you want to look like. Angelina Jolie is known for mixing up her styles. In 1991, when she was a high school student, she wore black boots with a silver bat charm. Today, she has a softer style. But she still favors black.
In fact, many of Angelina's outfits are entirely black. Her style tends to be monochromatic, not patterns or mixing colors.
When she pairs black with another color, it's often a white or tan shirt. For awards shows, she often chooses long black dresses in classic styles, although she's also been photographed in deep red and green.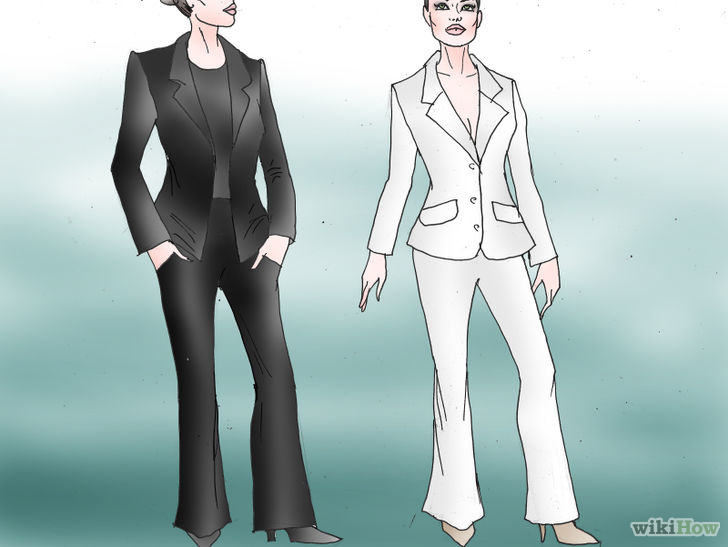 Master business casual.
When she's at a serious event, Angelina is a fan of blazers with slacks. Her clothing doesn't draw attention to itself, keeping the focus on her message and her causes.
She favors monochrome for this look as well. She's been seen in black suits and white ones, most commonly.
Because Angelina wants to be taken seriously, her business look is not too fussy. She won't wear big necklaces and usually pairs a blazer with a simple scoop-necked T-shirt.
She sometimes pairs a blazer with a short skirt.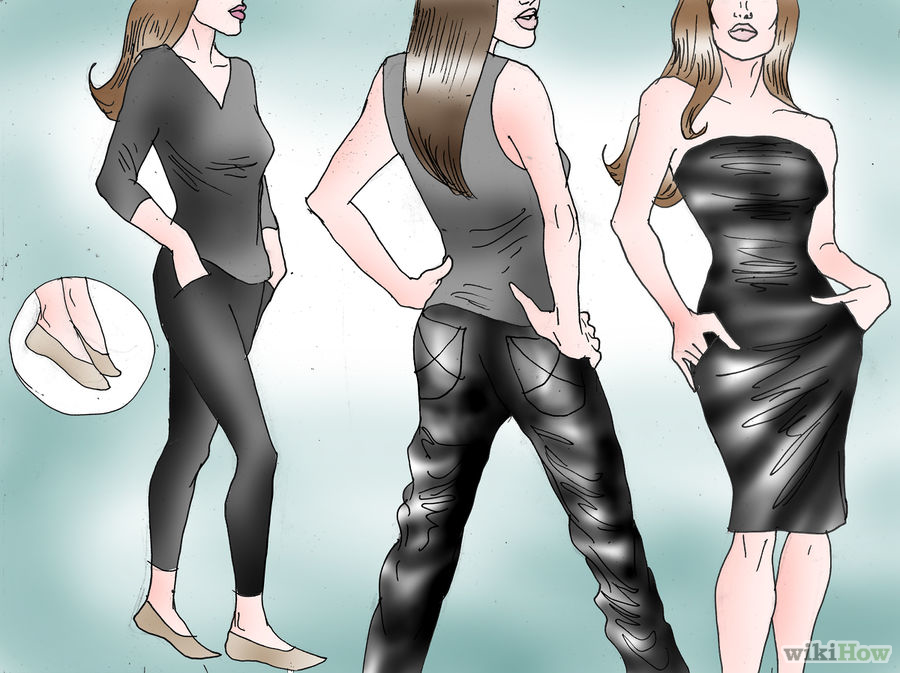 Have a casual vibe.
When Angelina is not at a big event, you will find her dressed down. She isn't too dolled up like she is posing for the cameras when she goes to a toy store with her children.
Wear flats. Angelina's often seen in flats. She dresses for comfort during the day, and you won't see her going to the grocery store wearing high heels. Nude toned ballet flats are a favorite shoe of Angelina's, often paired with black clothing.
Don't wear too many accessories. Angelina never looks too fussy. You aren't going to find her with big earrings or a lot of bling. She's more likely to wear simple, but classy, diamond solitaire earrings.
Wear leather. Although you saw her in leather more before she became a mother, it's still one of Angelina's favorite looks. Who can forget the leather dress she wore to the Mr. and Mrs. Smith film premiere? She wears leather pants, too.
Method 5 of 5: Getting Angelina's Vibe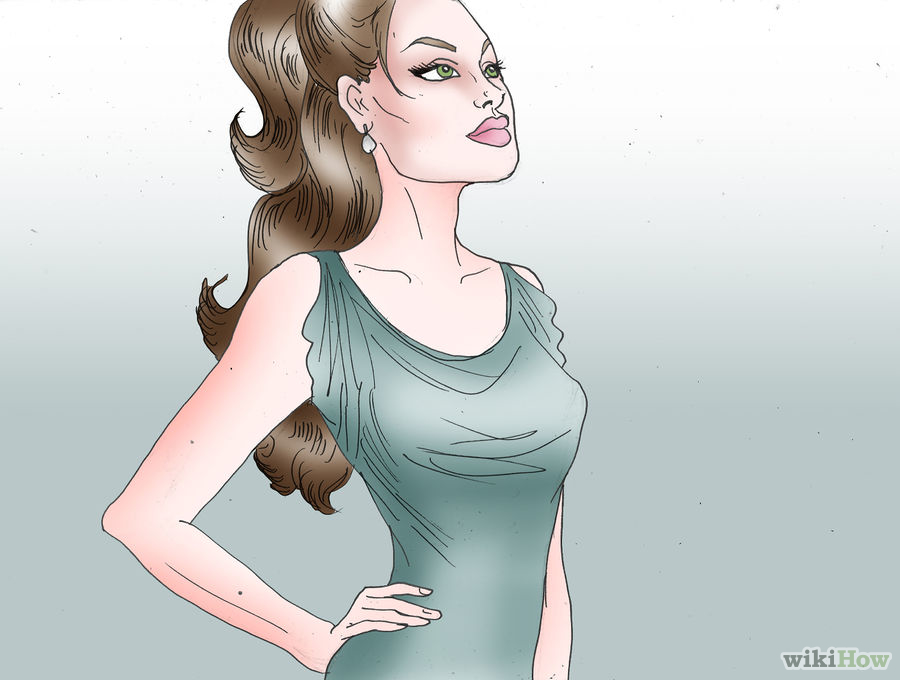 Confidence is everything.
Her head is high and body straight. Learn how to build or strengthen your confidence. Remember: We all have flaws, even Angelina herself. Not only would having more confidence make you look more like Angelina, but you will also instantly seem more attractive.
Angelina has a strong sense of who she is. This carries through in her posture and overall appearance. You have to believe in yourself.
Because she is confident, Angelina has a consistent and unique style that is all her own. Although you can follow tips to look more like her, if you don't let some of your own natural beauty and personality show through, you're not really going to capture her free spirited, confident vibe. So have enough confidence to stay true to yourself.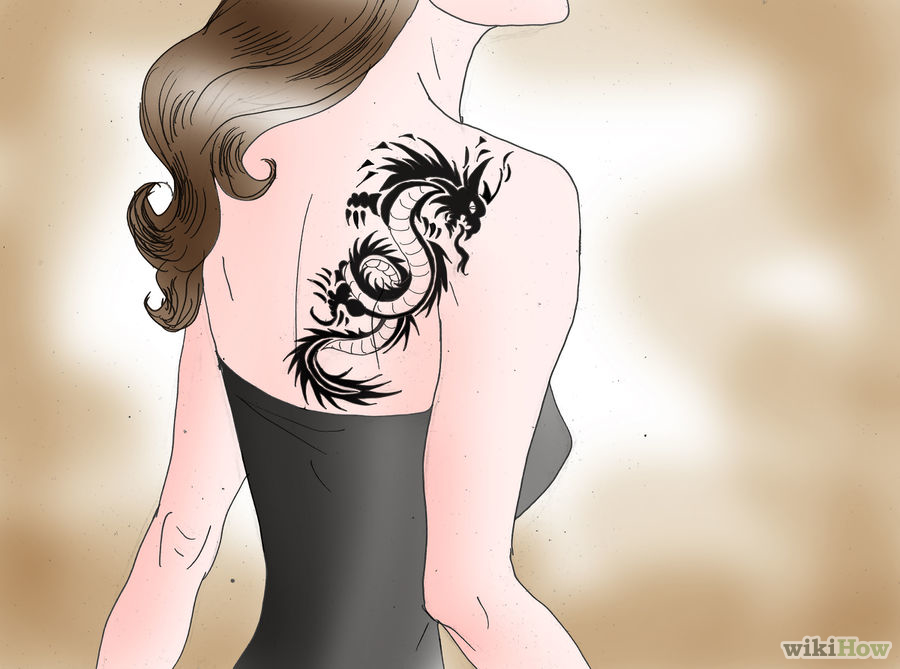 Get tattoos.
Angelina has had many tattoos over the years. Usually, these are strategically placed on her arms. And they always tell a story.
Make sure your tattoos have meaning. She has tattoos of the coordinates of her children's birth, for example. She used to have a tattoo that said "Billy Bob" in the name of her former husband.
One of her tattoos is a Japanese kanji symbolizing death, but she said she got it to remind herself to live life to the fullest. She is fascinated with death, and used to wear a vial of blood on a necklace.
She also has tattoos on her stomach and wrist. One was to honor her brother and another was a Tennessee Williams' quote.
Show passion for something bigger than yourself.
Part of Angelina's appeal is that she isn't a vapid celebrity who seems to only care about herself. She is always involved in a cause that is bigger than her own ego.
Angelina loves children. Obviously, she has adopted several children from countries around the world, as well as having children of her own. She is often photographed with a child in tow. The mixture of wild child with mother figure has given Angelina a very earthy appeal.
Angelina has causes. Whether it's helping people suffering in war-torn countries or those who don't have enough to eat, Angelina embraces causes and charities and she's not afraid to roll up her shirt sleeves and go to dangerous or troubled countries on her own. This is a key part about her image. She really cares.
source: WikiHow